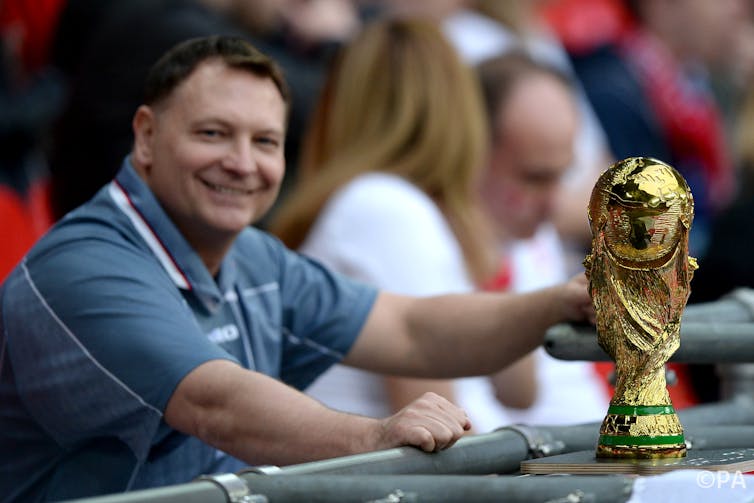 The England football team goes to the World Cup with the hopes of a nation packed in the undercarriage of their plane. At the last World Cup, hopes were high as a "golden generation" of players at the peak of their careers were expected to deliver victory. Now, in the wake of London 2012 Olympic success, belief is renewed that England can win on the big stage. Will it be the case? To quote Morgan Freeman in the Shawshank Redemption: "Hope is a dangerous thing."
Are players burdened by carrying the hopes of a nation on their shoulders? Yes, but that is professional sport. The stakes are high. England players tend to come from clubs where success is mandatory; where if the manager loses a few games, he is sacked and if players make mistakes, they do not play. They are used to pressure.
So, if they are used to pressure, why don't they play well? Autobiographies of players such as Steven Gerrard indicate that they want to win so much when playing for England that the pressure is hugely ramped up in their mind. England players were and remain England fans and so have experienced the collective hope of the nation as we head for the World Cup, dreaming of repeating the glory of 1966.
Playing the game, not the occasion
If donning an England shirt means putting the expectations of the nation on their shoulders with it, players must change how they see each game. Even better they need to follow the commands of the old adage: "play the game and not the occasion". Playing on home soil, under huge pressure, British athletes did this in 2012. The Golden Saturday saw athletes from all sports rise and deliver, with Jessica Ennis winning gold in the heptathlon followed by the euphoric scene of Mo Farah gritting his teeth and doing the same.
How did they achieve this? While it is important to recognise that they were extraordinary performances, two things are worth bearing in mind. The first is that they were not necessarily world records and the best performances ever; the truth is that they did not have to be. They were the best performances on the day. If performance was measured by who managed the pressure the best, then these athletes exemplified this quality. And so a key question is how did they manage pressure? How did they manage to perform to the capabilities whilst carrying the hopes of the nation on their shoulders?
One way to deal with pressure is to put the task in perspective. This is a relatively simple way of looking at a situation and something people struggle to do. The truth is that the world will not end if a player does a poor pass. But emotions make it hard for perspective to be held. When events are important and the outcome is uncertain, emotions like anxiety can be intense.
Staying positive
Anxiety is often seen as a negative emotion but it does not need to be. Anxiety can be seen as a signal; a message from your body that the event is important. Just as when you feel tired legs at the end of a long run, you should expect to feel nervous when doing something important. One way to manage this is to accept that this is the message:
Yes this is important, thanks emotions, I needed to know that and so I will concentrate.
Then, it's worth deciding where to focus your thoughts. Remembering times when you performed your best and replaying those moments in your mind, filling your head full of positivity, is a good strategy. Also, thinking carefully about what is needed. Asking yourself: "What do I need to play well today?" Simple stuff it seems. In football, it's worth remembering that games are won and lost by passing, shooting, running and tackling – the motions players go through day in and day out, that they are well capable of.
Players must think about what they do well and focus on doing that; no more. Keeping this in perspective helps; England has taken Steve Peters to help them with this task, and his "Chimp Model" is a great approach to help put negative thoughts, performance pressures and threats to self-esteem into perspective.
In the meantime, it's important to have hope. The English have high expectations and dreams of repeating past glory. Focusing on the statistics that say England are unlikely to win isn't actually that helpful. Every match has two teams and if you play the best on the day, you should win. And the history of football is replete with famous comebacks – from Liverpool returning from a 3-0 deficit to win the 2005 Champion's League final and Manchester United coming back to beat Bayern Munich in 1999. Hope is a wonderful thing and it can help pave the road to victory.