Of the various kinds of films to address genocide, the biopic is probably the most familiar. We've all seen them: "based on a true story", popular but prestigious, making a vast atrocity comprehensible through the eyes of an individual. The Killing Fields (1984), Schindler's List (1994) and Hotel Rwanda (2004) are all classic examples, though there are much earlier ones – Ravished Armenia introduced Western audiences to the Armenian genocide as long ago as 1919, for instance.
Angelina Jolie's new film, First They Killed My Father: A Daughter of Cambodia Remembers, fits into this subgenre in many ways. On general international release on Friday September 14, simultaneously in cinemas and Netflix, it is an adaptation of Loung Ung's memoir of the same name from 2000. The book was an unsettlingly beautiful yet harrowing chronicle of a young girl's experience under the Khmer Rouge's reign of terror from 1975-79.
Like many other historical dramas, "based on a true story" is not the only way in which Jolie secures the film's authenticity. Ung contributed to the promotion of the film, and even appeared in it at the end – recalling Schindler's List's pairing of actual survivors with their actor counterparts.
The promotional materials make clear that the film was shot on location in Cambodia, and that producer, Rithy Panh, is a survivor of the genocide himself. He has made several ground-breaking documentaries about the atrocities, plus his own cinematic memoir, The Missing Picture (2013). And finally, Jolie is not entirely an outsider – she was spurred to her humanitarian work after filming Tomb Raider (2001) in Cambodia, and also has a son from the country (who has a credit as a producer on the new movie).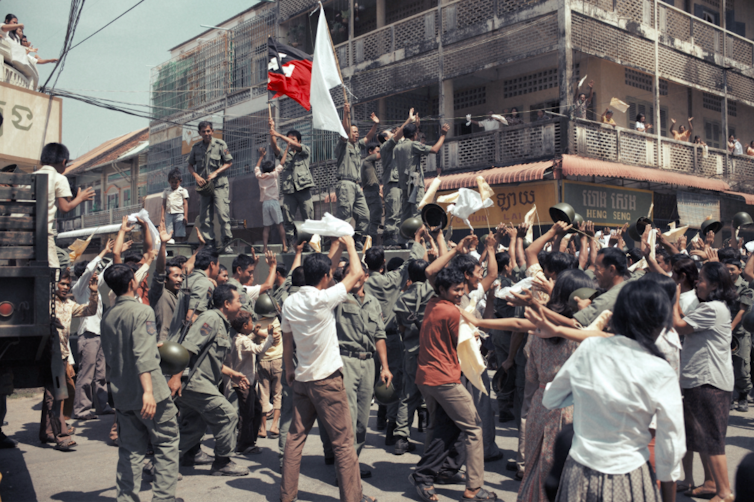 Creating this sense of legitimacy around First They Killed My Father is particularly necessary in the case of Cambodia. The Killing Fields may have helped to bring the devastation to public prominence in the 1980s, but this is still a genocide characterised by neglect, indifference and silence – from the failure of the international community to intervene while it was happening to the fact that many perpetrators retained high office in the years after without facing trial.
The US did not acknowledge the events as genocide until 1989. Pol Pot died shortly after the then American president Bill Clinton ordered his arrest for an international trial in 1998, while the process to try the remaining Khmer Rouge leaders took nearly 20 more years to come to fruition.
Risks and rewards
First They Killed My Father's bold departures from other standards in this subgenre are both risky and rewarding. Rather than having characters speak an accented English, almost the entire movie is in Khmer. Jolie is clearly willing to risk alienating viewers put off by subtitles to allow others the opportunity to totally immerse themselves.
In fact, one wonders if the subtitles are even needed for a film whose visual storytelling is so sensuous and moving. There is no Western audience surrogate; no heroic white protagonist like Sydney Schanberg or Oskar Schindler to help outsiders understand or narcissistically identify with what took place.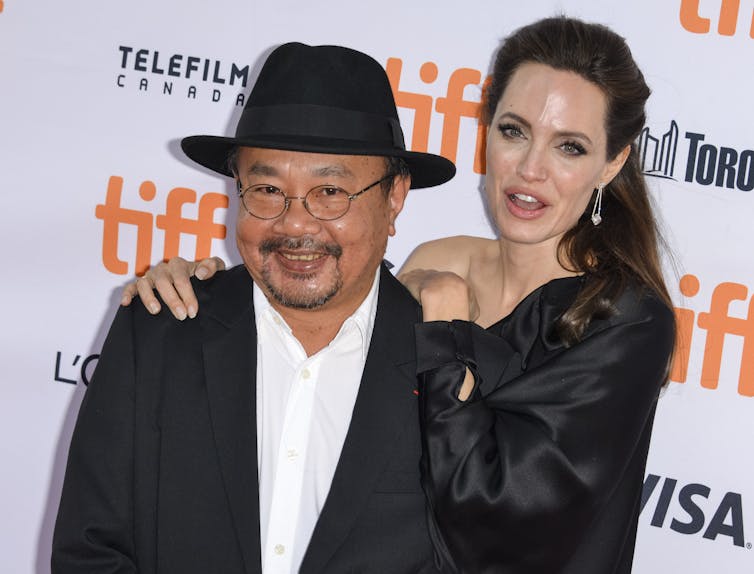 The choice to focus on Ung, the daughter of a high-ranking military police officer under the pre-1975 regime, does not grant the expository clarity of these other films. The camera, which is often low to the ground, moves as if emulating the distractions and curiosity of a child.
She draws on government documents bearing the name Lon Nol, the president who was deposed by the Khmer Rouge, while her father and his colleague carry on a hushed conversation in the background. An incoming tank may grab her attention, but so too does her sister's fruit-stained blouse or her brother's guitar. Affectionate details like these personalise the loss of what is to come.
The problem with accuracy
The film's fragmented style works to communicate a child's traumatic experience, with its confusion and gaps in recollections. Yet this more creative approach may leave Jolie open to criticism about historical accuracy. Ung's own memoir has been criticised for the historical and cultural inaccuracies you might expect from a child's memory, particularly one shot by trauma and two displacements – once when the Khmer Rouge took over and again when Ung managed to escape the country in 1979.
This does not invalidate what Loung Ung has shared, but it does open up important questions when it comes to testimonies. If the individual does speak for a collective, which collective – and to whom?
These questions apply to the film as well. First They Killed My Father premiered in Cambodia in February to an audience reportedly in the region of 1,000, including Jolie and her six children. Yet news about the film has been dominated by the recent screening at the Telluride Film Festival in California. We've heard little about how it was received in Cambodia or plans for further showings in a country with few cinemas.
And with the global release on Netflix, it raises even more interesting questions for a film about an international crime: who is this testimony aimed at, who is listening and who is supposed to respond?
Perhaps a film like this takes many Western audiences as far as they are willing to go with a harrowing topic about a very foreign country. Perhaps Jolie has done a commendable job of producing a piece of work that is authentic and respectful to Cambodia. Yet movies like this can never quite escape that uneasy sense of cultural annexation that accompanies them. It is not to say they have no value, but at the very least viewers should feel a duty to explore the subject further afterwards themselves.