Two items of recent news will have captured the attention of anyone interested in rock and roll history. The death of Anita Pallenberg, aged 75, on June 13, was greeted as the end of an era, the passing of a true 1960s icon whose role as a muse to the Rolling Stones it is hard to overestimate. A couple of days later, it was reported that another prominent muse, perhaps the most famous of them all – Yoko Ono – was to be given a writing credit for Imagine, previously credited to John Lennon alone.
Pallenberg was best known for dating not one, but two members of the Rolling Stones (Keith Richards and Brian Jones). She is also widely believed to have had on-screen sex with Mick Jagger while filming Nic Roeg's arthouse movie Performance. Marianne Faithfull, Jagger's former squeeze, led the tributes, posting on Facebook:
Anita used to say that we (the two of us) are light years ahead of the Rolling Stones. Witty and probably true!
Born in Italy, Pallenberg belonged to the dolce vita crowd and hung out with Andy Warhol in New York before embarking on a relationship with Jones, the most musically experimental and ethereal-looking Rolling Stone. Faithfull, meanwhile, descends from Austrian aristocracy (masochism came into being as a word due to her great-great uncle Leopold von Sacher-Masoch – the author of Venus in Furs). Accent and family tree alone suffice to turn her rendition of John Lennon's Working-Class Hero into arguably rock's most idiosyncratic cover version.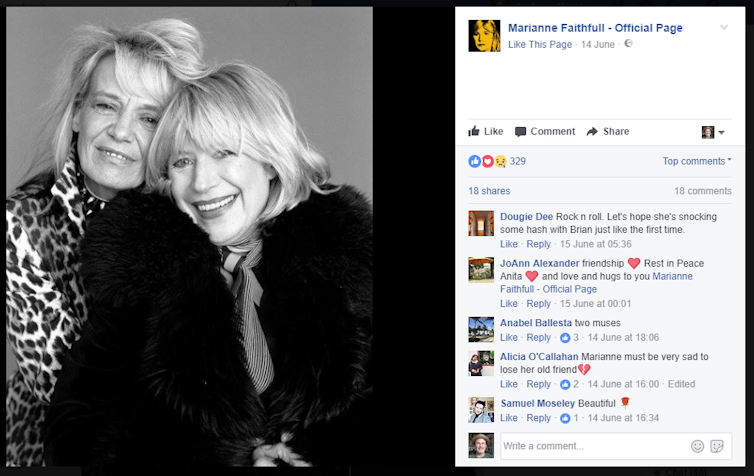 The Stones never sounded as good as when Pallenberg and Faithfull were in their orbit – a relatively brief imperial phase lasting from 1968's Beggar's Banquet to Exile on Main St in 1972. The band's musical and lyrical palettes were expanded by Faithfull and Pallenberg, who introduced them to cosmopolitan European cultural references, providing an effective counterpart to their schooling in the American blues. If you don't believe me, just give Sympathy for the Devil (1968) another listen.
Faithfull, who split from Jagger in 1970, was not credited for co-writing Sister Morphine on the initial release of the Stones' album Sticky Fingers' (1971) – an omission only rectified with the remastered version of the album in 1994. She is hardly the only victim of Jagger's and Keith Richards' effective patenting of songwriting credits for the Stones – irrespective of duties carried out. But any discussion of contributions Faithfull, Pallenberg or Bianca Jagger (Mick's wife from 1971 to 1979) might have made is exacerbated by the systematic objectification of female companions.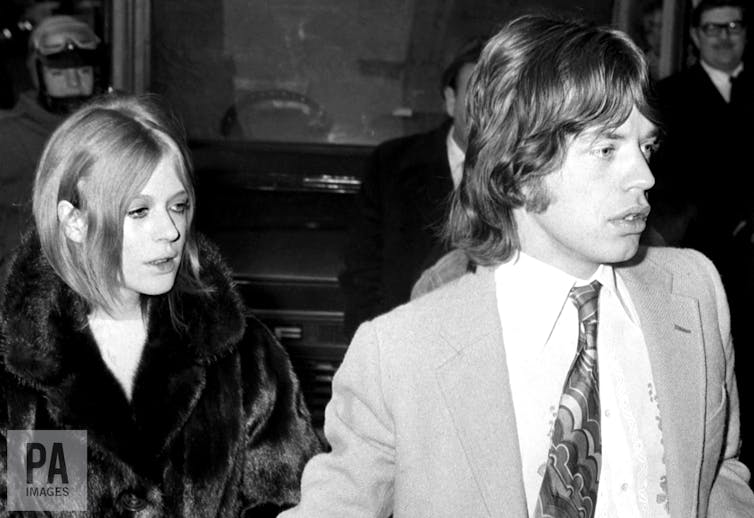 The default setting of rock's institutional sexism has repeatedly denigrated women as groupies, trophy items and distractions from the serious work of writing and recording rock and roll. A playlist of misogyny could fill your iPod for a marathon run – but just start off by downloading Kiss's Beth, Rainbow's All Night Long or, indeed, the Rolling Stones's Star Star.
Grunge rock ostensibly sought to dispel the macho posturing of yesteryear, but the union of Courtney Love and Kurt Cobain was construed through traditional paradigms. Love was the more famous of the two when they met – but the lead singer of Hole (who the Nirvana frontman famously referred to as "the best fuck in the world") was often presented as a modern day Yoko Ono, a parasite feeding off his talent.
Credit where it's due
Any divorce lawyer can testify to the difficulties in ascertaining what different partners bring to a relationship, but Tom Waits and Kathleen Brennan provide an all-too-rare example (Alfreda Benge and Robert Wyatt also spring to mind) of a canonical male singer-songwriter recognising his wife for satisfying his creative as well as emotional and sexual needs. In public statements and copyright alike, Waits has been scrupulous in acknowledging Kathleen Brennan for the experimental turn in his musical production between Heartattack and Vine (1980) and Swordfishtrombones (1983).
If this is the exception rather than the rule, general patterns are inscribed within a broader tendency to underplay female influence on male musicians. Ann Powers, the LA Times rock writer, has given the example of Janis Joplin, who had an incredible influence on heavy metal that has gone largely unacknowledged. A similar case could be made for Tina Turner. Her semi-autobiographical song Nutbush City Limits remains a concert staple for Detroit rocker, Bob Seger, and was used to audition the Geordie vocalist Brian Johnson when Australian metal superstars, AC/DC, needed a new singer following the death of Bon Scott.
It is well documented that Jagger appropriated many of her stage moves after the Stones opened for Ike and Tina Turner in the mid-1960s. Ike has rightly been vilified as a wife-beater – but the fact that Bob Marley and John Lennon are generally seen as global ambassadors for peace despite having abused their female partners is evidence of a wider culture of sexism, the effects of which still resonate today.
Yoko Ono may not have endured the physical and psychological violence to which Lennon subjected first-wife Cynthia, but she was almost universally vilified for reputedly breaking up the Beatles alongside her reputed personal and professional affectations.
I've always found Imagine schmaltzy and hypocritical mush – in my alternative canon, Voice of the Beehive's Perfect Place would have trumped it to being awarded Song of the Century by the National Music Publishers Association. But Ono being retrospectively granted co-authorship as she collected the award for a composition – whose sentiment and style were little in evidence in Lennon's life or songs prior to their meeting – is a symbolic milestone worthy of applause.