The Conservative party is clearly in trouble. Admittedly, opinion polls are snapshots, not predictions, but few pundits would argue Rishi Sunak will find it easy to overturn Labour's double digit lead in the next election, especially after the Tories' poor showing in the recent local elections. Even more worrying for Sunak, the severity of this trouncing appears to have been down, at least in part, to the willingness of those determined to eject the Tories from office to vote tactically.
It is hardly surprising that we're beginning to see speculation about what will happen to the Conservatives in the event of a defeat at a general election, which seems most likely to take place in the autumn of 2024. Almost inevitably that has sparked debate about who might take over from Sunak should he decide to step down as leader – talk which home secretary Suella Braverman's barnstorming speech to the recent National Conservatism conference in London has done nothing to quell.
The previous week, business secretary Kemi Badenoch's decision to face down Brexit hardliners over the Retained EU Law (Revocation and Reform) Bill was discussed through the prism of her leadership ambitions. Even leader of the House of Commons Penny Mordaunt's impressive ability to hold up a really, really heavy ceremonial sword for a really, really long time during the King's coronation provoked renewed chatter about her chances for the top job.
But the direction the party will take if it loses next year, and who it will pick to lead it in opposition, is actually going to depend both on how many Tory MPs hang on to their seats in the wake of such a defeat – and on who they are. And that, in turn, might depend on quite how heavy defeat turns out to be.
Three scenarios
Here we look at three scenarios in an attempt to tease out the differences we'd expect to see in the parliamentary Conservative party. We've not included the seats in which MPs have announced they are resigning, because we don't yet know who would fill these vacancies.
The first scenario is a Labour landslide that would leave just 106 of the current parliamentary Conservative party in Westminster. The second is a relatively comfortable Labour win, giving Keir Starmer a majority of around 60 over all other parties, including 207 current Conservative MPs. And the third is a result which means Labour is the largest party, and able to govern with the help of, say, the Lib Dems, either in the form of a confidence-and-supply agreement with a minority government or in full-blown coalition.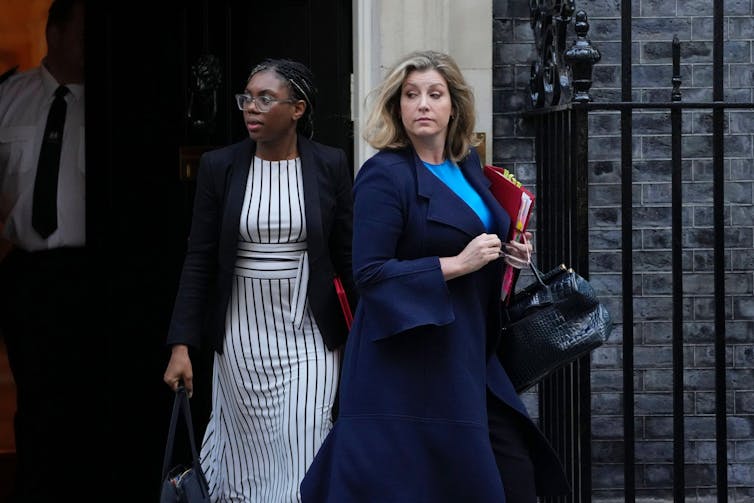 The most obvious change that any kind of defeat would bring would be the exodus from the Commons of most of those Tory MPs representing constituencies in the north of England, although this would nonetheless vary considerably according to the size of Labour's victory. Only one northern MP would be left were Labour to win a landslide and around ten would survive in the event of a comfortable Labour victory or our hung parliament scenario. Even then, however, that would represent only a third of those Conservatives currently sitting for a northern seat. And as for holding onto the much discussed red wall, forget about it.
How election defeat would shape party demographics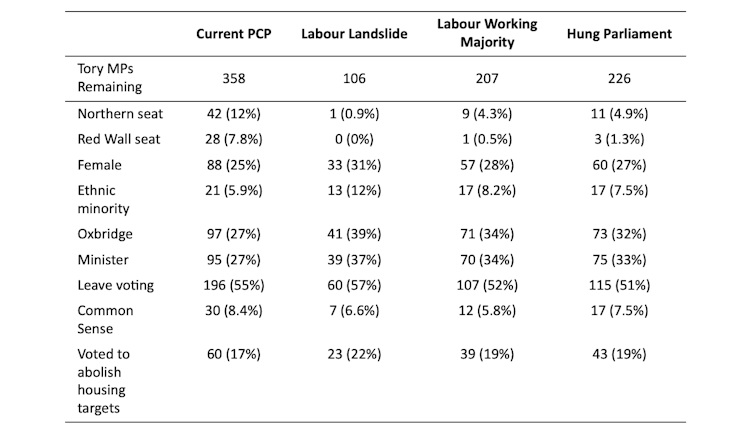 Defeat would also bring about some demographic change. In all three scenarios women would make up a greater proportion of the parliamentary Conservative party, although the impact would be slightly greater in the event of a Labour landslide, with women making up almost a third of all Tory MPs. And because many of the party's ethnic minority incumbents sit in some of its safest seats, a really bad defeat would also see them make up a greater proportion of Conservatives sitting in the House of Commons. The same incidentally goes for Oxbridge-educated Tory MPs and for current ministers.
Leavers would make up the majority in all three scenarios, and while the proportion of MPs associated with the anti-woke Common Sense Group (never as great as many imagine) would fall, the fall wouldn't be that significant. As for the NIMBYs – the backbenchers who dedicate immense energy to opposing measures to encourage house building – their strength would increase slightly, especially if there were a landslide.
Who would lead after election defeat?
There is certainly no evidence that a post-defeat parliamentary Conservative party would flock back to Boris Johnson, regardless of the metric used. Indeed, the share of MPs who publicly backed him in last year's second, abortive, leadership contest falls from 18% now to 11% in a Labour landslide. Even in a hung parliament the figure only rises to 14%. And in any case, unless he finds himself a safer seat fairly soon, Johnson's relatively small majority means he might not be there to take up the reins again anyway.
The post-defeat leadership contenders: who's in with a shout?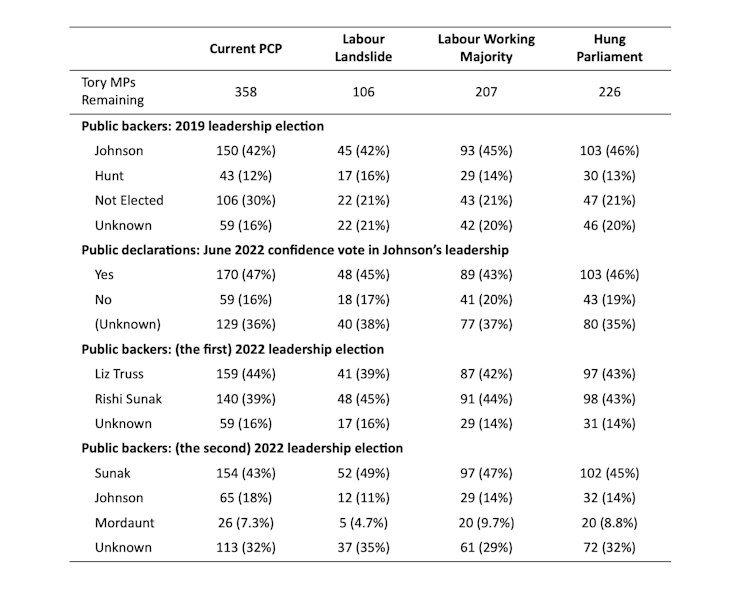 That said, the party's swordbearer-in-chief, Mordaunt, would be in an even weaker position: not only would her paltry 7.3% of public supporters fall to just 4.7% of the PCP, she would also lose her seat in a landslide defeat. Badenoch, on the other hand, in rock-solid Saffron Walden would still be around and is already being tipped to do better than the creditable fourth-place finish she achieved last time around. The same goes for Sunak himself. Indeed, his supporters would, in our landslide scenario, comprise nearly half of the parliamentary party. Whether that might tempt him to stay on rather than skedaddle to Santa Monica, who knows?
Whoever is in charge, our numbers suggest that, in the event of a heavy defeat, the Tories – represented as they would be by MPs who would be still more southern, more NIMBYish, more Oxbridge than they already are – could find it more difficult than ever to argue that they truly are a One Nation party.