Welcome to the 21st episode of The Anthill. It seems appropriate, as we come of age, to talk about growing up. In this episode of the podcast, we bring you stories on parenting, puberty and what it's like to grow up as a minority in Britain.
Parenting is arguably the single most important factor when it comes to children's development – and human approaches to it have changed markedly throughout history.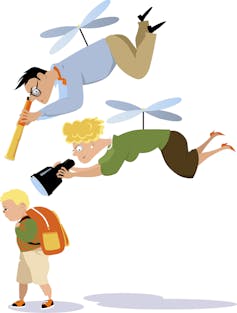 The past few decades have seen the rise of "helicopter parents" – people who are extremely protective and involved in every detail of their children's lives. We hear from Line Caes, a psychologist at the University of Stirling, and Teresa Belton, a visiting researcher at the University of East Anglia, to find out what effect this parenting style is actually having on kids.
Next up, we fast forward to puberty – probably not a stage of growing up that many of us remember with much fondness. In recent years, a growing body of research has highlighted how puberty is starting at an earlier age than it used to in young girls. Gillian Wilson, who studies immunology at the University of Glasgow, explains what happens in a girl's body when she starts puberty. And Celia Roberts, an expert on gender at Lancaster University, argues that early onset puberty is often mistakenly seen as a crisis.
---
More listening from our In Depth, Out Loud podcast: How slimming became an obsession with women in post-war Britain – podcast
---
Lastly, we explore what it's like for Muslims growing up in Britain at a time when Islamaphobic attacks are on the rise. Coventry University's Sariya Cheruvallil-Contractor tells us how hard it is for young Muslims who must juggle their teenage angst alongside acting as mediators between their faith community and the wider world. Jo-Pei Tan from Manchester Metropolitan University explains how children growing up in multi-ethnic families navigate their way between different cultures. And Bradford University sociologist, Yunis Alam, tells us why cars play a role in ethnic relations in the city, which has the youngest and fastest growing Muslim population outside of London.
---
The Anthill theme music is by Alex Grey for Melody Loops. Music in the puberty segment is Holiday Gift, by Kai Engel via Free Music Archive.
Click here to listen to more episodes of The Anthill, on themes including Myths, The Future and Pain.
A big thanks to City University London's Department of Journalism for letting us use their studios to record.