With the release of new iPads and Mac hardware, Apple announced that not only would the latest version of the Mac OS, Mavericks, be free, but it would also be giving away its iWork office productivity software for free with every new Apple device. Existing users are also able to upgrade at no cost.
iWork consists of three applications, Pages, Numbers and Keynote, the Apple versions of Word, Excel and PowerPoint. The iWork apps theoretically can convert from Microsoft formats, but in practice this is not going to be seamless.
The "free" offer is not across the board either, with Australian Mac users not buying a new device paying A$63 for iWork. This compares to A$299 for Microsoft Office 2011 for the Mac. By comparison Google Apps, Google's version of Office, is free for consumers.
For new users of Apple mobile and desktop devices, the free availability of compatible word processing, presentation and spreadsheet software is going to be a major boon. Although this software has been available on these platforms for some time, even the relatively modest cost would have been a barrier.
Since the last operating system upgrade, Microsoft has intensified its efforts in the tablet market and has steadfastly refused to produce versions of Office for the iPad or iPhone. At the same time Google, which purchased Quickoffice a year ago, is now offering this Office-compatible software for free
Beleaguered Microsoft faces ever increasing challenges from all sides. Its dominance in the PC market with both the Windows operating system and Office is being steadily eroded as the world moves to mobile phones and tablets.
In the next 4 years, IDC estimates that PC shipments and market share will slip a further 9%. Tablet sales will surpass total PC sales for the first time and overall, PCs will represent a mere 13% of the smart connected market.
Until recently, Microsoft had been comfortable in the knowledge there was always a huge inertia built in to users of Microsoft products moving away to consider alternatives. Compatibility issues with documents and the fact that Microsoft dominated the home as well as the workplace meant that an organisation or individual would have to be extremely motivated to migrate to an alternative.
But all of that has changed. Users are now being driven by their use of mobile devices and the expectation that they will be able to view and edit documents on any platform they choose.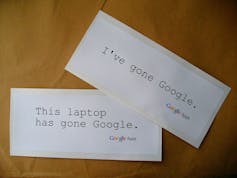 The other player in this space is of course Google, which has been making massive inroads in the cloud-based office software sector. Gartner [estimates] that Google now has over 50% (and growing) market share of this particular sector, which represents about 25 million of the overall market of 630 million business users. Microsoft has tried to respond with its own cloud versions of Office but as with most things Microsoft, it is struggling to retain hearts and minds.
Of course, when it comes to corporate decisions about platforms and software, hearts and minds of users are only a small consideration. It is unlikely that businesses will be moving to iWork as a corporate strategy any time soon and so in that market at least, the battle is going to continue to be fought out between Google and Microsoft. Apple could assist Google in this process however through the growth of its Mac range of PCs and the continuing poor performance and outlook for Microsoft's Windows 8. Although the Mac supports Microsoft Office, the availability of Google Apps and even iWork on this platform means there are alternatives.
For now though, Apple, Google and Microsoft all offer mobile and PC office products that also operate on the desktop and come with their own cloud storage.
Product strategy by all three companies is partly driven by each company being seen to provide equivalent features of the others. Only time will tell how successful each of these individual products on particular platforms will be given the different advantages each holds. But it's hard to argue with free.