Rowan Moore says in his 2012 book Why We Build:
Void counts for more than solid. The effort, skill and force of design and structure go into making pregnant emptiness a space in which things can happen.
This is something that the Glasgow School of Art's new Reid Building encapsulates. Since the first plans of Steven Holl and Chris McVoy's design were revealed, commentary (including that by the architects) has concentrated on its relationship to the existing Mackintosh Building opposite.
Recently voted Britain's most popular building, the Mackintosh Building was built in two stages from 1897 to 1909. Its significance lies partly in its historical position as a transitionary building; breaking away from the polite conventions of Art Nouveau towards a more unpredictable and stripped down modern future.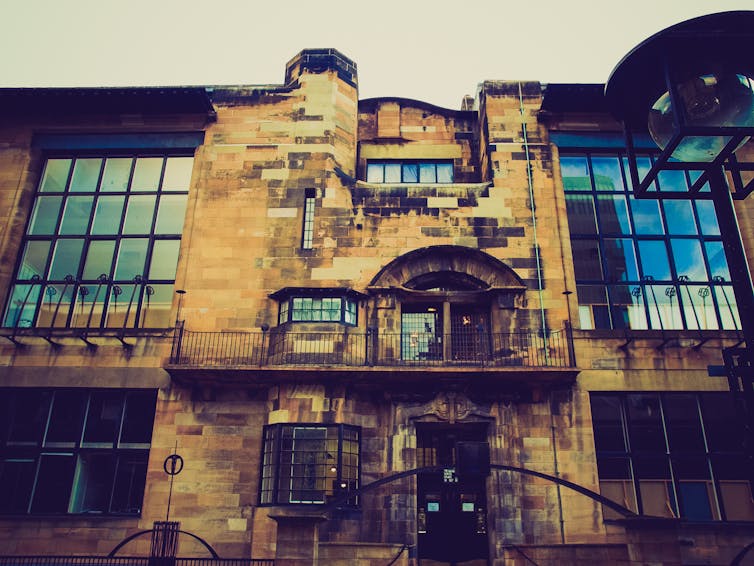 The Glasgow School of Art Institution concluded that, despite being more than 100 years old, it was the only building on their estate that was still "fit for purpose". That fact and its enduring inspiration to successive generations of artists, designers and architects mark it out as an exceptional building of the highest quality.
There is a particular challenge in designing within strong, existing contexts such as conservation areas and historic settings. To design a new building opposite this masterpiece is a particularly daunting challenge. The social and constructional contexts which existed at the time that it was created have long since disappeared. Labour is expensive now and hand-crafted labour even more so. Traditional materials are not always available to contemporary budgets and greater environmental demands are placed on the performance of contemporary buildings than ever before. It is, in other words, a far more complex process to build a building in the 21st century, than in the 19th century. This is one reason why contemporary buildings look different to their historical neighbours.
But what should a building look like? After all, of all the buildings we pass by in our lives, we only actually enter a tiny percentage. The exterior of a building has therefore a special responsibility to the public realm. What should it say to us? And what kind of dialogue should exist between two such buildings?
The main entrance of the new Reid building is diagonally across from Mackintosh's centrally-located staircase sweep. This gives the impression that the relationship between the two buildings is less a dialogue, and more like a friendly game of chess, where one is trying to outwit the other by studiously avoiding copying the other's architectural "moves".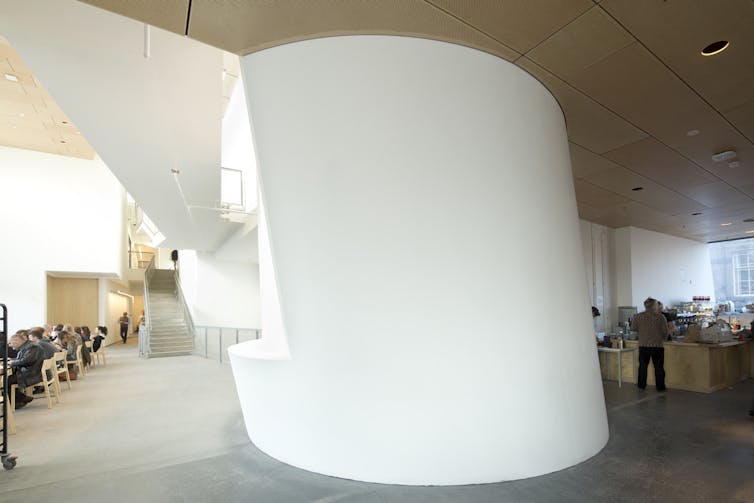 The architects describe this building as having "thick bones and thin skin" (concrete and glass respectively) in complimentary contrast to the Mackintosh Building's "thin bones and thick skin" (timber and stone). This theme has informed much of its formal and experiential qualities ranging from the matt-glazed exterior cladding to the (mainly) monochromatic concrete interior. Inside, there are three concrete tubes, five metres in diameter. These "driven voids", as the architects name them, are orientated to bring in southerly sunshine and enhance natural ventilation as well as help hold up the building structurally.
From outside, one is struck by how much sky is visible as a background and this characteristic is, I think the key to understanding the material and colour of the exterior. Its matte surface reacts in different ways to the changing light and colour of the sky. This light animates it as a physical construct, making us aware of the wider natural world within which it is situated. There is a play on transparency, translucency and opacity. Perhaps it is at dusk that these qualities are most apparent. The building appears like some giant son et lumiere device which can be tuned in some mysterious manner to calibrate its visual and tonal qualities. It seems to throb and have a pulse.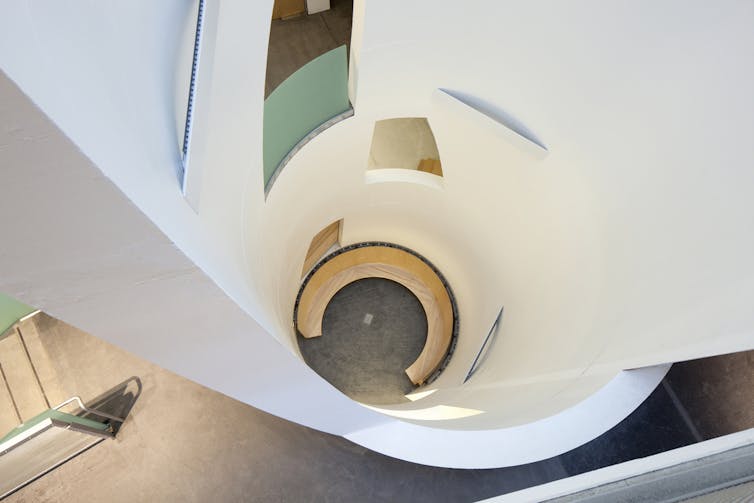 These external characteristics do not attempt to reveal the internal world within. The architects have deliberately created an exterior which encourages a visual pause between the interior world of the Mackintosh Building and that of the Reid. On entering, one is struck by its spaciousness and brightness. It is an interior which encourages exploration and discovery. The concrete tubes animate the split section of floor plates considerably and their slashed and gauged surfaces allow views (and sound) up and down, through and across them, making real the architects' ambition for a "circuit of connection" to encourage the casual encounters which the previous GSA Dame Seona Reid described as "creative abrasion".
Creative practitioners often seek out buildings which have been designed for quite separate activities. The marks and characteristics of those activities and from previous generations, visible in the built fabric can be stimulating. There is a sense of being in two worlds at the same time. Power stations and factories seem to make good art galleries; stables, warehouses and bakeries are converted into architects' offices and so on.
In contrast, new buildings can easily have a corporate, alien feel. In designing a building for creative practitioners, the inhibiting aspects of newness need to be overcome. This I has been successfully addressed in the Reid Building. The monolithic concrete interior, accented with quasi-industrial balustrade detailing seems to hit the right note. It doesn't feel too precious and looks like it can stand up to a lot of wear and tear. That lively mix of solid and void that characterises the interior creates a wealth of memorable spaces and in some cases, transforms pregnant emptiness into real places, which are conducive to daydreaming.