Recently, hospital and aged care provider association Catholic Health Australia (CHA) released a report sounding an alarm bell at recent increases in the number of patients in public hospitals being urged to "go private".
Public hospitals may encourage their patients to "go private" because it allows them to bill the patient's health insurance and Medicare for costs incurred, rather than having to dip into their own limited budgets. Patients may be persuaded to use their private health insurance after being assured by the public hospital of no out-of-pocket costs, or being promised added extras such as a private room.
The report argued this trend may harm the private hospital sector by affecting profitability and investment decisions. It may also harm the interests of public patients if public hospitals discriminate in favour of treating private patients.
While aspects of these concerns may be valid, there may also be some benefits to public hospitals treating more private patients.
A look at the figures
The report is correct that the numbers of private patients in public hospitals are increasing, at an average of 10.5% per year since 2011-12. Public patients in public hospitals and private patients in private hospitals have also been increasing, but at slower rates of only 2.7% and 4.5% per year respectively since 2011-12.
But percentage rates of change can be misleading. In raw numbers, the increase in public patients in public hospitals (527,467) and private patients in private hospitals (576,135) has actually outstripped the raw increase in private patients in public hospitals (287,473). This is because public patient numbers are increasing from a much larger base (over five million) than private patients in public hospitals (less than one million).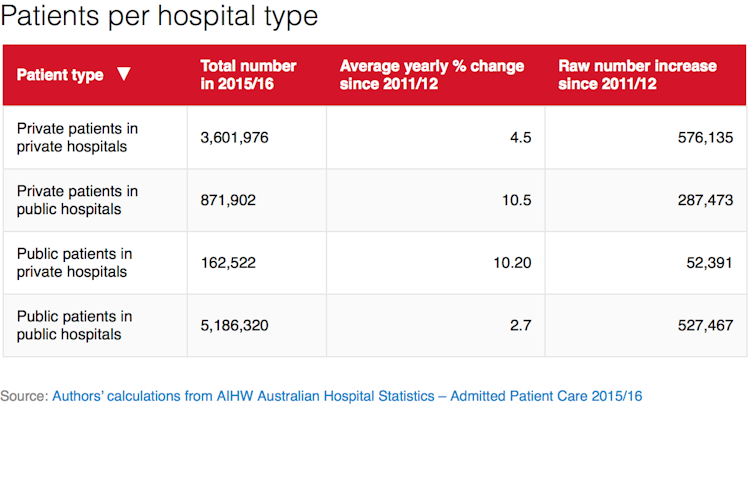 Concerns with this trend
The CHA report notes several concerns with the trend of increasing private patients in public hospitals. They note anecdotal evidence of public patients being pressured to "go private" with incentives including drinks vouchers, better food options and free parking. While these reports may seem concerning, it's hard to base any change of policy on anecdotal reports.
More worrying is the suggestion that publicly-admitted patients in public hospitals are being discriminated against, for example by being made to wait longer for treatment. The CHA report cites data from an Australian Institute of Health and Welfare report, which shows waiting times on public hospital waiting lists for public patients (at 42 days) was more than twice that of private patients in public hospitals (20 days).
But this difference is hard to interpret. There may be many differences in diagnosis and disease severity between public and private patients, which may explain the waiting time gap. So we can't conclude this is evidence of any form of "discrimination" against patients without private health insurance in the public hospital system from these figures.
More robust evidence from public hospitals in NSW in 2004-05 does show private patients were prioritised over public patients. In this study, waiting times for elective surgery were found to be considerably shorter for private patients, despite having similar clinical needs as public patients.
Differences in waiting times between public and private patients were found to be largest for patients assigned to the lowest two urgency levels. In these cases, waiting times for public patients were more than twice as long as for private patients.
There is further evidence, also from NSW public hospitals, that public and private patients may be treated differently when they are assigned to an urgency category for waiting lists for elective surgery. The study suggested private patients were more likely to be assigned into more urgent admission categories, which corresponds with a shorter maximum wait for admission into hospital.
This study also found private patients were likely to receive more medical procedures while in hospital, but found no difference for length of hospital stay or, importantly, for mortality rates.
Potential benefits
One claim of the CHA report is that there has been relatively "stagnant" growth of activity of private patients in private hospitals, potentially affecting their profitability and investment decisions.
First, the figures don't seem to back this up. The increase in numbers of private patients in private hospitals is actually higher than the increase in numbers of private patients in public hospitals.
Second, even if private hospitals were losing business to public hospitals, it could be a welcome demonstration of competition in the health care market. The trend may be explained through public hospitals providing better amenities, higher quality, or lower costs than private hospitals.
There are some arguments to support continuing the practice of public hospitals admitting private patients. There can be efficiency gains to the health system given that the fees and charges for private patients in public hospitals are usually lower than those in private hospitals. So this form of competition could lower the costs in the health system as a whole.
Additional revenue raised by public hospitals could also support the continual provision of services and programs for public patients, which may have been curtailed due to budget cuts to the public hospital system.
The public hospital system is often seen as unfairly treated by the private sector in how it bears costs for training junior doctors (which takes place overwhelmingly in the public system), and treating the most severely ill patients. From this perspective, it seems only fair to allow public hospitals to take their "share" of the more profitable private patients.
Why we need better data
It's important to figure out whether private patients are receiving preferential treatment at the expense of public patients. One study found abolishing preferential access for private patients and admitting patients according to when they were listed for an elective procedure would only lead to a small improvement in waiting times for public patients.
This is because long waiting times for public patients are primarily due to budget constraints in public hospitals, and not because private patients are skipping the queue.
The available robust evidence on the treatment of private patients in public hospitals is from more than a decade ago, and it's unclear if the disparities between how public and private patients are treated have improved or worsened.
One reason for the lack of high quality research on this topic is the restriction on access to detailed hospital data in Australia, which we need for robust studies. If we had access to more detailed data, we could better understand what's happening now, and ensure timely access to high quality hospital care for both public and private patients.