Images are powerful. And the ways in which artists respond to events like Tuesday's bombings in Brussels can sometimes strike a particularly potent chord with our collective emotions.
One such image, which has spread throughout social media in a matter of hours, is a cartoon of a French tricolor flag, turned into a sorrowful human figure, empathically consoling a tearful Belgian flag.
<tweet url="https://twitter.com/plantu/status/712229072512884736"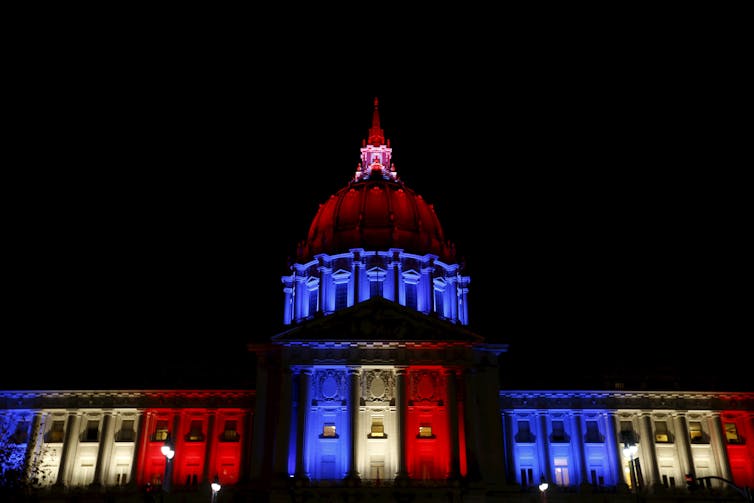 The loosely rendered poignant cartoon was penned by Jean Plantureux, a French cartoonist for Le Monde going by the name of Plantu. It is accompanied by words that read, "13 November … 22 March", reinforcing the solidarity between France and Belgium through their now-shared experience of horrific political violence in their capital cities.
Similarly, various images are circulating today of Hergé's Tintin, the iconic Belgian cartoon character, shedding a tear, sometimes in the red, yellow and black of the Belgian flag.
From the Brandenburg Gate to the Eiffel Tower and the Trevi Fountain (main image), Europe has lit up in red, yellow and black, and the rest of the world is beginning to follow.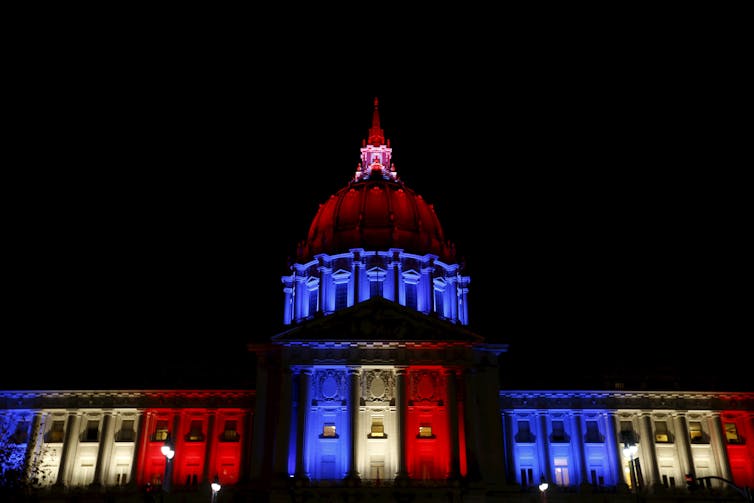 Yet, Plantu's cartoon will likely become the visual icon of these attacks, as it spreads throughout Twitter, Instagram, Facebook and beyond, in a similar way to Jean Jullien's symbol of peace for Paris following the attacks in November last year.
Certainly within the last year or so, since the Charlie Hebdo attacks, the rapid exchange of images in social media has emerged as an important way for many of us to make sense of contemporary political violence in the hours following it.
However, some commentators are noting the unevenness in responses between this tragedy in Brussels and one on a similar scale only nine days earlier in Turkey's capital, Ankara.
Yasmin Ahmed wrote last night in The Independent:
Where was our cartoon for those who have died in Turkey at the hands of terrorists?
In Turkey, three attacks in 2016 so far have left 49 dead and 149 injured. The most recent attack was ten days ago, on March 13, when suicide bombers from a Kurdish insurgent group killed 35 people in Ankara. Were they the wrong kind of victims? Or perhaps the perpetrators were the wrong kind of terrorists?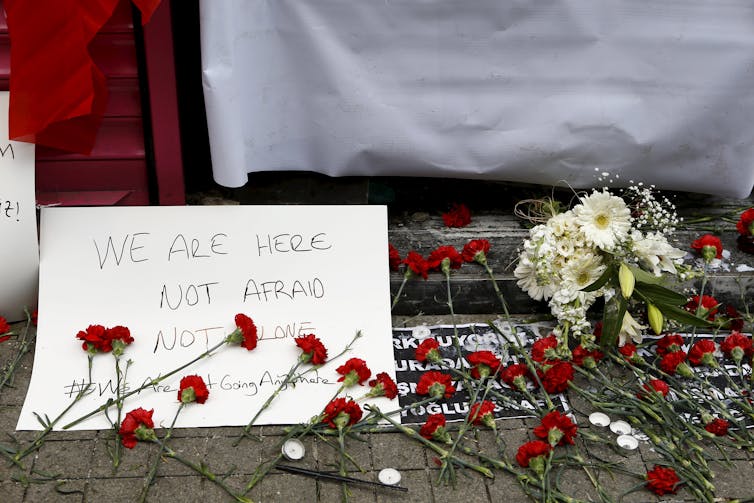 Interestingly, our different responses to these tragedies may well have a visual origin, according to theorists of visual culture who have grappled with these issues since the "war on terror".
In the early days of the war on terror, which played out on live television as commercial jets were flown into New York's World Trade Centre towers, Susan Sontag, herself a New Yorker, wrote that images of violence are "a species of rhetoric".
In other words, we might assume that, confronted by exactly the same images of human suffering, we universally feel the same gut-wrenching sense of horror, but, Sontag says, this is not the case.
In her book Regarding the Pain of Others (2003), Sontag argues that when we see images of human suffering in the media, we cannot help but see them through the lens of our own ideological positions.
Similarly, in Frames of War: When is Life Grievable? (2009), Judith Butler argues that certain images of violence are more easily understood than others, and the ones that resonate most with us are those that fit our own pre-existing ideas of who are victims and who are perpetrators.
She says ideas that fit our existing "frames" are the ones we continue to see the most. The "frame" is not just literally the rectangle of an image, but what our values and culture actually recognise and therefore allow us to understand – our ideas that allow us to "frame" our world, to contain it and understand it.
Butler's point is that we can only grieve lives lost far away if those losses are shown in the media, and if we understand those lives enough to identify to some extent with them.
In another book, Precarious Life (2004), Butler argues that the other lives lost, those we don't identify with, are effectively "ungrievable". They,
cannot be lost, and cannot be destroyed, because they already inhabit a lost and destroyed zone … When they are destroyed in war, nothing is destroyed.
Of course, it is impossible to grieve every life lost to political violence around the world, every day.
Images such as Plantu's cartoon can grant us an avenue through which to express our grief at such tragic and violent loss of life. Yet they can also demonstrate that our empathy might be lacking for those whose lives we less understand, who don't fit the "frame", who are in effect "ungrieveable".