Art as Therapy at Melbourne's National Gallery of Victoria (NGV) promises to "challenge visitors to examine assumptions about themselves, society, and how art is viewed in galleries". And it would be right to call it challenging – though not in the way intended.
We recently visited the project, keen to see this, one of writer and philosopher Alain de Botton's latest projects – a philosophical curation of a number of the works from the gallery's permanent collection.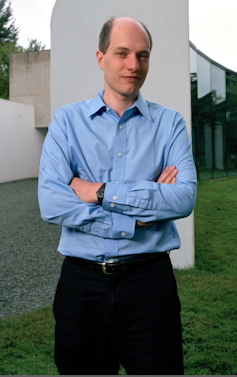 In collaboration with Melbourne University philosopher John Armstrong, the intention is to emphasise art's therapeutic capacity, to demonstrate, according to the NGV website, what art "can do for you". Like much of the work produced out of the School of Life project – a global cultural enterprise offering programmes for "living well" – the project seeks to draw capital-P Philosophy out of the cloisters of the universities and into the public sphere and popular imagination.
That idea could be wonderfully productive – by placing a short philosophical commentary on a given work alongside the official gallery precis, the viewer is reminded that there is more than one way of framing or understanding a work's importance. The new commentary has the potential to unsettle the old.
The Art as Therapy collection includes works as diverse as Jeff Wall's Untangling (1994) (above) and Jan Steen's Woman at her Toilet (1655-1660): interesting artworks. Yet, as we walked toured the collection, we became more and more frustrated by the curation. The list includes far more artworks by male artists.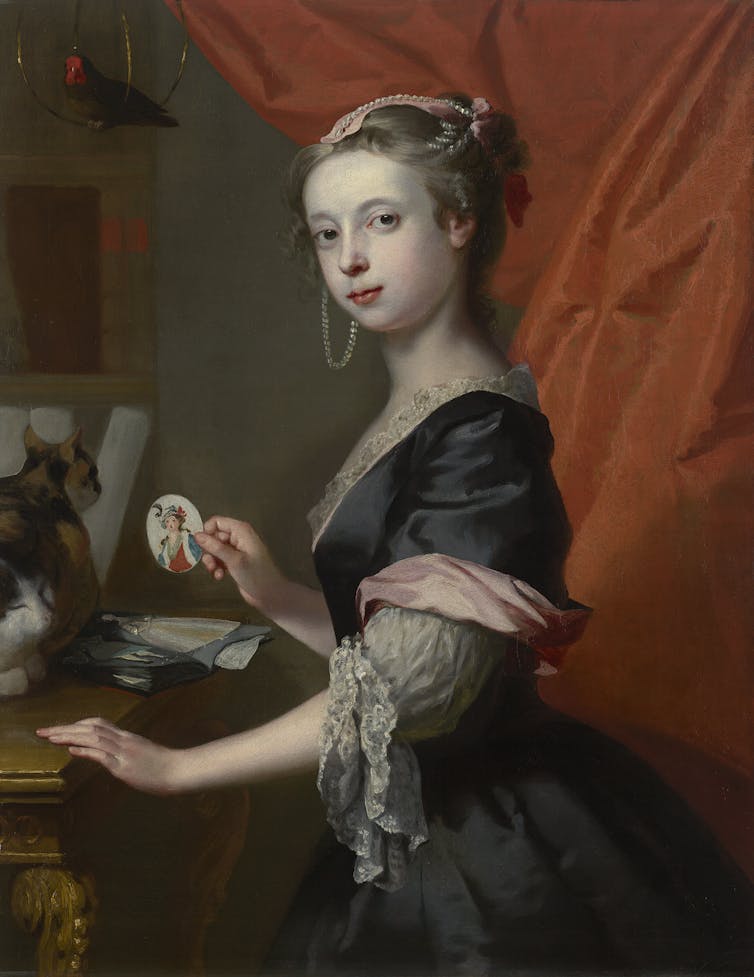 Perhaps that's understandable, given our culture has attributed more "significant" artworks to male artists than female artists. But the commentaries on those selections were sometimes odd: oddly simplistic or just plain wrong. These issues niggled at us until we were faced with a set of commentaries on two adjoining works that lead to us abandoning our visit all together.
Joseph Highmore's Self Portrait (c.1745-1747) and his portrait of his daughter Susannah Highmore (c.1740-45) (above), are hung alongside one another in the gallery.
In each painting the lone subject is formally and finely clothed, the body visible from table-height up. Each is turned slightly to look over their shoulder at the viewer, in the fashion of portraits of the day. While Joseph is of an august age, Susannah is somewhere between child and teenager.
De Botton and Armstrong provide commentary on both paintings on small placards beside the information provided by the NGV. The figure of the gentleman is described as "proud" and "having a really interesting look on his face" According to the commentary, "he has a clear sense of what he is about". The passage about the portrait of Susannah, on the other hand, focuses on her vulnerable body, on what she might be about "underneath" her "finery".
"It's not her fault," the commentators write in reference to her blooming sexual awareness:
Suddenly she has the power to attract men; if she displays her wrists the right way, puts some lace around her bodice, they are falling over her. She is entering the adult world.
We found ourselves doubly-distanced by this commentary through a combination of objectification and the sense of anger that accompanies the observation of that objectification when we know the people at fault ought to know better.
Many weeks later, we returned to the Art as Therapy exhibition, this time with the intention of viewing the curation with a more overtly feminist eye. Many of the works depicting male subjects are marked out as dealing with lofty ideas such as mortality, such as St Jerome by Flanders (c.1540), in which Jerome sits at a desk, an open Bible in front of him. We are told that St Jerome "had a successful career. His efforts were rewarded".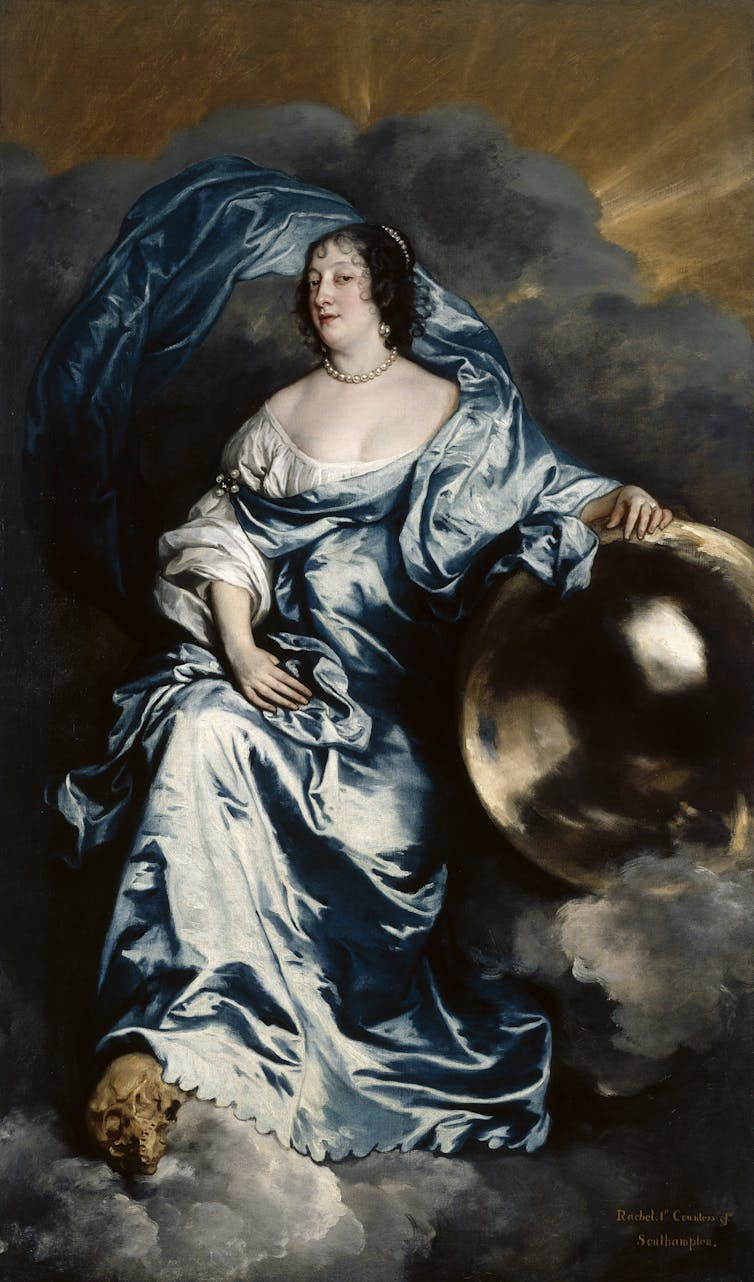 In the painting he is touching a human skull, a symbol that "he is facing the brutal facts of his mortality". Contrast this with Anthony Van Dyck's portrait of Rachel de Ruvigny, Countess of Southampton (c.1640) (above), a painting filled with ethereal iconography – sun rays bursting behind dark clouds, the figure of a woman presumably standing in the heavens, a skull beneath her foot.
In their commentary, de Botton and Armstrong draw our attention to the fact that the woman "looks a bit of a snob". We are told she is "very impressed by her own grandeur and probably in the habit of putting other people down".
There is no mention of mortality; the skull beneath her foot is obviously a mere symbol of her priggishness.
By eschewing the historical information galleries typically provide and touching on universal themes such as – according to the exhibition app guide – Love, Nature, Death and Politics, the Art as Therapy project at the NGV seeks to make art more accessible.
To repeat, the project wants to "challenge visitors to examine assumptions about themselves, society, and how art is viewed in galleries". Yet, the fact Armstrong and de Botton continue to lean on clichés, particularly around gender, means that the exhibition fails to take art out of its rarefied cultural context.
We were both disappointed that such a good idea fell so short.
So we have a challenge for the NGV: how about a feminist philosophy trail through the permanent collection? Let's see a trail that both challenges historical assumptions about the relevance of art at the same time as making such art more relevant to all viewers.

Art as Therapy is at the National Gallery of Victoria until September 28.