The election results in Virginia offer Republicans across the country one key lesson before the 2024 presidential election: Revise the GOP position on the critical issue of abortion.
Though not on the ballot, GOP Gov. Glenn Youngkin had campaigned for other GOP members on his plan to ban abortions after 15 weeks, as opposed to the outright abortion ban that some Virginia politicians have promised to pass. Political observers saw Youngkin's plan as a compromise that would limit the political fallout for the GOP from the U.S. Supreme Court's reversal of Roe v. Wade, which constitutionally protected the right to abortion.
Since the spring of 2023, when Youngkin first weighed in heavily in Republican primaries for the state legislature, Youngkin and other GOP candidates emphasized the 15-week ban in the face of relentless Democratic attacks.
But Youngkin's hopes that his 15-week ban would spare the party further political grief failed miserably, as Democrats secured control over both legislative branches.
Largely on the strength of suburban voters outside Washington, D.C., and Virginia's capital, Richmond, Democratic candidates who focused on the abortion issue captured a majority of seats in the House of Delegates and retained their majority in the Senate.
Abortion was the key issue
In my view as a political scientist, the effectiveness of the Democratic position on abortion shouldn't be a surprise to Virginia voters and politicians.
Polls, including a September 2023 statewide survey by the University of Mary Washington and Research America Inc., demonstrated that Democrats were far more likely to vote based on the abortion question than Republicans were.
In that survey, 70% of Democrats considered abortion a major factor for them in the upcoming elections, as compared with 35% of Republicans.
Among independents, 54% said the abortion ruling was a major factor as they considered how to approach the Virginia midterms.
Straddling GOP extremes
Youngkin was elected governor two years ago as a largely unknown conservative who had a lengthy business career – and no legislative record.
In recent decades, Virginia went from a reliably Republican state in presidential elections to one where Donald Trump lost by 10 points in 2020.
As a political novice, Youngkin successfully straddled the Republican dynamics of this purple state by trying to appeal to supporters of Donald Trump and his MAGA movement as well as moderate suburban Republicans uncomfortable with Trump's chaotic administration and legal troubles.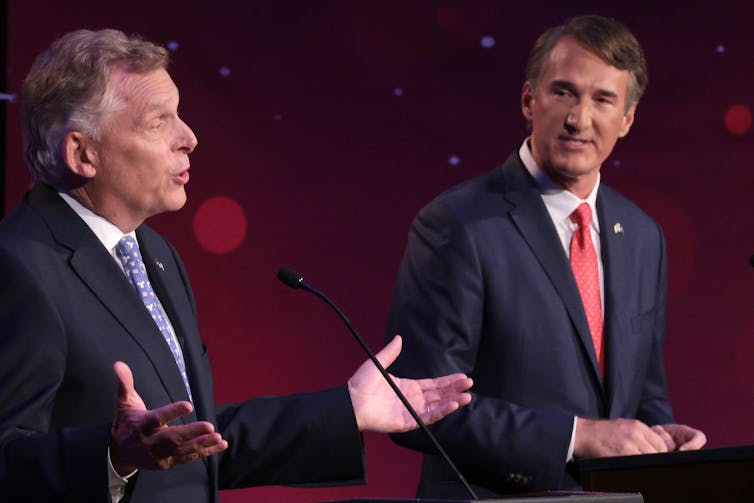 Youngkin offered up conservative cultural war messaging – particularly on parental rights in public schools that convinced Trump voters to cast ballots for him in his 2021 race against Democratic candidate Terry McAuliffe.
But in a nod to suburban Republicans, Youngkin kept his distance from the former president's insistence that the 2020 presidential election was stolen. Youngkin won the 2021 election by two points.
As the first Republican to win a statewide election since 2009, his victory – and that of the newly Republican House of Delegates majority – energized the dispirited Republicans lamenting the political changes in the state.
Shifting political landscape
To be sure, Youngkin wasn't just another fresh face touting radically new ideas for his party.
His campaign's focus on giving parents more control over local school districts connected with many white conservatives who were incensed that their children were being forced to read books that touched on contentious topics such as racism and sexuality.
Governing as a strident conservative focusing on easing COVID restrictions, cutting taxes and, above all, shifting the direction of public education, Youngkin ran into roadblocks in the Virginia Senate, where Democrats remained in the majority.
In one example, the Youngkin administration proposed a set of revisions to the state's Standards of Learning in history and social sciences.
Those proposed standards failed to mention Juneteenth and Martin Luther King Jr. Day and drew the ire of Black politicians and parents who criticized the proposal as "whitewashing."
Youngkin's proposals were later rejected by the state Board of Education.
After two years of contentious suburban school board meetings in places like Loudoun and Spotsylvania counties, Democrats had a response to Youngkin's views on parental rights . They argued that the GOP empowered extremists who want to ban books and tell lies about U.S. and Virginia history.
As a result, a preelection statewide poll showed that the education issue largely split the electorate down the middle, with roughly equal numbers of Democrats and Republicans saying that school policies were important to their choice in the Virginia midterm elections.
Where does election leave Youngkin and GOP?
With the failure of his plan to recast the abortion debate, Youngkin faces another loss that has significant influence on how he might achieve any legislative victories in the remaining two years of his term.
Democrats control the state legislature, and Youngkin's tenure may be marked by more legislative gridlock.
Youngkin might want to cooperate more with Democratic lawmakers going forward, but as a longtime analyst of Virginia politics, I believe the time when an olive branch would have been most effective was two years ago.
Instead, Youngkin started his term by defining himself as a partisan champion, albeit not a fully pro-Trump Republican.
He has reached the halfway point in his tenure where neither of those positions were rewarded by voters. That's not a good sign for a guy once touted as a possible GOP presidential candidate.