Sierra Leone has just reported one week of zero confirmed Ebola infections – the first time since the deadly virus reached its border in May 2014. If there are no more infections for 42 days after the country's last Ebola patient was discharged, the outbreak will be declared over. But the race to end West Africa's Ebola epidemic is not just about getting to zero infections. It's also about how the three countries most affected can deal with the broad humanitarian crisis the virus has left, which impacted livelihoods and led to food shortages, loss of education, widespread fear and mistrust in communities.
Ebola has caused further limitations to an already poorly resourced health and social care system. In Sierra Leone, there is just one trained psychiatrist for a population over 6m people. Recent research I've worked on and visits to Sierra Leone to pilot a mental health intervention with nurses there have illuminated the severe lack of mental health services available – and the devastating impact that Ebola has had on those already scarce services.
Devastated communities
A nurse in Makeni, Sierra Leone's fourth largest city, was brought to tears as she described the vulnerability of orphans, especially young girls, who cannot afford to go to school and are left without family or community support. The charity Street Child estimates that over 12,000 children have lost at least a primary caregiver due to Ebola. Following training we delivered in April, this nurse is establishing connections in the local community to support these young girls to get back to education or find jobs.
The disease was particularly influenced by cultural and behavioural practices at household and community levels. Much of West Africa still relies heavily on traditional healthcare practices. The care for a sick relative is first done in the home by family members and further treatment is often sought from traditional healers rather than in the poorly resourced government health facilities. Fear and mistrust of modern health services have existed in Sierra Leone for some time. This stopped many people from seeking medical care for Ebola and caused them to instead flee or hide from authorities. One can imagine how distressing it might be to have people enter the village, fully covered in personal protective equipment and to recognise that when they took a family member he or she was not likely to return.
Any interventions to address psychosocial needs must therefore be adapted for cultural sensitivity while also maintaining salient public health messages around Ebola. For example, when comforting a loved one we often express emotion physically, by holding hands or giving a hug, but across Sierra Leone the public health message was "ABC: Avoid Body Contact" to reduce the spread of the virus. So when training nurses, the images we portrayed needed to reflect supportive relationships absent of physical touch.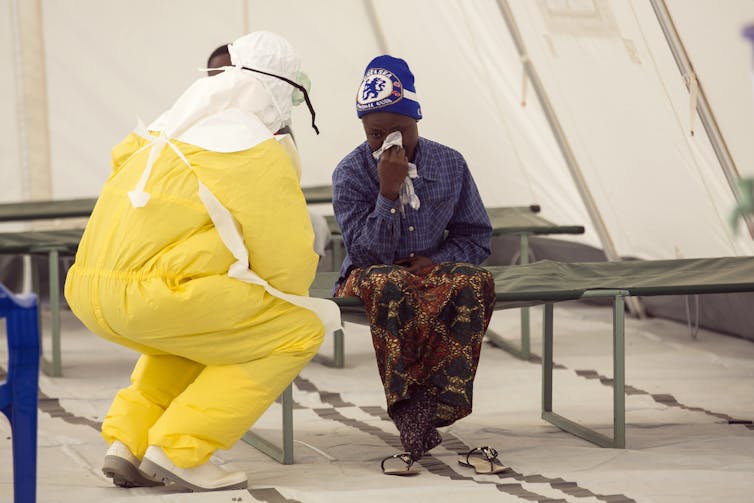 The highly infectious nature of Ebola coupled with crowded living conditions meant that entire families and villages were infected. For example, we heard from one of the nurses working with a survivor group in the Eastern Provinces, where the virus first entered the country, of a survivor who had lost 54 members of his family. All of his possessions were burnt when he was infected with the disease and he was left excluded from the community by people were fearful he would bring Ebola back to the village. This social exclusion has a long-term impact on the individuals involved and on wider society.
The harsh stigmatisation of healthcare workers, survivors and family members of those infected with Ebola is not dissimilar to the treatment of people with mental health problems and the nurses who care for them.
Weight of mental illness
In Sierra Leone, Ebola hit a post-conflict country still dealing with a recent history of trauma and mental illness. After the country's decade long civil war which ended in 2002, the Ministry of Health and Sanitation conducted a survey of mental health needs and found prevalence rates to be roughly 13% of the population – nearly four times higher than the global prevalence of severe mental illness, estimated at 4%. Twelve years later the Ebola epidemic hit Sierra Leone, but there is still no current data on the prevalence of mental illness in the country.
Exposure to an emergency situation of any kind, be it a natural disaster, conflict situation or an infectious disease outbreak, has a devastating effect on the psychological and social well-being of people involved.
There is international consensus around the need to establish mental health services in developing countries that are community-based, family-focused and culturally sensitive. The World Health Organisation (WHO) has established guidelines for training primary care workers in mental health and recently published a toolkit for assessing psychosocial needs in humanitarian settings. However, to date very few social interventions have been developed and piloted in places with low resources.
Despite the devastation Ebola has caused to the communities in West Africa, there is also an opportunity to "build back better", as international organisations such as the WHO and International Medical Corps bring human capacity and funding to support survivors, rebuild communities and enhance their health and social care systems. A recent meeting in the Liberian capital Monrovia emphasised the ways that the three most affected countries (Sierra Leone, Liberia and Guinea) can learn from one another and co-ordinate future mental health efforts.
It is possible to take a cost-effective approach to re-establishing communities and support networks in Sierra Leone. Existing resources need to be mobilised and mental health workers trained to strengthen the social support of individuals diagnosed with a mental health problem as well as those experiencing emotional distress and grief. Ultimately this will allow us to turn a terrible situation into a long-term solution by taking the opportunity to install a more comprehensive mental health network in Sierra Leone.