No water for Cape Town, no transport for communities on the urban edge, red alert days for urban pollution, extreme events with climate change, and the loss of open space and biodiversity as cities spread: these are all clear signals that we are living beyond our means. Global leaders can now physically see the risks facing our communities and the environment.
Kuala Lumpur has hosted the UN Habitat ninth World Urban Forum (WUF9) over the past week. The focus was implementing the New Urban Agenda that the United Nations adopted in December 2016. Urban leaders, business and community organisations and academics came together to share leading practice and knowledge on urban futures.
---
Read more: In Quito, the world meets to discuss the future of cities
---
The forum, the first held in the Asia-Pacific region, brought together 61 national ministers with 30,000 participants. The Australian participants were very disappointed that their government was not represented. We have much to share and learn as one of the world's most urbanised nations.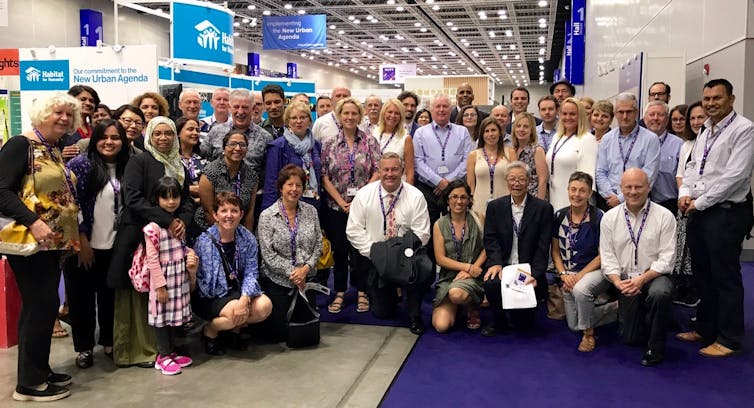 Cities can be drivers of change
The conference theme was "Cities for all Cities 2030". In opening the forum, the new head of UN Habitat, Maimunah Sharif, said:
[C]ities have the potential to lead a country's growth, as drivers of sustainability and as tools for social integration and equality. Cities often symbolise hope and possibility. Well-planned, well-managed urbanisation is a tool for development.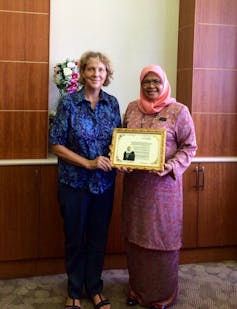 Sharif is one of 24 leaders in urban sustainability interviewed for my recently published book, Sustainable Pathways for Our Cities and Regions: planning within planetary boundaries. A former director of George Town, mayor of Penang and president of Seberang Perai, Sharif has been a champion of sustainable development that is meaningful and works with local communities.
The leaders I interviewed stress the need for clear targets based on a 20- to 30-year urban vision with well-defined sustainable outcomes. Examples include the 100% Renewable Energy cities alliance (including Canberra), more cycling than cars in Copenhagen (with a target of 50% cycling to work and studies by 2050), and the UN Habitat target of 15% green open space for communities in every town.
Social inclusion is a central message. This is because a divided society is no foundation to tackle the complex problems urban communities face. Housing is critical.
---
Read more: The ethical city: an idea whose time has come
---
The challenges are almost overwhelming. Nearly 1 billion people are living in poverty. That compounds the impacts of climate change on urban communities, including heat, coastal storms and rising sea levels.
The New Urban Agenda identifies five key strategies for achieving more sustainable urban growth: national urban policy; urban legislation, rules and regulations; urban planning and design; municipal finance; and local physical implementation.
National urban policy is central to achieving more integrated outcomes. The UN Sustainable Development Goals, the OECD Urban Policy Reviews and, in interviews, urban leaders around the world all agree on this. National policy developed in partnership with sub-national governments and community input is fundamental to creating more sustainable cities and regions .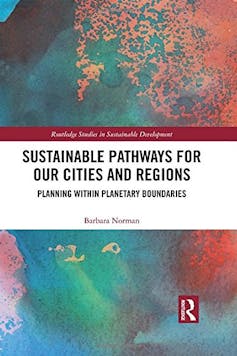 What are the seven pathways?
Sustainable Pathways for Cities and Regions proposes seven pathways for cities and regions:
Planning within planetary boundaries - every city and region has an environmental health checklist to improve its environment and minimise global impact (carbon, water, air, biodiversity, land-use change and so on)

Long-term vision with targets - strategic and timely investment in staged development that meets community and regional needs

Adaptive integrated planning - short and long-term spatial planning involving affected communities to help achieve timely and co-ordinated sustainable development

National strategies to implement the Sustainable Development Goals as part of a global agenda for managing urban growth and supporting sub-national action for more sustainable cities and regions

Net zero-carbon precincts that implement leading practice in precinct planning and design that is zero carbon, resilient and liveable

Innovative platforms for collaboration and evaluation that better connect cutting-edge research with public policy and communities – for example, a national sustainable development commission and innovative partnerships with universities

Green growth – providing jobs in renewable energy, rapid transit, water-sensitive urban design, green infrastructure and smart technology to reduce urban pollution.
It is time we started a more informed discussion on the role of more medium-sized cities. We need to develop alternatives to ever-expanding mega cities. This means examining, again through a national urban policy, real options for supporting integrated development of regional centres.
There are many success stories to be found in cities and regions. These make it clear we have the tools to make the transition to a more sustainable future. What we need now is the collective will to make it happen and the leadership to deliver these outcomes for all communities.