An Australian native mosquito has for the first time been detected in urban California, in the latest wave of mozzies hitching rides to new destinations.
While it is unlikely to pose a significant health risk to Californians, the species Aedes notoscriptus has been implicated in Australian outbreaks of Ross River virus and Barmah Forrest virus.
Aedes notoscriptus is one of the most widespread nuisance biting pests in Australia. It lives in urban areas, hiding out on pot plant saucers and rainwater tanks, and feeding on humans and pets.
A number of Californian residents notified authorities in June after they noticed small black and white stripped mosquitoes that bit during the daytime. Most species feed at dusk and dawn but serious pests like the Asian tiger mosquito bite during the day.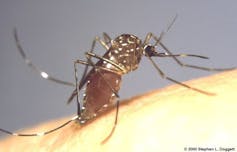 The Orange County and San Gabriel Valley vector control districts collected and photographed the samples, and sent them to University of Sydney mosquito researcher Cameron Webb and his colleague for verification.
Dr Webb said it was difficult to know how widely the mosquito had spread but because it tolerates cool climates, it has the potential to spread across North America.
"A major unknown in this situation is the role a mosquito such as Aedes notoscriptus may play when transplanted into a completely new environment of pathogens and wildlife," Dr Webb said.
Ross River virus causes flu-like symptoms, fatigue and muscle and joint pain, which can persist for months. But in order for the virus to spread, the mosquito must bite an infected person.
There have been no cases in the United States. But Dr Webb said the Australian mosquitoes "pose a risk if infected travellers bring Australian pathogens into California".
University of Queensland scientist Nigel Beebe said the incursion was significant, but compared with the Asian tiger mosquito, which arrived in Los Angeles in 2011, the Australian mosquito was more of a tabby cat than a tiger.
"As a disease vector I don't think it's going to be that important," he said, whereas the Tiger mosquito can spread potentially debilitating diseases such as dengue and chikungunya.
This year Perth, Adelaide and Melbourne have had incursions of the Asian tiger mosquito and dengue mosquitoes, and Darwin has had multiple incursions of dengue mosquitoes, putting more Australians at risk of these diseases.
"These incursions are occurring around the world," Dr Beebe said, but it was unclear how the Australian mosquito arrived in LA.
It could have hitched a flight to LA, he said, but because it was found in an urban environment rather than the airport, it was more likely to be someone moving to LA and taking a container load of gear.
"The eggs of these species can dry up so they can be moved around, and the next time the rain comes, off they go again.
"This is our biggest concern because you can monitor the seaports and airports – and in Australia they're monitored to about 400 metres with traps to catch mosquitoes. But it's really difficult to monitor the large movements of container loads of peoples' goods.
"This is often how the mosquito gets under the radar."