Over the weekend, Australian Winter Paralympians broke their medal drought at Sochi to end the Games with two skiing bronze medals – one won by Toby Kane in Super Combined and the other by Jessica Gallagher and her guide Christian Geiger in the Giant Slalom – bringing our total medal tally over the years to 30.
This year's Australian Paralympic squad comprised nine athletes, two guides and loads of support – but this has not always been the case.
Australia's one-man show
In 1976, Australian skier Ron Finneran heard about the "Winter Olympic Games for the Disabled" being held at Örnsköldsvik, Sweden.
As there was no organisation in Australia to select competitors, he asked the only other two active skiers with a disability whether they were interested in a "ski off" to go to Sweden.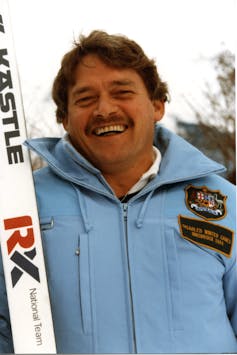 They declined, citing family and work reasons, and Finneran, who was endorsed by the Australian Ski Federation and partially funded by the Cabramatta Rotary Club, left for Europe six weeks before the Games.
In Örnsköldsvik, the Games Organising Committee offered lodgings in a spare projection room at the local cinema. Finneran worked during the day at a restaurant, waiting tables and washing dishes, to pay for his accommodation at the cinema, and he trained at night on a well-lit slalom course with the locals who helped hone his skills.
The first Paralympic Winter Games provided competition for only amputee and vision impaired athletes, a disaster for Finneran, who had mobility limitations in his legs and arms as the result of childhood polio.
After a heated argument with the founder of the Paralympic movement, Dr Ludwig Guttmann, Finneran was informed that he could not compete. Instead, he carried the Australian flag at the modest opening ceremony and acted as a forerunner to events to ensure the quality and safety of the course.
How times change
Some 38 years later, the Sochi Paralympic Winter Games were far removed from Finneran's experiences:
the first Paralympic Winter Games involved 198 competitors from 16 nations
in Sochi, 550 athletes from 45 nations qualified under a competitive quota system to compete in five sports.
While there were discussions of boycotts in Sochi in response to the Russian incursion into Crimea, all nominated nations participated.
At the Sochi Paralympic Games, there were events for athletes with spinal cord or nerve damage, cerebral palsy, limb loss or deficiency and vision impairments. Ron Finneran would have been eligible to compete in multiple events at Sochi.
What the Australian athletes experienced at the Sochi Paralympic Games was more complexity and diversity than any previous Winter Games.
In 1976, there were only two medal sports – alpine skiing and Nordic skiing – with 25 events for male and female athletes, but athletes in Sochi contested 75 medal events in alpine skiing, biathlon, cross-country skiing, ice-sledge hockey and wheelchair curling. For the first time, snowboarding was added to the Games as part of the alpine skiing program.
Aussies at Sochi
Only 35 athletes have ever represented Australia at the Winter Paralympics, with all but four competing in alpine skiing, and the remainder in Nordic skiing events.
It is in the alpine events that Australia had won all its 28 medals prior to Sochi, with its first gold medal won by Michael Milton in the slalom at the Tignes-Albertville Games in 1992.
In Sochi, hopes were high for further medal success after world cup wins to Mitchell Gourley, Melissa Perrine and Toby Kane during the lead-up to the Games and a number one ranking in slalom for Jessica Gallagher.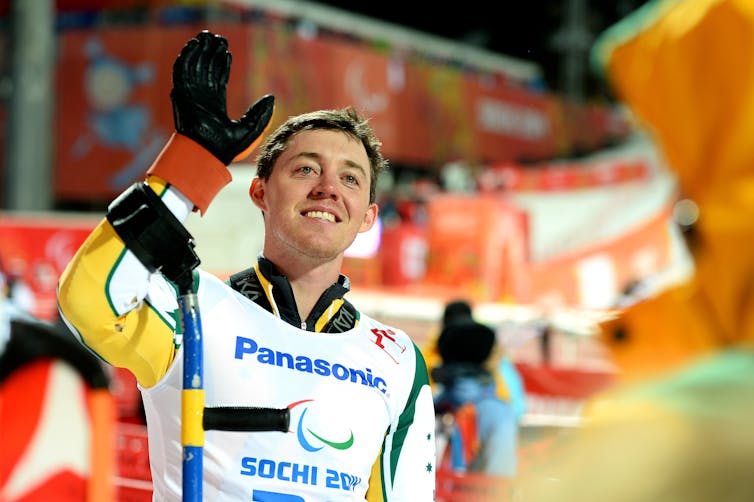 But the lead-up to the Games took a tragic turn, when snowboarder Matthew Robinson died after a crash in a world cup race. The tight-knit Australian winter team was devastated.
Australia's hopes received another set-back when Vancouver medallist Cameron Rahles-Rahbula crashed in training and was ruled out of the Games.
Rahles-Rahbula carried the flag in the opening ceremony, and his teammates wore black armbands in memory of Matthew Robinson.
Australia's run of misfortune continued when Melissa Perrine was disqualified for wearing a visor on her helmet during the slalom leg of the super combined event and Joany Badenhorst crashed out of the Games in her warm-up for the snowboard event.
By Games' end, Toby Kane had won a bronze medal in the men's standing super combined event and Jessica Gallagher won her second bronze medal in two Games, in the giant slalom, placing Australia 19th on the medal tally.
The training, opportunities and experiences in contemporary Paralympic sport are a world away from 1976. Australia's athletes at Sochi went through rigorous selection and qualification trials, as well as extensive training and competitive opportunities in domestic and international settings.
Furthermore, they competed at the same facilities and stayed in the same accommodation as Winter Olympians, something that began at the Tignes-Albertville Games in 1992.
Winter Paralympics wrap-up
Despite fears about the snow conditions and temperatures that rose above 10C on the mountain during the first week of the Games, Sochi was an unparallelled success.
Some 316,200 tickets were sold, exceeding Vancouver's record attendance by almost 40%, as Russian crowds embraced the Paralympics.
The Sochi Paralympic Games were also an international media event. Unlike in the first Winter Games in 1976 when there was only limited print coverage in Sweden, in 2014 Channel 4 (UK), NBC (US), CBC (Canada) and the ABC (Australia) broadcast a mixture of live and packaged television.
NBC, which has previously largely ignored the Paralympics, responded with 27 hours of live coverage, including the ice-sledge hockey final in which the US defeated Russia.
In Australia, overall media coverage of the Games was more than four times greater than in 2010. This extensive media attention and associated social media has enabled Australians to follow the trials, tribulations and successes of athletes and engage with the Winter Paralympics as a global spectacle.
It's a world away from 1976.

This article was co-authored with Tony Naar, General Manager of Knowledge Services at the Australian Paralympic Committee.