The recent announcement that funds allocated to the Australia Council to support artists and small-to-medium arts organisations will be redirected toward the establishment of a National Programme for Excellence in the Arts is concerning, as the fallout – and subsequent news of a Senate inquiry – has demonstrated.
Simply put, it is a seismic shift that will undermine the entire sector, across all disciplines, and it will have a serious impact on the future topography of the cultural landscape of Australia.
While funding for the 28 major performing arts agencies has been protected, the consequence is that individual artists and those arts agencies that support them, will carry the full brunt of the ensuing fallout.
This undermines the foundations of our cultural infrastructure and the bedrock upon which the major companies are built. It erodes that solid base of engagement, training, audience development and knowledge that supports a national arts ecosystem.
While there are many examples of how this redirection of funding will impact on operations and outcomes, the case of university art museums (UAM's) exemplifies the potential shock waves of disruption and disjuncture.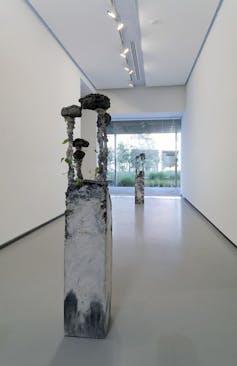 While the Australia Council does not directly fund UAMs, those museums actively seek support through the Council's Development Grants and Arts Projects funding categories to deliver their programs. They also work with artists who receive support for Art Projects, to give their work public exposure through their exhibitions and touring activities.
UAMs are also key partners and collaborators with other arts organisations, corporates and private individuals in contributing to a diverse and rich cultural landscape.
In 2011 in UAMA's (University Art Museums Australia – of which I'm the Chair) submission to the Creative Australia Cultural Policy discussion we reported that the nation's 25 UAMs care for cultural collections with an estimated value of more than A$300 million, and annually build on that investment by collectively spending more than A$6 million on acquisitions of work by living Australian artists. The following figures came out of that 2011 submission.
The nation's UAMs each present an average of 10.5 exhibitions a year, which are free to the Australian public and international visitors, attracting a total of more than half a million visitors.
UAMs invest more than A$11 million a year in collecting, conserving, displaying, interpreting, and promoting artworks, largely by Australian artists, and they account for 26% of the country's public art museum sector. This constitutes a substantial and vibrant network that spans the nation.
So, although not as immediately impacted as those organisations that depend on the Australia Council for administrative and operational support, the UAM's ability to present exhibitions that contribute to an understanding of contemporary Australian life and create professional development opportunities that will support sustainable careers for Australian artists is significantly affected by these funding changes.
The Lawrence Wilson Art Gallery at the University of Western Australia – where I am the Director of the Cultural Precinct – gained support from the Australia Council to present a review exhibition of the work of eminent Australian photographer Anne Ferran in 2014.
Anne Ferran: Shadow Land (November 2014 - January 2015) was developed in partnership with the Australian Centre for Photography, Power Publications, the Perth International Arts Festival and Wesfarmers Arts, with funding from the Council's Presentation and Promotion grant round.
Through the efficacy of this partnership, three decades of sustained creative engagement by a prominent Australian artist were introduced to a wider national audience through a major touring exhibition and the publication of a monograph.
This could not have happened without Australia Council support and, like so many other projects supported by UAMs, it was a response to priorities within the visual arts sector that are not otherwise well supported.
Importantly, Australia Council funding enables artists to undertake ambitious projects. At the University of Technology Sydney Gallery, the commitment to showcasing the creative use of technology and the work of artists who demonstrate the value of experimentation and creative thinking, has led to very productive collaborations.
These include exhibitions of new work by Izabela Pluta, Paul Greedy and Michele Barker & Anna Munster, all funded by Australia Council New Work grants.
Their funding through the Australia Council was supported by the UTS Gallery through presentation expenses and investment in public programming, including a series of workshops held for students from low socio-economic status and Indigenous backgrounds as part of the federal government's Widening Participation Strategy.
Australia Council funding also supports international opportunities for Australian artists. Monash University Museum of Art's presentation of Concrete, a key project in the Australian Government's Istanbul-based cultural festival in September this year, Australia in Turkey 2015, was developed with Australia Council support through the Department of Foreign Affairs and Trade to mark the centenary of the first world war.
The exhibition, which features 16 artists (eight of whom are Australian), presents a rare opportunity for these artists to gain exposure to a large and varied international audience. Projects such as this are only possible through the assistance of the Australia Council.
These examples indicate how small investments in exhibitions and the production of new work can create a significant impact. The imprimatur of the nation's leading cultural agency is an important credential that facilitates other support and generates a national audience.
With limited access to that funding, university art museums will find it increasingly difficult to maintain their substantial contribution to the development of contemporary art, craft, design, new media and Indigenous visual arts practice, and to continue to nurture the careers of art practitioners and arts professionals throughout Australia.