Last year, Australia's new cars were just 1.1% less polluting than the year before, according to a report released this week by the National Transport Commission.
This is the smallest improvement on record, and largely due to our growing preference for SUVs and utes. In addition, some locally manufactured cars actually became less efficient.
But the backdrop of this poor performance is Australia's astonishing lack of mandatory vehicle efficiency standards (adopted by 80% of the world), which allows foreign manufacturers to offload their least efficient cars in Australia.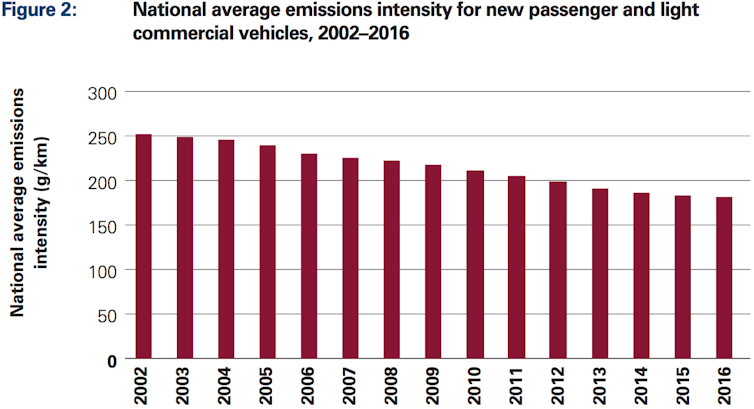 These findings vindicate a 2016 report from the Bureau of Infrastructure, Transport and Regional Economics, which advised that in the absence of policy changes, the rate of emissions improvement could return to around 1%. The report also warned that Australia would be increasingly left behind by other countries.
Both predictions have come true. The NTC report shows the average emissions intensity for new passenger vehicles sold in Australian was 46% higher than their European Union counterparts.
This gap jumps to 80% for locally manufactured cars. Our local vehicle efficiency has not improved since 2012 and actually went backwards between 2015 and 2016. The difference is largely attributable to a 5.8% increase in Holden's average emission intensity in 2016.
We're buying more polluting cars
The NTC report found that consumer preferences play a large role in the slowing rate of vehicle efficiency improvements. Australians bought more SUVs and utes, but far fewer "green cars" (vehicles that emit less than 120g of carbon dioxide per kilometre).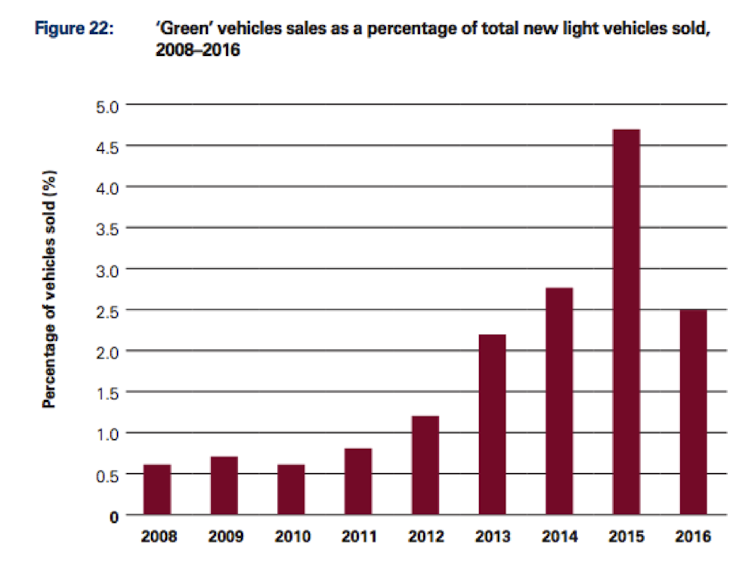 The proportion of green cars sold in 2016 fell to 2.5% of total car sales, from 4.7% in 2015. Lower consumer demand has reduced the number of green car models available, from 72 green car models in 2015 to 51 green car models in 2016.
Finally, total sales of electric vehicles dropped 80% in 2016 (219 sales) compared to 2015 (1,108 sales)
Strong government action
The cheapest way for Australia to reduce our greenhouse gas emissions is to introduce mandatory fuel efficiency standards. Without them, global manufacturers have no incentive to offer more efficient models, and a 2016 government report into fuel efficiency found that:
The best-performing variants sold in Australia were about 27% worse on average than the most efficient model variants offered in the UK.
The same report investigated the costs and benefits of three different options for efficiency regulations, which could be phased in between 2020 and 2025.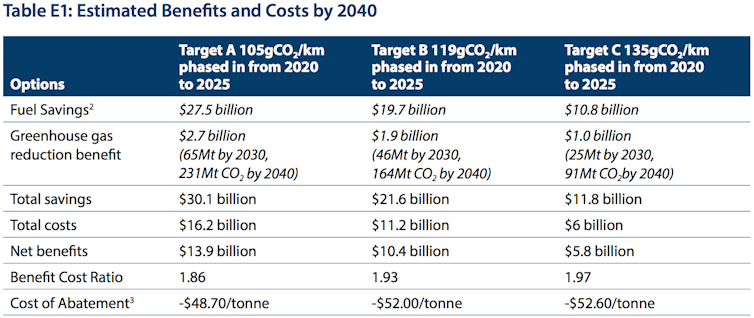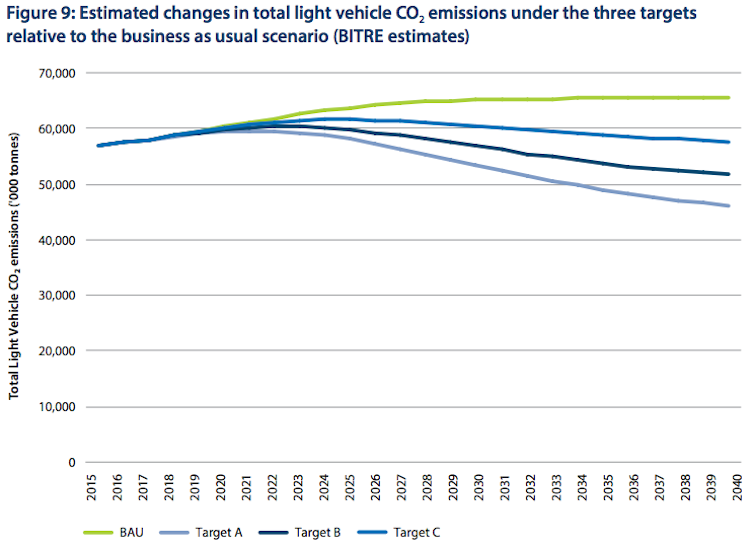 All three options provide a net financial benefit, with the most stringent regulation saving the most money (primarily though reducing the cost of fuel, but also by helping stay within our carbon budget).
Adopting target A, which proposes all new cars release a maximum of 105g of CO₂ per kilometre by 2025, will prompt car manufacturers to import the most efficient vehicles available. The price increase in cars would be recouped by dramatically lower fuel costs, as shown in the table below.
It will also deliver 6% of Australia's 2030 emissions-reduction target.

However the dire state of Australia's road emissions makes a strong case for introducing new efficiency standards before 2020. Light vehicles currently account for 10% of Australia's annual greenhouse gas emissions, about 57 million tonnes.
On the other hand, the NTC report found that if all new vehicles bought in 2016 in Australia had been the most efficient in their class, emissions would have been reduced by 59%.
Until we have firm fuel efficiency standards that create a consumer incentive towards low-emission vehicles and prevent global manufacturers from offloading highly polluting models in Australia, we'll fail to make real progress in reducing road emissions.