2009 was the best of times and the worst of times for the export education industry. This was the year that recorded an unprecedented 631,935 international students in Australia - a growth of 16.8% from the previous year. But this bubble soon burst due to the high Australian dollar, highly publicised attacks on Indian students and increased competition from other countries.
The following years brought doom and gloom reports of institutions needing to tighten their belts and be more creative with their curriculum because of the fall in international student numbers and hence foreign income. Since the 2009 peak, numbers have been steadily dropping, dipping to a low of 515,813 international students enrolled in Australian institutions in 2012. Reports of international students being exploited by employers, being taken advantage of by dubious landlords and being victims of racism on public transport have not done the export education industry any favours.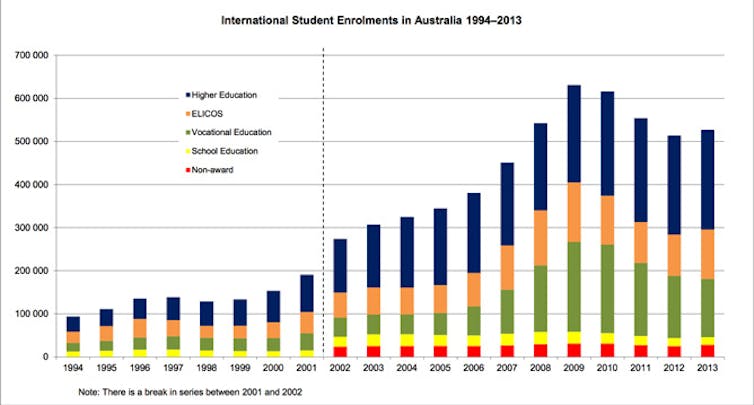 Why are international students important to Australia?
International students are a huge part of the Australian economy. The majority come from Asia with the top countries being China, India, South Korea, Vietnam and Malaysia. In 2010-11, education services brought in $16.3 billion through full-fee paying international students.
By the end of 2013, 526,932 international students were enrolled in education institutions throughout Australia. While these numbers are not in the same vicinity as the 2009 figures, they are a sign of an industry that might be in slow recovery.
However, these students contribute more to the economy than just as full-fee paying students. They support related secondary industries, particularly in the capital cities. The construction industry has created university precincts with high-rise accommodation in cities such as Melbourne and Sydney to meet the demand for inner-city student apartments.
The estimated cost of living in a two-bedroom shared student apartment in Melbourne city, for instance, is $23,400 to $30,500 per year. The hospitality industry benefits - if the increasing number of diverse eateries popping up wherever there is a significant international student population is anything to go by. And the tourism industry benefits from international students regularly taking everything from sight-seeing trips within their state to round-Australia vacations to experience all this country has to offer.
International students in higher education further contribute to the economy through casual and seasonal work. As a condition of their visa, international students are not allowed to hold full-time permanent jobs, which would require a separate working visa. The students are, however, allowed to work a total of 40 hours per fortnight.
This means that they usually work part-time in contract or non-contract positions. International students often work in retail, hospitality, tourism, agriculture (e.g. fruit-picking), sales and telemarketing, administration or clerical roles and tutoring. Postgraduate international students, particularly doctoral candidates, take on casual university tutoring jobs.
Why are international students so important to universities?
International students are a valuable source of income for universities. International student fees alone accounts for as much as a quarter of some universities' revenue. Needless to say, a drop in international students would hurt universities financially.
Because international students often pay more than three times as much as locals, increasing the local student intake to make up for any shortfall in international student income would require an upsurge in numbers too ridiculous to contemplate. The impact on the quality of teaching, on student services and on staff would be frightening.
Who are our competitors?
Besides Australia, international education is big business in New Zealand, Canada and the UK. However, Australia has growing competition from the US, Europe and Asia as they open their doors to increasing numbers of international students.
Singapore reported in 2012 that it had around 86,000 international students. While this is a fraction of the number Australia attracts, Singapore should not be discounted as competition. Singapore has (geographical and cultural) proximity in its favour, is an incredibly safe city to live in, is a cheaper study destination, offers more international student scholarship opportunities, has almost guaranteed job prospects in the country after graduation and is an easier place to gain permanent residency.
What can we do?
If Australia wants to increase its international student numbers, it needs to recognise that these students are more than just cash cows funding a billion-dollar industry. To do this, Australia needs to provide more support for these students by increasing the number of scholarships awarded to international students.
Attracting more students will benefit the various industries touched by international students as consumers and workers. While organisations such as Australia Education International and International Student Advisers Network of Australia are dedicated to international education, international students need to be included rather than made distinct in wider federal and state conversations on issues such as workplace entitlements, rental rights and anti-racial vilification laws.