Australia continues its slide in the international league table for representation of women in national parliaments. In 1999, the Inter-Parliamentary Union (IPU) ranked Australia 15th in the world. By June 2016, before the federal election, Australia had slipped to 56th place.
Cathy O'Toole's narrow win in Herbert helped boost the proportion of women in the House of Representatives by a small margin, from 26.7% to 28.7%. This will lift Australia a few places in the international rankings. However, most of these women are on the opposition benches.
The proportion of women among Coalition MPs fell to 17% after the 2016 election. This is the lowest point since 1993. The gap between rhetoric and reality is palpable: the federal Liberal Party has adopted an "aspirational" target of 50% women MPs by 2025.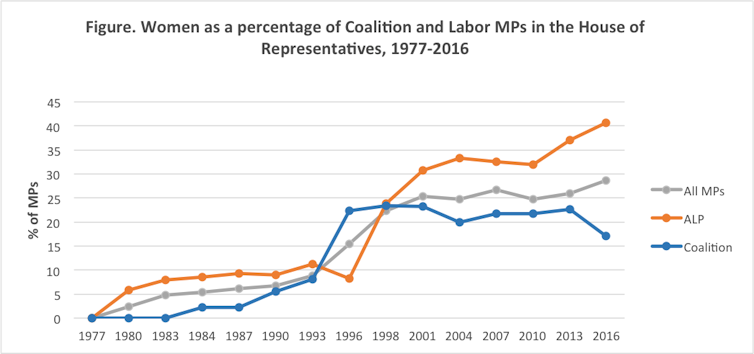 Despite making international commitments to achieve gender balance in public decision-making, Australia is lagging behind other countries in adopting practical measures. Admittedly, international donors have offered incentives to some countries to improve.
Nevertheless, 118 countries now have some form of electoral quota to ensure greater female participation in public decision-making.
Are quotas the answer?
Historically, women party members mobilised to achieve changes to party rules, particularly in parties on the left of the political spectrum.
Scandinavian countries were the first to adopt party quotas. These became the norm among parties belonging to the Socialist International, such as the ALP.
Particularly in electoral systems based on proportional representation, a process of "contagion" may lead to rival parties adopting party quotas to remain competitive. While this was important in countries such as Sweden and Germany, research has shown that contagion in other countries is low. This is certainly the case in Australia, where the Coalition parties have shunned the use of party quotas despite the existence of quotas in their organisational structures.
Today, legislated gender quotas across party divides are increasingly common. More than 60 countries have introduced statutory quotas since Argentina led the way in 1991. These include a significant number of European Union countries, including France, Belgium, Spain and – most recently – Ireland.
In 2012, the IPU found legislated quotas were more effective than party quotas in increasing women's parliamentary representation. In the absence of quotas, the IPU found women held only half as many seats.
To be effective, there must be a good fit between the quota and the electoral system, as well as placement mandates relating to party lists (for example, "zipping" – where every other candidate on the list must be a woman) and sanctions for non-compliance. Sanctions may include rejection of the party list or loss of election funding, as in France and Ireland.
Reformers have long been concerned about the impact of electoral systems on the legislative representation of women and minorities. Global research has confirmed more women are elected to parliament under proportional representation than under single-member electorate systems.
There are a number of reasons for this. Proportional representation:
enables parties to construct a balanced ticket that appeals to different sections of the community and appeases different sections of the party;

facilitates the representation of minor parties, which may have less inherited gender bias than long-established major parties; and

is a better fit for the introduction of quotas than single-member electorate systems, where they may be implemented at the expense of local party democracy.
Internationally, the effect of PR in improving women's political representation was an important part of the argument for introducing mixed-member proportional (MMP) electoral systems in New Zealand and Scotland.
In addition to electoral reform and/or the use of quotas, there are other means to boost women's parliamentary representation. Increasingly, reformers are looking at regulation of political financing and how this can be leveraged to promote gender equality.
For example, public funding of parties may include fiscal incentives to promote gender equality within the party organisation. In Finland, 12% of parliamentary parties' annual subsidies must be used to fund their women's wings.
Elsewhere, for example in Georgia, Bolivia and Croatia, rewards are provided within party funding systems where a certain proportion of women candidates are nominated or elected. Both the International Institute for Democracy and Electoral Assistance and the OECD recommend public funding of political parties be conditional on gender ratios.
Apart from earmarked or conditional party funding, the regulation of private campaign money can also be important. There is a gender gap in campaign finance, with women usually having less access to private campaign money. Caps on political donations and campaign expenditure can thereby help to promote gender equality, as well as a level playing field.
Internationally, many different paths are being pursued to promote gender equality in public decision-making. Australian parties should move beyond "aspirational targets" to adopt some of the practical measures proven effective elsewhere.