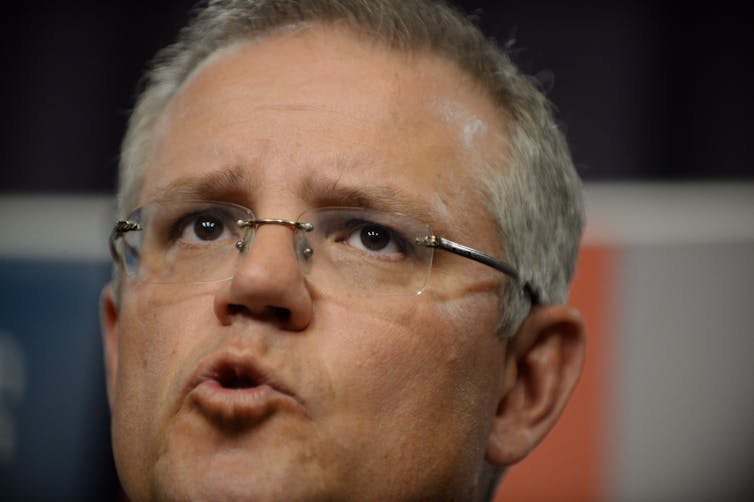 Scott Morrison is right in declaring that thwarted asylum seekers have a strong motive to advance spurious claims of bad treatment at the hands of the Australian Navy. But he is wrong and politically unwise to treat allegations that have been made with searing contempt.
Morrison could defend the navy's reputation while saying that the claims - of people getting their hands burned from being made to hold hot engine parts, and other injuries - did need to be properly investigated.
Instead he today resorted to a diatribe.
"The Australian government is not going to put up with people sledging the Australian Navy with unsubstantiated claims when they have high levels of motivation for spinning stories in order to undermine this government's very successful border protection program and policies," he told a news conference.
"There is no substantiation to the sorts of allegations that are being made and publicised and put around.
"I think the mere publication [by the ABC] of things that are clearly so unsubstantiated is unfortunate."
The minister said he had been given assurances about the conduct of the naval people and "I believe those assurances because I believe in those individuals".
On whether an independent investigation was needed, he said: "I think I've made my position on this crystal clear."
Morrison's comments are over-the-top and ill-judged on a number of fronts.
You would think the government would have absorbed the lesson from its unfortunate experience last week. After an unequivocal declaration that no Australian ships had entered Indonesian waters, information suddenly came to light that forced it to admit this had happened on a number of occasions.
Go back a lot further, to 2001: the Howard government was equally unequivocal that asylum seekers had thrown "children overboard", when it had not happened.
It's always best to be a little cautious. The government probably would be if the allegations did not involve asylum seekers.
If it were dealing with, say, a claim that a sailor had sexually harassed a colleague on a navy ship, does anyone think the allegation would be tossed off in such language?
Morrison is demonising the asylum seekers, setting up the argument that any claims made by these people can be ignored because of who they are and their likely motive. On this reasoning, if an Australian in custody claims to have been ill-treated by a guard, do we automatically dismiss the matter?
While the asylum seeker claims might be "unsubstantiated", they do come with video footage. The video shows people apparently being medically assessed. This is alleged evidence – it's a question of what it is evidence of.
The ABC reports Indonesian police saying they had to get treatment for 10 people, seven with severe burns on their hands. The people were picked up in Indonesian waters on January 6, after a boat was turned back.
The fact there is a video and the comments from the Indonesian police make a nonsense of Morrison's assertion that the ABC should not have aired what he describes as "unfounded, unsubstantiated, outrageous allegations". Not content with exercising as much censorship as he can get away with in relation to his own information, Morrison obviously thinks the media should follow the same policy.
Last week Angus Campbell, military head of Operation Sovereign Borders, was asked about the claims. "They have been looked into, internal to our operational arrangements," he said. When pressed, he said this did not involve contacting people making allegations.
The ABC tonight reported that Indonesian police are investigating the allegations.
"Local police from Kupang, where the asylum seekers were taken, say they have statements from the passengers. Chief detective Sam Kawengian says the claims warrant investigation and he has invited Australian authorities to travel to Kupang and view the evidence," the ABC said.
Given the Indonesian agitation over the ships' incursions, this is not a helpful development from the Australian government's point of view. It needs to get a hold on this issue.
Either Campbell should be asked to provide a full statement detailing the examination he referred to and demonstrating that it was satisfactory, or a proper inquiry should be ordered. It could be grafted onto the one under way about the incursions.
If such an investigation showed the claims to be unfounded this would discourage future ones.
Australia is too far on the back foot over how it is treating asylum seekers to be cavalier about this latest matter.
Today Human Rights Commission president Gillian Triggs said the commission will set up an inquiry into the children in immigration detention. Holding children for months or even years "does really raise the question of Australia's compliance with its international obligations", she said.
The international organisation Human Rights Watch has criticised Australia in its just-released report, saying "Successive governments have prioritised domestic politics over Australia's international legal obligations to protect the rights of asylum seekers."
Over in Switzerland Abbott, asked about the ships' incursions, followed his positive comments about Indonesia and its president Susilo Bambang Yudhoyono with the declaration: "All of that said, for us, stopping the boats is a matter of sovereignty and President Yudhoyono of all people ought to understand, does understand, just how seriously countries take their sovereignty. So we will continue to do what we are entitled to do to secure our borders."
His line was heavy-handed. With the Indonesian relationship delicate, this is hardly the time for lectures by Australia about sovereignty, or for venting in general.