The Red-finned Blue-eye (Scaturiginichthys vermeilipinnis) grows to a maximum of three centimetres long. As males reach adulthood they develop the vivid colouration suggested by their common name. In contrast the females are silver and have translucent fins.
Unlike their coastal relatives (such as Honey Blue-eye, nationally listed as vulnerable), Red-finned Blue-eye do not develop long, trailing dorsal and anal fins. This is almost certainly an adaptation to living in the shallow water of the Great Artesian Basin springs where they are found. The future of the Great Artesian Basin was recently assessed by researchers from CSIRO.
Status
The Red-finned Blue is listed as endangered under both Australian (EPBC) and Queensland legislation and as critically endangered by the IUCN. In September 2012 the species was included in the IUCN book "Priceless or Worthless?", the aim of which was to publicise the plight of the 100 most endangered species worldwide.
Red-finned Blue-eye naturally occur in three springs at Edgbaston Reserve in western Queensland and have been relocated to a further three. The springs are like isolated aquatic islands in an arid desert and range in size from small puddles to areas larger than backyard swimming pools. All are extremely shallow and rarely exceed five centimetres in depth.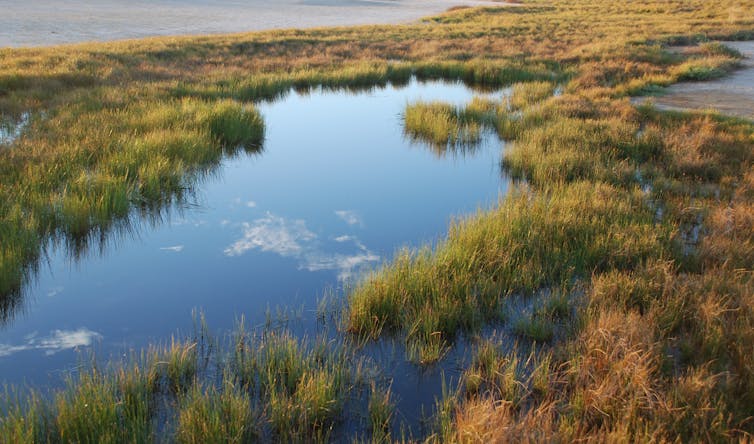 Threats
The biggest threat to Red-finned Blue-eye is the introduced live-bearing fish Gambusia or Mosquitofish. Gambusia are invading the spring complex at Edgbaston, and once they become established in a spring Red-finned Blue-eye disappear within a couple of seasons.
In the time since the Red-finned Blue-eye was discovered in 1990 the number of populations has dwindled from seven to three and in all cases Gambusia invasion appears to be the cause.
Strategy
The spring complex at Edgbaston (and the unique fauna and flora that is endemic to it) were purchased by the conservation not-for-profit Bush Heritage Australia in 2008 and since that time a project dedicated to recovering populations of Red-finned Blue-eye has been in operation.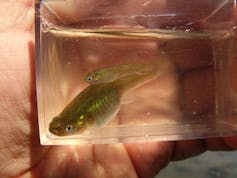 During the first three years the effectiveness of the piscicide rotenone was trialed for removing Gambusia, and small populations of Red-finned Blue-eye were successfully relocated to safe areas free from Gambusia infestation.
Current work includes the trialing of barrier materials such as silt and earth fencing around springs so that they can be "quarantined" from Gambusia invasion into the future. A captive breeding agreement is also being negotiated with government agencies.
Conclusions
Conserving the Red-finned Blue-eye and preventing the species becoming extinct requires a long-term commitment by both the property owners (Bush Heritage Australia) and the relevant state and federal government agencies charged with administering endangered species legislation. Not every Gambusia eradication attempt will be successful, and nor will every Red-finned Blue-eye relocation attempt: there will be successes and failures along the way. A patient, commonsense approach is necessary if the species is to survive and prosper.
The Conversation is running a series on Australian endangered species. See it here