Short-nosed (Aipysurus apraefrontalis) and Leaf-scaled (A. foliosquama) sea snakes are restricted to coral reefs in Western Australia. Both species are known from Ashmore and Hibernia Reefs, while the Short-nosed has occasionally been found between Exmouth and Broome. As closest relatives, they are both around 80 centimetres long and are banded purplish-brown. They are distinguished by the size and shape of their heads - hence their common names.
Both species forage in crevices and burrows on shallow reef flats and edges and have powerful venom with which to subdue their prey. Little is known of their diets other than Leaf-scaled sea snakes feed on a variety of reef fishes such as wrasse and gudgeons, whereas the few diet records available for Short-nosed sea snakes suggest they might prey mostly on eels.
The Short-nosed and Leaf-scaled sea snakes are fully marine and rarely come ashore. They belong to the Hydrophiini – a group of more than 60 species that evolved from Australia's venomous land snakes and are now found throughout the Indo-West Pacific.
Status
Short-nosed and Leaf-scaled sea snakes were prolifically abundant on Ashmore and Hibernia Reefs during the 1970s and 1990s. However, Mick Guinea and colleagues have documented dramatic declines in both species since 1998. No Short-nosed or Leaf-scaled sea snakes were recorded on either reef during intensive surveys between 2001 and 2012.
The status of Short-nosed sea snakes on the Western Australian coast is unknown, but the few scattered records between Exmouth and Broome suggest they were never widespread.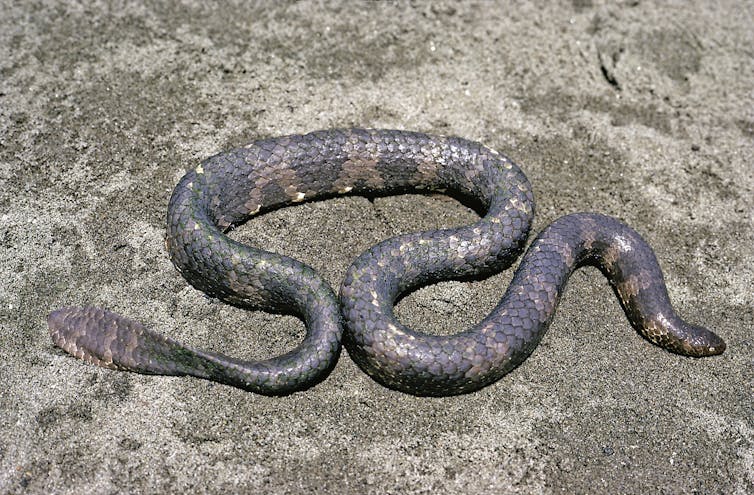 Both species are classified as Critically Endangered by the IUCN and under Australia's Environment Protection and Biodiversity Conservation Act.
Threats
The reasons for the severe declines of Short-nosed and Leaf-scaled sea snakes remain a mystery. Nine other sea snake species have disappeared from Ashmore and Hibernia over the last 15 years, yet their habitats are intact, and snakes are not affected by over-fishing. This may suggest major environmental change, perhaps related to surface water temperatures, salinity and rainfall patterns, and sedimentation. In the same period seismic surveys for oil and gas have increased, using air gunning, although the impact on sea snakes is unknown.
Whatever factors are responsible, they have not only affected the snakes in shallow coral areas but also species that once occupied the reef edges, seagrass beds and deeper waters surrounding the reef.
Strategy
Continued surveys of the sea snakes are vital. These should focus on Ashmore and Hibernia reefs, but should also include coastal reefs where the Short-nosed has been recorded and might still exist. If the Leaf-scaled sea snake is not already extinct, there may yet be time to enact a recovery plan for both species.
We need a better understanding of environmental and direct human threats to sea snakes. First, environmental conditions on Ashmore and Hibernia reefs should be compared to reefs that still support healthy numbers of sea snakes. Studies of the impact of seismic air gunning on sea snakes are also urgently needed and will soon be underway.
Conclusion
Solving the mystery of the decline of Short-nosed, Leaf-scaled and other sea snakes in Ashmore and Hibernia will require a multidisciplinary effort. However, if sea snakes are indeed a miner's canary of coral reef health, understanding their disappearance should be a top priority for marine conservation.
The Conversation is running a series on Australian endangered species. See it here