It's an issue that has dogged not only Australian police services, but also major police agencies overseas, from England to Ghana – when, if ever, is corporate sponsorship acceptable?
Earlier this month, the ABC revealed that the Queensland Police received almost A$700,000 in donations from private companies in the past 18 months.
However, the Queensland Police Commissioner refused to reveal the details of all the companies (including miners, banks, media and security firms) behind those donations. That sparked a public backlash about a lack of transparency. The new police minister intervened on April 8, introducing a new approach to declaring sponsorships.
So the corporate donations will continue. Yet there are still lessons Queensland should learn from the more open approach taken over the border in New South Wales, as well as from past controversies here and overseas about police agencies accepting sponsorships.
What is sponsorship in a policing context?
As a former long-serving police officer, I know how important public trust is. Any police agency must ensure that its dealings are open enough to withstand public scrutiny. I think there can be a place for corporate sponsorship; after all, as a community we expect our corporations to have a social conscience.
But long experience should have taught us that there must be strict rules and transparent processes that protect the real and perceived independence of police.
The New South Wales Police Force has done more than many others to address those perceived risks in its detailed sponsorship policy. It defines sponsorship as:
a commercial arrangement in which a sponsor provides a contribution in goods, services or funding to support a Police activity in return for specified benefits, usually public acknowledgement and recognition.
The key issue here is the benefit that the sponsor receives. The difference between corporate sponsorship and kickbacks is that sponsorship is a legitimate benefit provided to the organisation, rather than an individual.
An example of unacceptable kickbacks was Operation Bart, where certain window repairers made cash payments to Victorian police officers for tips about break and enters that required repairs.
The NSW Police's 61-page Sponsorship, Donation and Fundraising Policy explains the two key requirements for allowing sponsorship arrangements. Firstly, the NSW Police does not sponsor or commercially endorse the products, services or activities of an external organisation or person. And it will only allow an external organisation or person to sponsor NSW Police programs or activities if the sponsorship does not conflict with police objectives.
Importantly, there is a rigorous decision process to decide if a proposed sponsorship is suitable. Just as importantly, that process is properly explained to the public.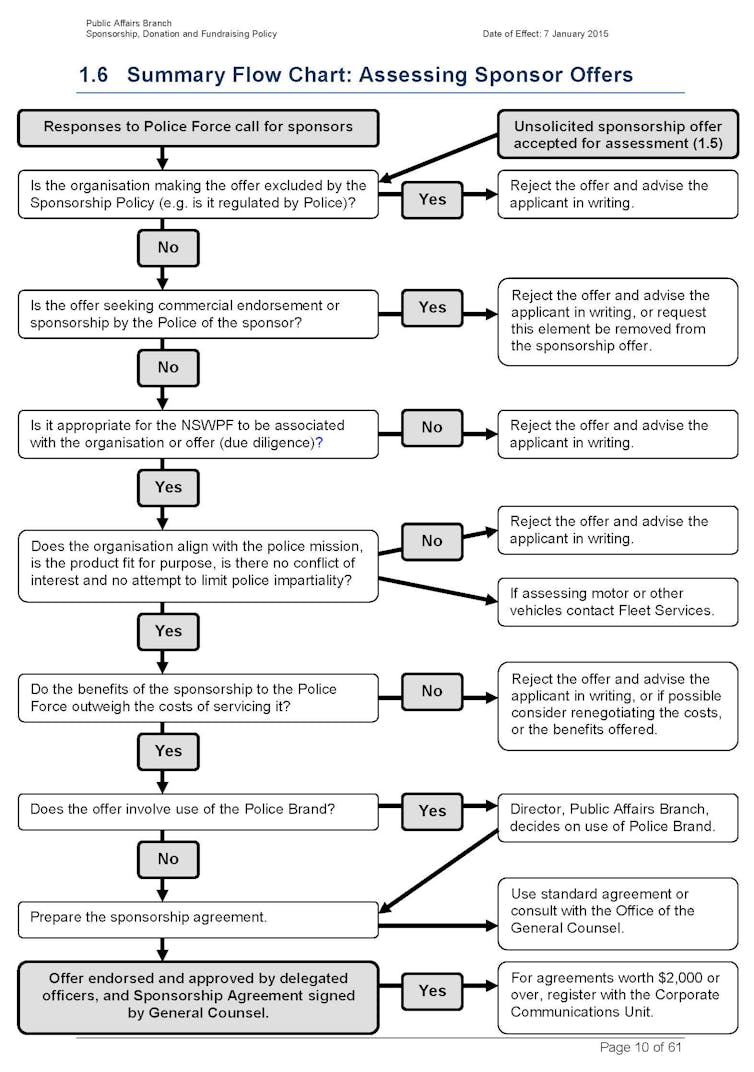 Different approaches in Queensland and WA
In 2008, under the Bligh Labor government, the Queensland Police became the first in Australia to allow its vehicles to carry corporate sponsorship.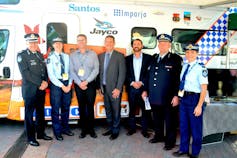 This was a practice that had already occurred in small US police forces, such as the Springfield Police Department, Florida, which relied on corporate sponsorship to provide vehicles.
It raises the spectre of insufficient funding for policing services and the apparent need to encourage or obtain sponsorship assistance in providing a policing service.
In contrast, the Western Australian Police does not accept sponsorship of vehicles and any sponsorship must be for a specific project, rather than mainstream policing activities.
In December 2014, opponents of coal seam gas operations raised concerns that mining company Santos was sponsoring the Queensland Police Service, and that such sponsorship was openly visible on marked police vehicles. Anti-coal seam gas protesters had raised issues about the relationship, given that police may well have to police protest actions against the activities of the mining company.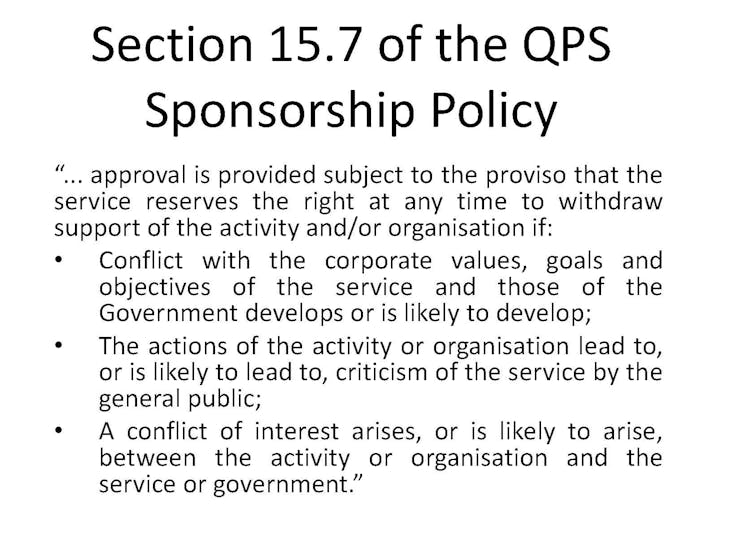 After the ABC broke the story about the Queensland Police sponsorship, Police Commissioner Ian Stewart was quizzed on-air for more details about the sponsorship. He refused to name the companies that had provided sponsorship to the police. That was hardly likely to help perceptions of transparency.
Yet Stewart said:
It's very healthy, it's done transparently and openly. It's done without any suggestion that companies that help us with sponsorship get any preferential treatment.
Stewart's decision was a poor one. The next day, Police Minister Jo-ann Miller announced that all future sponsorships would be "put on the QPS website for anyone to see" every quarter.
This decision was welcomed by the Queensland Police Union whose president, Ian Leavers, said:
It's a great decision - I am glad the police minister has listened and now the commissioner has changed his point of view and now we'll see openness, accountability and transparency take place, as it should do.
'Aligning your corporate brand' with Queensland Police
Since early April, Queenslanders have been waiting to see more details of how this new sponsorship disclosure will work, with no information readily available online. In other words, the process and outcome are still hard to determine from a public perspective.
In contrast, search for NSW Police sponsorship policy online and you can read substantially more information.
But a website advertising last year's Queensland Police fraud and cyber crime symposium provides some insight into the benefits that sponsors can avail themselves of.
Sponsorship of this event provides an excellent opportunity to engage potential clients from a solution promotion perspective, not just a sales environment … The [Fraud and Cyber Crime Group] has an established international reputation for being an innovative thought leader. We are trusted by both the private and public sector environments. The alignment of your quality corporate brand with this powerful learning and awakening experience augers a unique opportunity to derive market gain and at the same time contribute to the development of a more target-hardened Australian corporate environment …

Your organisation will benefit significantly from exposure to an interested, relevant and influential audience in an informal yet informative environment away from the competition of everyday distractions.
The site also showed the price tag associated with "aligning your brand" to the QPS.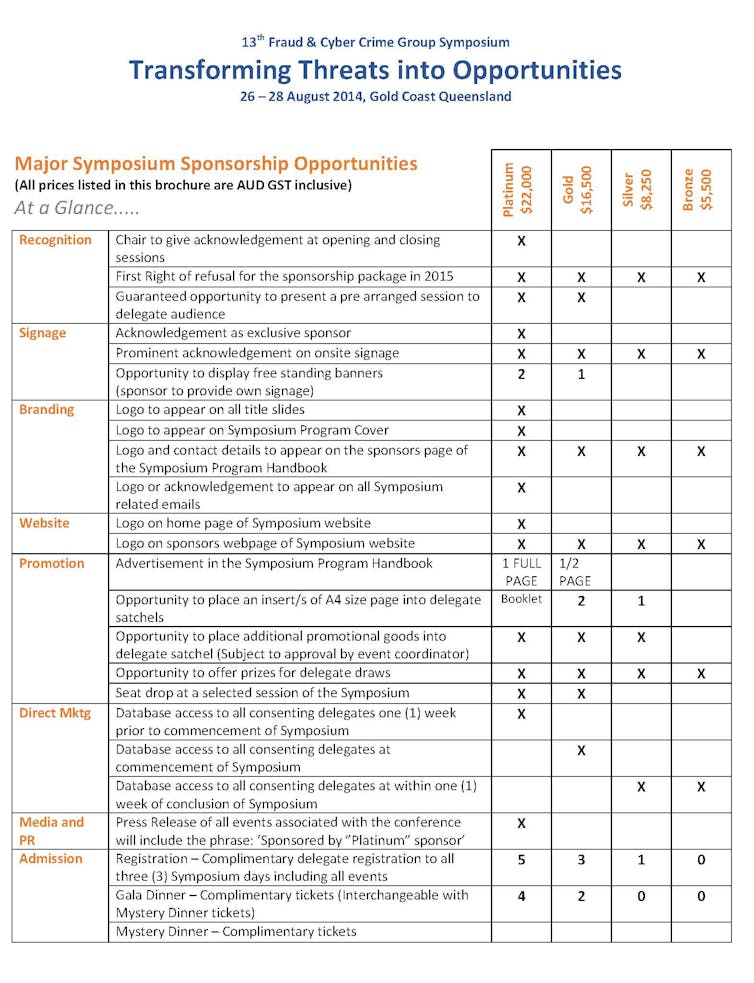 Several year ago in Canada, a similar model of sponsorship access was used for the Canadian Association of Chiefs of Police. That was criticised for the perception it created of offering "cash for access" to senior law enforcement officers.
The UK and Ghana show transparency is crucial
Some lawyers have been critical of the role of corporate sponsorship, claiming it undermines the impartiality and independence of the police.
In 2012, the London Metropolitan Police was shown to have received £25 million in corporate sponsorship. The UK Commons home affairs committee chairman said the Metropolitan Police should "consider very carefully" whether any gifts "could be perceived as compromising the force's position".
In 2013, one UK police federation warned that corporate sponsorship revenue for police forces was potentially "privatisation through the back door".
Academics have also been cautious about the relationship between police and corporate sponsorship. Professor Peter Grabosky has highlighted the need to ensure there is no personal benefit to individuals in the police and that the sponsor does not "capture" the police agency, so that the sponsor is not provided a service different than that which the agency would normally provide. He also argues that the police agency cannot afford to be seen to be "endorsing" the sponsor's product, be it an actual or perceived endorsement.
In Ghana, the issue of private sponsorship of police has attracted substantial criticism for the problems it presents. Such concerns include buying influence with the police, compromising the independence of the police and creating a two-tier policing system: one for rich and one for poor.
While there can be a role for relationships between corporations and law agencies, it is a limited one. It should never impinge on any operational or regulatory role that police are required to perform. Further, such relationships should not imply endorsement, directly or indirectly, nor provide a competitive advantage to the sponsor.
Policing is unique in its place in our society. It therefore faces unique challenges when trying to fit traditional sponsorship relationships into the policing environment. There is simply no room for perceptions of favourable treatment for corporate sponsors.
Total transparency in such transactions is paramount. That's why Queenslanders are right to want to see not only which companies are sponsoring their police, but also easy access to a detailed sponsorship policy, similar to that of NSW.