Following on from our previous coverage of the Australian Twitter news circulation index (ATNIX), here are the results for week 32 of this year.
ATNIX tracks the sharing of links to Australian news sites on Twitter, and thereby provides an indication of active user engagement with these sites: not just reading, but passing on these stories to others.
This week, let's note, was also the last week of the London Olympics, and so presented the final opportunity for Australian rights licencee nineMSN or any rival news provider to shine in its coverage of the Games (but let me save you the suspense – they didn't).
Week 32: 6-12 August, 2012
Frankly, week 32 turns out normal to the point of boring. It's a comparatively big week as far as the total number of tweets containing links to our basket of Australian news sites is concerned – we captured some 166,000 tweets in total – but the distribution of attention continues a very stable pattern.
Both the order of sites at the top of the leaderboard, and the relative percentages of marketshare for those sites, remain largely unchanged from last week: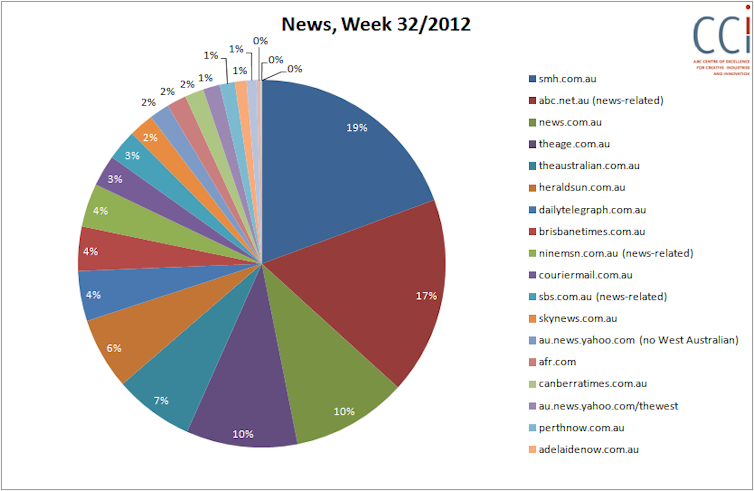 The same is true also for the distribution of the almost 18,000 tweets to opinion and commentary sites and sections this week. There's some shuffling amongst the minor places after the Big Four (Sydney Morning Herald, The Conversation, The Age, Crikey).
But between places 5 and 9 on the leaderboard there's a difference only of some 150 tweets per site. Such minor oscillations are to be expected and don't represent any significant shift in audience attention: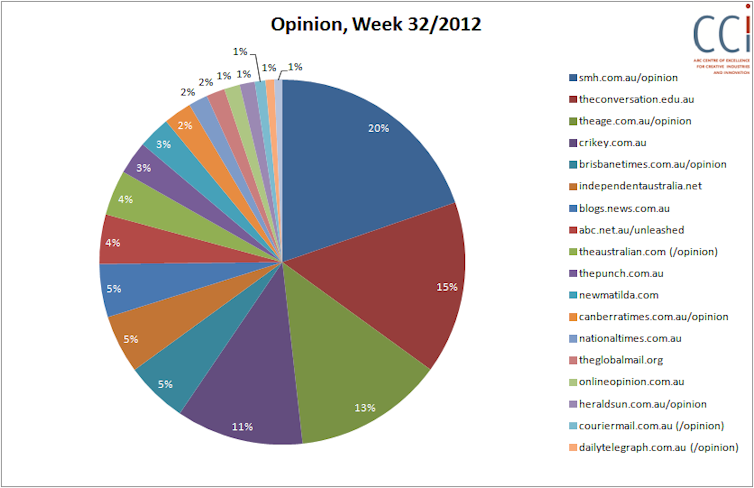 Even the daily patterns don't reveal much of interest this week – no celebrity stories gone viral, no major developments driving massive spikes in newssharing: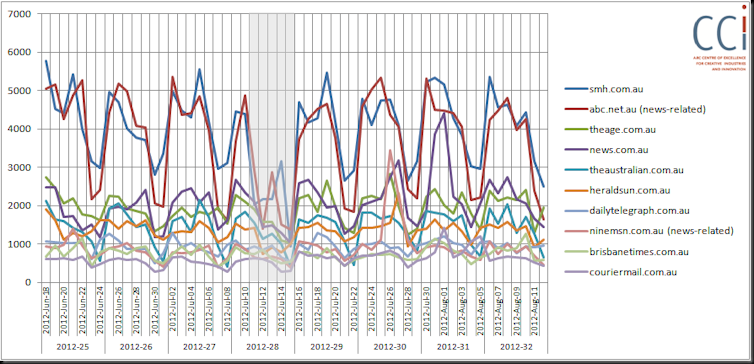 In order to find anything interesting, in fact, it seems like we'll have to have a very close look at the sharing of opinion articles, and squint sideways a bit: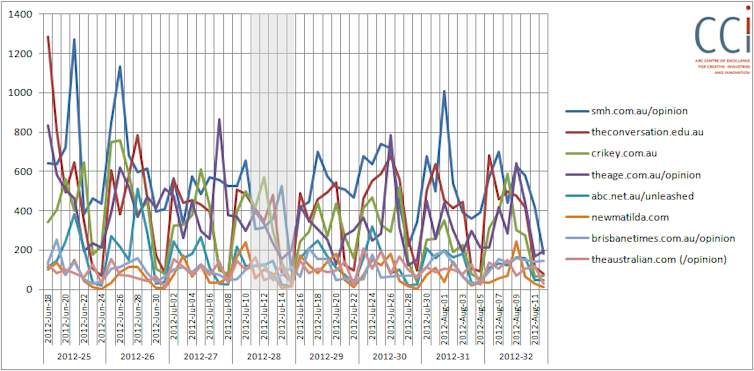 Finally, a handful of slightly significant spikes, then. In a rare occurrence, Crikey wins the day on Wednesday, mainly on the back of two stories on a Facebook page vilifying indigenous Australians, and a widely shared cartoon by First Dog on the Moon about the Queensland state government's orgy of debilitating government services cost-cutting.
The next day, it's The Age's opinion section's turn to shine, led by a piece by ALP grande Barry Jones on the continuing decline of the quality of public debate in Australia in general, and within the ALP in particular.
And the same day, New Matilda also had a win by its (admittedly fairly modest) standards, with some 40% of all tweets linking to the site that day referencing a commentary piece on the tell-all insider account of a journalist intern at the Herald Sun.
But that's about it for the week. With the current week's upheavals over asylum seeker policy and plain tobacco packaging, let's hope week 33 turns out a bit more newsworthy.
Standard background information: This analysis is based on tracking all tweets which contain links pointing to the URLs of a large selection of leading Australian news and opinion sites. For technical reasons, it does not contain "button" retweets, but manual retweets ("RT @user …") are included.
Datasets for those sites which cover more than just news and opinion (abc.net.au, sbs.com.au, ninemsn.com.au) are filtered to exclude irrelevant sections of those sites (e.g. abc.net.au/tv, catchup.ninemsn.com.au).
For our analysis of "opinion" link sharing, we include only those sub-sections of mainstream sites which contain opinion and commentary (e.g. abc.net.au/unleashed, articles on theaustralian.com.au which include "/opinion" in the URL), and compare them with dedicated opinion and commentary sites.
See the posts tagged "ATNIX" at Mapping Online Publics for a full collection of previous results.
See more background on the Australian twitter news index here.