In a move that has drawn criticism from Chinese authorities, the Abbott government is upholding a ban on Chinese telecommunications giant Huawei from tendering for the National Broadband Network, after receiving advice from national security agencies.
It's best to leave the technological question of spying to the finest intelligence agents. What we should really learn from the Huawei ban is that the biggest threat to Australia's future development is not Chinese firms such as Huawei, but Australia's own poverty in high-tech capability, and in understanding China. Here are four key arguments for this:
First, the profound distrust of China's current political regime needs to be reviewed.
Only last week the US was accused of spying on German Chancellor Angela Merkel. But espionage fears over this breaking news, as compared to those over China, can ease relatively quickly. It seems as if we still live with a Cold War mentality. We see little to rectify the institutional failures of the global financial crisis, while we are quite sceptical about the potential of China's next stage of reform that is culturally backboned and aims to gain genuine trust.
This psychological effect can be best exemplified by a recent comment on Huawei made by Joshua Frydenberg, a parliamentary secretary to the Prime Minister and adviser on intelligence matters to the Howard government. Mr Frydenberg said that Australia should "do nothing that endangers the high level of intelligence cooperation that we currently enjoy with the US".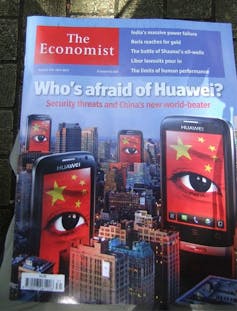 But is there an alternative? Can the US, Australia and China work together for a better world for all?
Second, Australia's poor understanding of China and its culture has pushed too much focus into political and ideological distrust. This has hindered the Australia-China economic relationship.
In repeated calls for a holistic perspective of China, I have cautioned that for over a century, the world has accumulated an excessive amount of plausible "China information" that needs to be replaced by the rarely available "China knowledge". For instance, is _guanxi _(relationship) a Chinese value? Did China have no understanding of rule of law in its own tradition? Where is China's current reform headed? The Cold War mentality has entirely different answers to these questions, but none of them are rooted in a holistic perspective of China. In many cases, misconceptions such as "fortune cookies" and "dragon emperors" are all we know.
Chinese business people are upset that wherever they go in developed countries, there is a suspicion of their communist "origin" or political "genes". One way of changing this is to use improved understanding of Chinese business culture to help Chinese companies to comply with Australian conditions.
Third, the Huawei ban may affect current negotiations regarding the Free Trade Agreement between China and Australia, but there are many other difficulties facing both parties.
China wants to sell its technologies and alluring investment to Australia but there is an Australian national interest agenda that this sometimes conflicts with. Australia wants to export its financial services and food to China but these can be regarded as potential challenges to China's financial and food securities, given the lessons learnt from the global financial crisis as well as China's underlying policy that protects hundreds of millions of Chinese farmers.
The ultimate barrier is mutual trust. Hua Chunying, a spokeswoman for the Chinese Foreign Ministry, commented on the Huawei ban that: "We really hope that both sides could make an effort to create a level playing field for enterprises to carry out normal cooperation… on a basis of mutual respect, equality and mutual benefit."
Such trust can only happen when Australia's understanding of China is seriously improved.
Fourth, Australia needs to move away from a mining-centric focus and foresee both opportunities and challenges in China's resurgent innovation economy, of which Huawei is an example.
Two weeks ago, when meeting with Governor Quentin Bryce in Beijing, China's new Premier Li Keqiang attempted to sell China's advanced high-speed rail technology to Australia. China already has a multi-layered, powerful national innovation system, while Australia doesn't.
The Asian Century White Paper, recently dumped by the Abbott government, claimed that "by 2025, Australia will have an innovation system, in the top 10 globally".
Our world economy is dominated by technology leaders, such as the US and Japan, and in the future, China. Australia is not among the leaders and a technologically competitive Australia is a must. It will offset the effects of the unsustainable, labour-based resource industry and benefit Australia on a higher level in the global value chain.
Facing China's new rise, Australia should recognise two very urgent tasks: first, understanding China and its culture is the fundamental platform for Australia to establish mutual trust with China; and second, China is returning as a global innovation leader and Australia needs to dramatically improve its innovation competitiveness before it can gain strategic benefits from China's future economy, which is to be knowledge-based.