The federal government's new draft marine park plans are based on an unsubstantiated premise: that protection of Australia's ocean wildlife is consistent with activities such as fishing and oil and gas exploration.
Under the proposed plans, there would be no change to the boundaries of existing marine parks, which cover 36% of Commonwealth waters, or almost 2.4 million square kilometres. But many areas inside these boundaries will be rezoned to allow for a range of activities besides conservation.
The plans propose dividing marine parks into three types of zones:
Green: "National Park Zones" with full conservation protection
Yellow: "Habitat Protection Zones" where fishing is allowed as long as the seafloor is not harmed
Blue: "Special Purpose Zones" that allow for specific commercial activities.
Crucially, under the new draft plans, the amount of green zones will be almost halved, from 36% to 20% of the marine park network, whereas yellow zones will almost double from 24% to 43%, compared with when the marine parks were established in 2012.
The government has said that this approach will "allow sustainable activities like commercial fishing while protecting key conservation features".
But like the courtiers told to admire the Emperor's non-existent new clothes, we're being asked to believe something to be true despite strong evidence to the contrary.
The Emperor's unrobing
The new plans follow on from last year's release of an independent review, commissioned by the Abbott government after suspending the previous network of marine reserves implemented under Julia Gillard in 2012.
Yet the latest draft plans, which propose to gut the network of green zones, ignore many of the recommendations made in the review, which was itself an erosion of the suspended 2012 plans.
The extent of green zones is crucial, because the science says they are the engine room of conservation. Fully protected marine national parks – with no fishing, no mining, and no oil and gas drilling – deliver far more benefits to biodiversity than other zone types.
The best estimates suggest that 30-40% of the seascape should ideally be fully protected, rather than the 20% proposed under the new plans.
Partially protected areas, such as the yellow zones that allow fishing while protecting the seabed, do not generate conservation benefits equivalent to those of full protection.
While some studies suggest that partial protection is better than nothing, others suggest that these zones offer little to no improvement relative to areas fully open to exploitation.
Environment minister Josh Frydenberg has pointed out that, under the new plans, the total area zoned as either green or yellow will rise from 60% to 63% compared with the 2012 network. But yellow is not the new green. What's more, yellow zones have similar management costs to green zones, which means that the government is proposing to spend the same amount of money for far inferior protection. And as any decent sex-ed teacher will tell you, partial protection is a risky business.
What do the draft plans mean?
Let's take a couple of examples, starting with the Coral Sea Marine Park. This is perhaps the most disappointing rollback in the new draft plan. The green zone, which would have been one of the largest fully protected areas on the planet, has been reduced by half to allow for fishing activity in a significantly expanded yellow zone.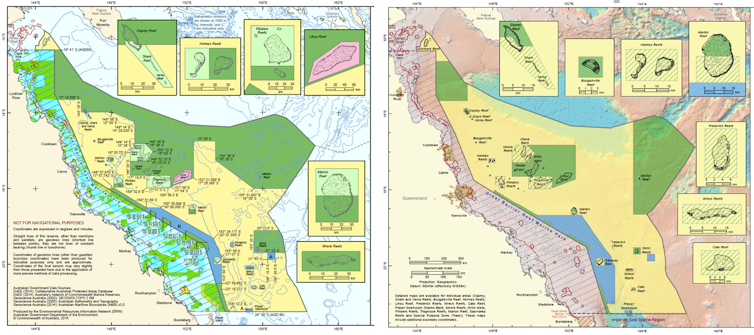 This yellow zone would allow the use of pelagic longlines to fish for tuna. This is despite government statistics showing that around 30% of the catch in the Eastern Tuna and Billfish fishery consists of species that are either overexploited or uncertain in their sustainability, and the government's own risk assessment that found these types of fishing lines are incompatible with conservation.
What this means, in effect, is that the plans to establish a world-class marine park in the Coral Sea will be significantly undermined for the sake of saving commercial tuna fishers A$4.1 million per year, or 0.3% of the total revenue from Australia's wild-catch fisheries.
Contrast this with the A$6.4 billion generated by the Great Barrier Reef Marine Park in 2015-16, the majority of which comes from non-extractive industries.
This same erosion of protection is also proposed in Western Australia, where the government's draft plan would reduce green zones by 43% across the largest marine parks in the region.

Again, this is despite clear evidence that the fishing activities occurring in these areas are not compatible with conservation. Such proposals also ignore future pressures such as deep-sea mining.
The overall effect is summarised neatly by Frydenberg's statement that the government's plans will:
…increase the total area of the reserves open to fishing from 64% to 80% … (and) make 97% of waters within 100 kilometres of the coast open for recreational fishing.
Building ocean resilience
Science shows that full protection creates resilience by supporting intact ecosystems. Fully protected green zones recover faster from flooding and coral bleaching, have reduced rates of disease, and fend off climate invaders more effectively than areas that are open to fishing.
Green zones also contribute indirectly to the blue economy. They help support fisheries and function as "nurseries" for fish larvae. For commercial fisheries, these sanctuaries are more important than ever in view of the declines in global catches since we hit "peak fish" in 1996.
Of course it is important to balance conservation with sustainable economic use of our oceans. Yet the government's new draft plan leaves a huge majority of Australia's waters open to business as usual. It's a brave Emperor who thinks this will protect our oceans.
So let's put some real clothes on the Emperor and create a network of marine protection that supports our blue economy and is backed by science.