It's that time of the year. Summer vacations are almost over.
For most kids, this time of summer has been about finishing the readings and completing the packets that were handed out to them as summer work. As a result, school often conjures up ideas about reading, writing and arithmetic (the "three R's").
But this approach is both problematic and myopic. As pressures to meet standards in the three R's increase, other areas fall off the radar. Having an answer to a question becomes more important than knowing how to think about it.
As a psychoanalyst in private practice and a classroom teacher, I know that the time of transitioning back to school is crucial for both parents and children. This can also be a time to support the emotional development of children.
Sometimes just one hour of "emotional tutoring" – attending to social and emotional development – can be more efficient than spending hours tutoring. It can remove blocks to learning and open up energy for higher-order thinking.
So what can we do as parents and educators to get there?
The pressure of the reading, writing, arithmetic
There are 180 days of school, on average, in US public schools. Ask a teacher how many days are spent administering tests and preparing for said tests, and you might wonder how anything else gets covered. I was supervising a school-based clinician who worked on Thursdays and couldn't see his clients for six straight weeks because of test prep and actual testing.
Peter Taubman, a professor of education at Brooklyn College, in his book Disavowed Knowledge, describes how today's students get treated as though they were just animals that need to be trained and told what to repeat, as opposed to building their "curiosity, attunement, analysis, and a focus on creating conditions such that the …student can generate material for further elaboration… ."
Even the Council on Basic Education (CBE) report notes:
Of particular concern… are signs that the growing attention to mathematics, reading, writing, and science may well be coming at the expense of other academic subjects, including the arts and foreign language."
The fact is, we are feeling creatures first. Pressures and obsessions to perform in one area of learning, growth and development can lead to neglect in others.
The start of school is a time when mixed emotions need to be processed. A commercial from the 1990s for an office supply store captures this. With background music from a popular singer – Andy Williams' It's the Most Wonderful Time of the Year – the scene showed two sad children next to a jubilant dad pushing a shopping cart around a store collecting school supplies.
The commercial serves as a reminder that the start of a school year has as much to do with emotions as it does with other subjects.
The importance of social and emotional learning
Trying to only accentuate the positive or force learning before a child is emotionally ready ignores what neuroscience and psychology tell us about the brain: we are ruled by emotions and not reason. Briefly, all information to our rational brains must pass through our limbic system, which is our feeling brain.
If we become emotionally hijacked – that is, if our feelings become unregulated – even the best-made rational plan can be inaccessible. The stress of daily coursework can lead to such emotional hijacking.
That is where Social and Emotional Learning (SEL) can come into play. SEL is learning how to understand ones own feelings and making good decisions to get what you want out of life. Both children and adults can benefit from the various SEL programs.
They differ in some ways, but when distilled down, SEL programs share three common elements: self-awareness, talking or putting your thoughts and feelings into words, and providing some structure or a "holding" environment. These elements help reduce "emotional hijacking."
Any student who is identified as lacking some element of an SEL competency, for instance, self-awareness, self-management, social awareness, relationship skills and responsible decision-making can benefit. These SEL competencies make reading, writing and arithmetic easier as a student's emotional world is validated.
If a child's social and emotional world is left unattended to, he or she can be driven to distraction, acting out, and various unregulated emotional states.
How you can support the transition
Back-to-school time comes with rich, teachable moments to support the social and emotional development of children.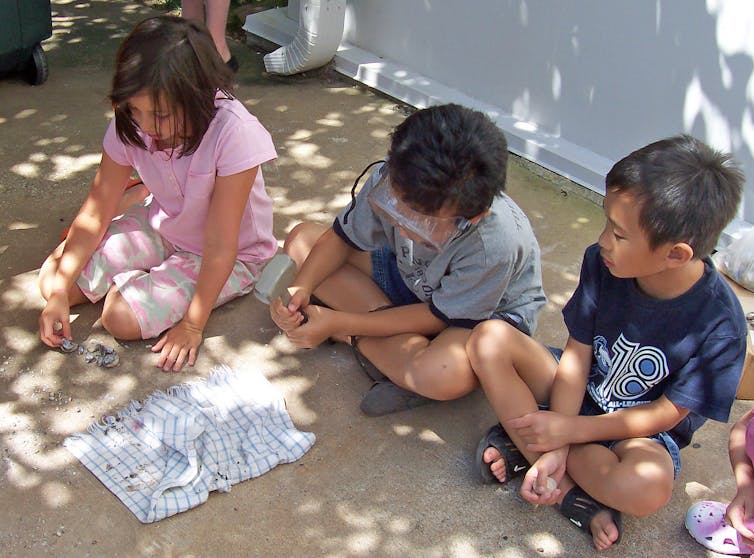 So, if you are a parent, here is what you need to do:
Be self-aware! Focusing entirely on your child's transition overlooks your own feelings about transitions. They are tough for everyone. Knowing what you are bringing to the mix is important. Once you know it, you can work on helping your child develop his or her self-awareness.

Talking helps. A simple question like, "Any thoughts or feelings about school starting?" is an opening. Let the question hang there. You don't need to clarify or say more. Give them space to think and feel. If you have concerns about transitioning your child from summer to school mode, talk to your friends, a pediatrician or your child's therapist.

Structure time. Depending on your child's age, you can start implementing bedtimes and times for breakfast in the morning that slowly move back to school timetables. This is easy enough with children, but tough to do with adolescents who just have notoriously poor sleep hygiene.

And don't forget, if there is summer homework that needs to be completed (summer reading, projects, etc), then you may want to help schedule that for your child.
"Education is life itself"
As an academic, I love and hate the back-to-school time. I love teaching. I am a sucker for back-to-school sales and love the smell of stationery and the feel of opening a new notebook.
But I also love the summertime, without my students and schedules. I enjoy reading through the stack of both pleasure and subject-area books I have accumulated over the academic year. My summer is "me" time. Fall, winter and spring are "we" time. These are the elements of my own "self-awareness."
Back-to-school time brings mixed feelings, as do most important events in life. Our jobs as parents and educators should be to help with the social and emotional development of those in our care so that they can more easily do the reading, writing and arithmetic that they need as well, not the other way around.
In an age where answers are only a smartphone away, knowing how to think and critically evaluate information should be the focus of education.
In many ways, this is what John Dewey, the noted academic, philosopher and educator meant when he wrote:
Education is not preparation for life, education is life itself.