I was driving down a main street in Canberra's north a few weeks ago when a young boy fired a few shots at me from the back of his father's bike. I didn't see the gun at first. It was black and camouflaged in the shadow of an overhanging oak tree. But as I approached from behind, the bike rolled into the sunlight.
I blinked in surprise; people don't have guns in Canberra. Why did this child have a gun?
The boy, no older than four, had seen me now. He turned the barrel towards me, twisting awkwardly in his seat. I saw his lips move before I heard him. "Bang, bang, bang" he yelled as he pulled the trigger, invisible bullets flying towards my windshield.
As I drove out of view a few minutes later, I was confronted by my disapproval at this boy's behaviour. Children have long played at war, but when did it become a public nuisance that I could reasonably expect to avoid?
It seems to me that my response reflected something important about the entitlement that adults have assumed over public space in this country.
Over the last 100 or so years, children's play has increasingly been moved off the streets and into fenced backyards, schoolyards, nurseries and playgrounds. Instead of sharing the privileges of the streets, children have suffered restrictions of movement and been prohibited from certain play activities in the urban space.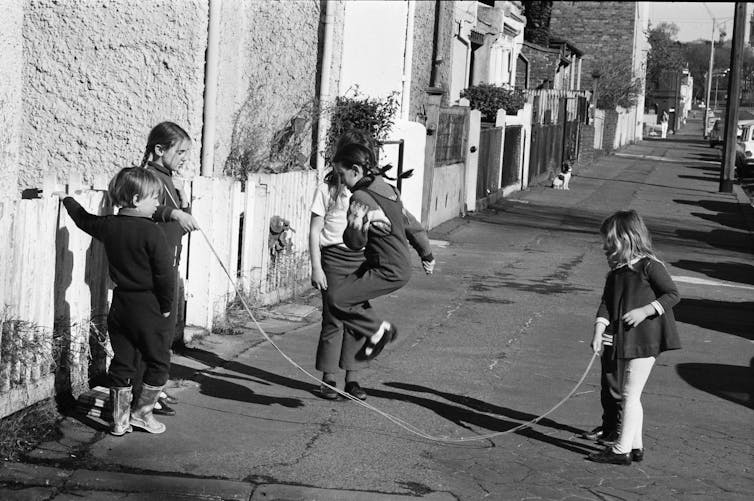 Losing the battle for the streets
Playing on the streets has always been an activity of negotiated boundaries.
Simon Sleight's research shows that, before the outbreak of the first world war, children not only played a central role in the construction of the urban space, but also contested existing adult street cultures and found avenues to assert their agency.
Nevertheless, in the late 19th century and early 20th century the efforts of social critics to reimagine Australian young people as victims of urbanisation and social degradation increasingly forced children out of view – in some places more than others.
Concerns over the dangers of the streets intensified in the post-WWI period as the rise of car-related accidents fuelled debates over children's safety. As a Nowra council member observed in 1924, boys playing on the streets was "really dangerous".
The situation became so dire in Sydney in 1933 that the New South Wales lands minister, Ernst Buttenshaw, supported Leichhardt Council's proposal to turn Balmain's old burial ground into a recreational area for children, despite the state government's previous lack of enthusiasm for the plan. It was essential, he said, that children should be kept from playing on the streets.
Young people continued to assert their shared ownership of the streets throughout the mid-20th century, but their resistance increasingly came at a cost: innocent games of marbles, football and billycarts ended with fatal collisions with cars, trams and trucks.
In 1951, Senior Constable Smith reported that of the 28 children under the age of six who died in traffic accidents in NSW the previous year, most had been playing on the streets.
Figures like these presented a powerful argument for increased restrictions of children's mobility. City children felt the transformation of the streetscape far more keenly than many of their rural counterparts. Even today, street cricket and barefoot scootering are common in some small towns and suburbs.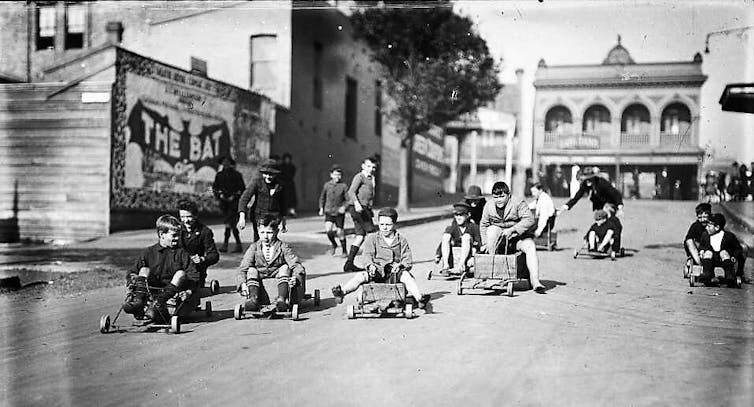 Anxieties over war toys and militarised play
During the mid-20th century, anxieties over the traffic-related risks of street play also opened up space for education do-gooders and social theorists to voice their opinions about the civil and social benefits of play. Certain types of play, they argued, were especially dangerous for children.
Militarised play, of course, was at the top of their list. War toys "are making our children used to war", declared Ruby Rich of the NSW section of the International Peace Council in 1937. Urging a boycott of war toys at a public meeting in Newcastle Town Hall, Rich said that these were teaching children "to love the things that may have killed their fathers in the last war".
There have been times, however, when militarised play has been tolerated, even commended, in the public space.
In 1915, Melbourne boys between the ages of four and ten, armed with bamboo guns and wooden spears, were reported playing at soldiers in "local beauty spots". The activity finally reached its "limit" when a group of boys dug up the lawns of Queen's Park in Essendon to build a trench in anticipation of the German advance. One local newspaper acclaimed that it was unfortunate that they damaged the lawns because their bravery was "worthy of Australians".
Debates over militarised play and war toys still have currency in Australia. In 2015, an image of a child holding a replica AK-47 rifle, his finger on the trigger, near Sydney's Martin Place sparked calls for a complete ban on toy guns. The fact that a terrorist attack had recently taken place at the nearby Lindt Cafe only heightened public outrage over the incident.
When the ABC surveyed children about their views, there was widespread agreement that although toy guns shouldn't be banned, they should only be played with at home. "I think toy guns should be allowed but not in public," Pierce said. Jacob agreed, concluding that "our friend's house is the best place to use them".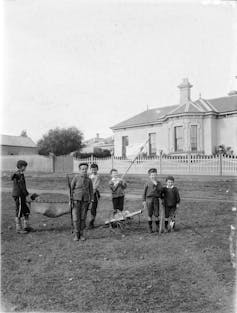 Such responses reflect the way many children have internalised adult-centric street cultures.
For young boys to dig a trench and enact a foreign invasion in a Melbourne park, or to march around the streets of Hobart dressed as soldiers armed for war as they did in 1900, would today likely be considered a dangerous public nuisance.
The rise of the adult streetscape
Over the past century, urban streets have increasingly become thoroughfares, transient places of movement where all kinds of rules and codes of behaviours have made them less friendly to children and their imaginations.
The intense disapproval that I felt at being the target of an imaginary drive-by shooting in Canberra last month captures something of the shifting traditions of street play and ownership in Australia. The prerogative that my adult self has assumed over the streets, as well as the cultural sensibilities that have arisen surrounding particular types of play, led me to condemn the boy's behaviour.
It was not that his behaviour was dangerous, though it might well have been, it was that it threatened the comfort I had come to expect of Canberra's streets.