Last week the Australian division of global financial institution Citibank became the first local bank to stop handling cash. The bank's retail head said it was not a precursor to closing bank branches, but it comes as banks are stepping up their investments in technology, while at the same time looking to reduce costs. But evidence shows customers still want branches or personal interaction with bank staff.
Banks today spend a lot of time talking about technology. Their public documents are littered with terms like "simplification", "process excellence", "creating a footprint for a digital world", "stepping up the pace of innovation", "cloud based solutions", "digital transformation", "unparalleled digital capabilities", "digital security", "innovation labs", "technology for leveraging data analytics" – it goes on and on.
It is clear the banks are highly motivated to ride the technology wave to its full extent. And they cite several compelling reasons. The first is improving the customer experience. The banks argue they can build deep customer relationships through technology improvements.
The way customers want to undertake banking is continually changing, and more and more customers want simplified solutions and to be able to do everything on digital devices. Part of the customer service improvement is heavy investment in data analytics to better understand customer profiles and the ways in which customers transact.
The second reason is to drive down costs. Customers want the cost effective solutions that smart technology can offer them, and banks want to improve their own cost to income ratios.
Security is a third factor. Customers want their money to be safe and banks need to invest in secure solutions and the prevention of cybercrime.
But what is the role of the traditional bank branch in all of this? Will increasing digital solutions lead to more branch closures? And do customers still want branch based solutions and interactions?
Branch networks are declining, but at a slower pace
APRA figures show there were 5904 "points of presence" in Australia offering a branch level of service as at June 30, 2016. These figures include non-bank entities such as building societies, but the vast majority relate to bank branches.
From 2012 onwards, the number of branches has shown negative growth each year, and there has been a particularly large slide of 5% in 2016. There has been a greater percentage of closure in rural areas. According to APRA's branch classifications, there was a reduction of 315 branches, of which 173 (-4%) was in highly accessible areas, 75 (-10%) in accessible areas, 36 (-12%) in moderately accessible areas, 25 (-17%) in moderately accessible areas, 6 (-13%) in very remote areas.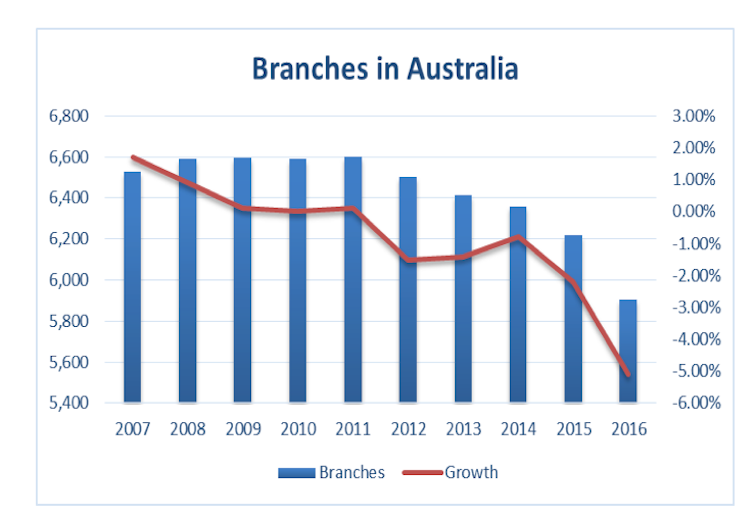 These closures need to be put into context. They are small compared to the many closures that were seen in Australia from the early nineties to the early 2000s, when ATMs and other electronic solutions were being increasingly rolled out by banks. APRA figures show a reduction of more than 2,000 branches over this period.
An Australian parliamentary report at that time put this down to banks seeking increased efficiency and reduced costs in a highly competitive global environment, fuelled by an increase in technology and electronic banking solutions.
The US, like Australia, has also shown a relatively small reduction in branches in recent times. The UK on the other hand has had a comparatively huge number of branch closures. A parliamentary report showed branch numbers have fallen from more than 20,000 in the late eighties to less than 9,000 in recent times. These closures even led to an active group called the Campaign for Community Banking Services. It spent nearly two decades trying to stop the closures but disbanded recently, believing the tide could not be stopped.
Despite bank branch closures, there's evidence to suggest customers still want branches or some sort of personal interaction with bank staff.
A Canstar Blue 2016 survey showed that in Australia the top three drivers of bank customer satisfaction are enquiry and problem handling, fees and charges, and customer service (branch and call centre). Digital banking (mobile, website and apps) ranks only as the sixth key driver. In the UK, a study by McKinsey (2016) showed that customers still want interaction with branches, especially for more complex transactions.
But do branches still deliver value for the banks themselves? Well yes, not only do they serve to satisfy the needs of those customers who want personal interaction with their banks, these branches are also essential sales outlets for the banks. There is also generally a desire among Australian banks to retain, and even expand, the relationship manager model for business customers, in contrast to a strong move over the last two decades by many global banks towards automated business processes such as credit scoring for small businesses.
The banks in Australia have generally been reluctant to dispel further closures. And it's clear they wish to move much further into technology-based solutions. However, there appears fairly wide acceptance among the banks that branches and personal contact still have an important role to play. This means branches are likely to keep evolving into smaller outlets focusing on sales and more complex transactions, while banks focus on other technology solutions as they evolve.