The plight of the imprisoned has America's attention.
The first visit by a sitting president to a penitentiary, bipartisan activities in Congress, policy reforms in red states, and ideology-spanning alliances (eg, Coalition for Public Safety), along with provocative books like The New Jim Crow, popular dramedies like Orange is the New Black, and reams of research, have Americans questioning how much we incarcerate. That's great.
But we need to focus as much on how we decarcerate.
More citizens with felony convictions than ever
While America locks up more people than any other nation on Earth, our correctional facilities release more people than any other country, too.
Annually about 700,000 people leave prisons and penitentiaries, as well as local jails and juvenile detention.
Moreover, 73% of the seven million or so Americans under correctional control are not imprisoned. They live in communities, not cell blocks, as parolees and probationers.
Long after imprisonment and post-prison supervision, many Americans carry criminal records. In fact, as many as 100 million American adults – one in three – have them. In particular, we've more citizens with felony convictions than ever before.
The demographics of the decarcerated vary. But they share some difficulties, and the greatest of these is getting a job.
Working with a criminal record
Approximately one-third of nonworking men between ages 25 and 54 have criminal records. Moreover, past imprisonment shrinks chances of employment by 15% to 30%.
Many of the decarcerated have weak ties to mainstream employment and limited skills. But a low barrier trips up a lot of them – the question on job applications asking people to disclose criminal convictions (and sometimes arrests).
Most employers – 66% of them – require disclosure at the application stage.
However, many large employers like Walmart and Target, and even Koch Brothers Industries, along with a growing number of small businesses, have removed criminal records questions from their applications. They promote fair chance hiring of the decarcerated by banning the box. They focus first on experiences, skills and references. They emphasize qualifications, not disqualifications.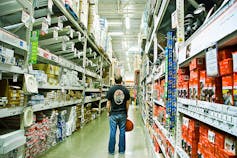 Home Depot, for instance, one of the 10 largest employers in the United States, is a leader in employing the decarcerated. It recognizes that unemployment among the decarcerated is not good for America's communities and neighborhoods. It recognizes, too, that it can employ great workers with criminal records without reducing customer or coworker safety.
For the same reasons, state and local governments are banning the box. According to the National Employment Law Project, 18 states and at least 100 counties and cities, including New York City, Chicago, San Francisco and Atlanta, have removed the disclosure question from their job applications.
While bans are rare in conservative states run by Republicans, they exist.
Georgia banned the box this year for state government jobs, becoming the first state in the South to do it, followed by Virginia. Beyond seeing it as fairness toward formerly incarcerated citizens who've paid their debts to society, Georgia rightly touts it as an economic development tool, enlarging the labor pool to attract businesses.
Some states, such as Massachusetts, Oregon, Minnesota and four others, ban the box on applications for public and private sector jobs. Not just private sector jobs tied to public contracts – all private employers in those states must ban the box.
Getting a 'decent shot'
President Obama, leader of one of the largest employers in America – the federal government – thinks disclosure of criminal records at the initial stage of employment screening doesn't give the decarcerated "a decent shot in a job interview."
He's right. It also doesn't give them a good chance of getting an interview. The federal Equal Employment Opportunity Commission agrees. It recommends employers ban the box.
Yet Obama hasn't exercised executive branch authority by directing federal agencies and their contractors to remove criminal records questions from federal job applications. He should, without further delay.
While we need more studies of the employment effects of banning the box, there's evidence from the city and county of Durham, North Carolina, for example, that banning the box works: It increases the chances that people with criminal records who want honest work can get it.
There's evidence, too, from Obama's home state of Hawaii, that banning the box by public and private employers lowers the odds of recidivism by the decarcerated.
To be sure, persons with criminal records, particularly violent records, may scare employers. Liability insurance and litigiousness means employers can't afford to misjudge the self-control of employees.
Nonetheless, banning the box doesn't mean ignoring criminal records or barring background checks. It means asking about records and checking backgrounds later in the employment process, after reviewing qualifications and conducting interviews.
Also, banning the box doesn't mean mandating employers to hire people with criminal records. Discrimination based on criminal records remains legal, especially when the crime of record is relevant to the type of work required.
Done well, however, reintegration of the decarcerated reduces recidivism, strengthens security from crime and saves money by cutting correctional costs.
Doing it well requires, among other things, that the decarcerated get jobs and do them well. That means more employers must improve the chances of employing the decarcerated, including the federal government.
This piece was coauthored with Marissa McCall Dodson, policy director and attorney for the Georgia Justice Project and the 2015 recipient of the National Association of Criminal Defense Lawyers' Champion of State Criminal Justice Award.