New South Wales Premier Barry O'Farrell has rocked the Liberal Party by quitting over evidence contradicting his earlier denial to the Independent Commission Against Corruption that he was given a $3000 bottle of Grange by the chief of the company lobbying for a Sydney Water contract.
O'Farrell, premier since 2011, had flatly rejected testimony that he had received the 1959 wine from his birth year or thanked the CEO of Australian Water Holdings, Nick Di Girolamo, for it.
O'Farrell said today he had been advised overnight about a thank you note from him to Di Girolamo to be presented to ICAC.
He continued to flatly deny remembering the bottle of 1959 Grange and said he could not explain what had happened to it.
"I've accepted that I've had a massive memory fail, I still can't explain either the arrival of a gift that I have no recollection of or its absence, which I certainly still can't fathom.
"But I accept the consequences. In an orderly way, a new leader will be elected to take on the position of Premier of NSW."
"I do accept that there is a thank you note signed by me, and as someone who believes in accountability, in responsibility, I accept the consequences of my actions," O'Farrell said.
The note said: "Dear Nick and Jodie, We wanted to thank you for your kind note and the wonderful wine. 1959 was a very good year, even if it is getting even further away! Thanks for all your support. Kind regards, Barry and Rosemary".
O'Farrell's resignation, which will be formalised next week, comes a year before the next NSW election and leaves the state Treasurer Mike Baird as favourite to be the next premier. Transport Minister Gladys Berejiklian is also being mentioned.
Earlier in the ICAC inquiry it was made clear that O'Farrell was not involved in any wrong-doing in relation to the dealings of Australian Water Holdings and its lobbying for the Sydney Water contract.
O'Farrell insisted today that his evidence to ICAC on Tuesday was "evidence to the best best of my knowledge" which he believed was "truthful".
"In no way did I seek to mislead, wilfully or otherwise, the Independent Commission Against Corruption. But this has clearly been a significant memory fail on my part, albeit within weeks of coming to office, but I accept the consequences of my actions."
He said he would organise a parliamentary Liberal party meeting to choose his successor next week.
He also said he supported the process of ICAC - "a body that I've always supported throughout my career".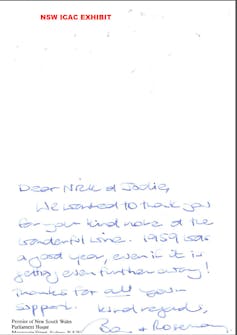 Prime minister Tony Abbott strongly defended O'Farrell, describing his resignation as an example of honour and integrity at a very high level.
"We are seeing an act of integrity, an act of honour, the like of which we have rarely seen in Australian politics. I admire him tremendously for this, although I deeply regret the necessity for it," Abbott told a news conference.
He said he had enormous respect and admiration for O'Farrell who had been a friend of his for two decades and had been a great servant for the Liberal Party, the people of New South Wales and the people of Australia.
Abbott insisted the Premier had "innocently, inadvertently" misled ICAC and reacted angrily when a journalist asked him whether he trusted the NSW government which is "proving to be corrupt" to deliver the infrastructure he was announcing for the proposed second Sydney airport.
Abbott said it was "an unjustified smear" and demanded that the comment be withdrawn and apologised for or evidence be provided.
At ICAC, counsel assisting, Geoffrey Watson, said there had been a "pretty substantial development" overnight and tended documents.
"One is an envelope addressed in we believe the handwriting of Mr O'Farrell … to Mr and Mrs Di Girolamo," Watson said.
"The second page is a copy of the front of a card emanating from the NSW Parliament.
"The third is a note we believe in the handwriting of Mr O'Farrell and on the card issued from the office of the Premier of NSW thanking Mr and Mrs Di Girolamo for their gift, being a bottle of wonderful wine from 1959," He said.
At ICAC on Tuesday O'Farrell said he had not received the wine and then at a news conference later he repeatedly denied it had arrived at his home and said there could have been no thank you note because there was no gift.