"People ask me what I do in winter when there's no baseball," National Baseball Hall of Fame second baseman Rogers Hornsby once said. "I'll tell you what I do. I stare out the window and wait for spring."
For baseball fans across the country, the moment has come. But while Opening Day kicks off a 162-game season that has its fair share of drama on the field, what happens off the field can be just as interesting. Our writers, in this compilation of previously published articles, tell baseball stories that involve architecture, the media, politics, race and health.
Take me out to the ballgame (or not)
If you're lucky enough to score tickets to a game this week, take a moment to check out the design of your home team's stadium. Allison Mast and Kevin Murphy detail baseball's stadium renaissance over the past three decades, and how one company played a key role:
"Populous, a Kansas City-based architecture firm, has been at the forefront of this movement. The firm is responsible for 17 of the 30 ballparks currently in use by major league teams. Some of their more successful projects have brought new life to watching baseball games in person, thanks in part to their contextualized approach to design – the idea that the architecture and design of ballparks should be influenced by their locations."
Even if you can't make it to the ballpark, you'll be able to easily listen or watch your favorite team on the radio or TV. Don't take this luxury for granted: As communication professor Jim Walker explains, when radio broadcasts were first introduced, the new technology created sharp divisions among baseball owners. He tells the story of the battle between pro- and anti-radio factions that almost led to the sport banning the new medium:
"While radio's popularity couldn't be denied, half of baseball's barons – mostly located along the East Coast – viewed radio as a fifth estate thief, robbing them of paying customers at the gate. And in this era, the gate was everything."
A messy racial legacy
This season marks the 70th anniversary of Jackie Robinson breaking the color barrier. In the short version of the story, Brooklyn Dodgers executive Branch Rickey gets credit for going against the wishes of most owners to desegregate the game. But according to journalism professor Chris Lamb, Robinson's signing was actually the culmination of a long campaign waged by the left-wing press, labor unions and progressive politicians:
"The Communist newspaper The Daily Worker began campaigning for integration in baseball shortly after Jesse Owens won four gold medals at the 1936 Summer Olympics in Berlin…. At the same time, labor unions organized picket lines and petition drives outside major league ballparks, collecting more than a million signatures."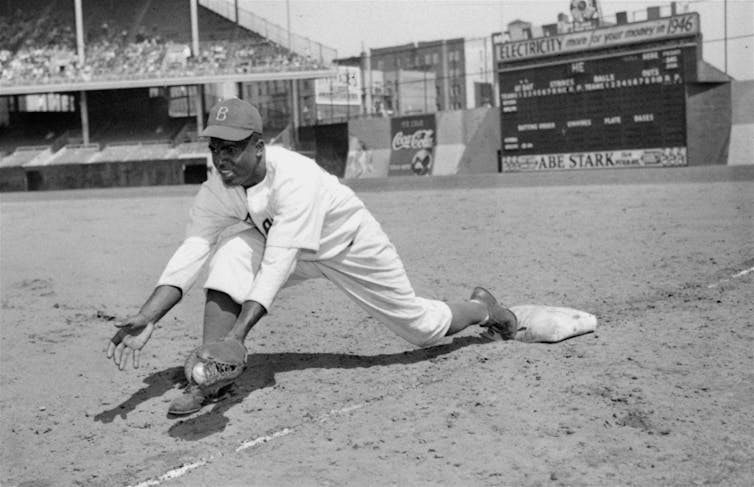 Robinson's landmark 1947 season didn't end baseball's race problem. In a different piece, Lamb tells the story of an all-black Charleston, South Carolina Little League team that thought they'd be competing in the 1955 Little League World Series – only to have their dreams dashed:
"When I was a journalism professor at the College of Charleston, I first learned about how the presence of a single black all-star team was enough to cause one of the biggest crises in Little League history. The white teams in South Carolina refused to play against them. Hundreds of Southern white teams left Little League Baseball in protest and joined a segregated youth baseball organization. More than 60 years later, to many former Cannon Street players, the lost opportunity still stings."
Playing it safe
As the MLB season kicks off, kids across the country will also be suiting up for their local Little League team. Some coaches and parents, however, might be nervous about an ailment in young pitchers that has become more common in recent years: arm injuries.
Kinesiologist Sakiko Oyama describes why the unnatural motion of throwing a baseball creates so much stress on the shoulder and elbow joints, why young pitchers have become especially vulnerable, and how research she conducted may offer some tips for how to prevent added stress on developing arms:
"My colleagues and I wondered if there were certain unknown 'tells' in the pitching motion. In our recent research, we focused on pitchers' trunk movement pattern – which can be identified using video recordings – and studied whether the movement pattern is linked to increased joint loading."
If you want your kid to be the next Zack Greinke (and not become another Mark Prior), you might want to take some notes.