Amid white, faux-fur beanbag chairs, trays of artisanal ice cream sandwiches and a glowing Teen Vogue logo, 600 girls and women gathered earlier this month to talk about politics, leadership and social change.
The inaugural Teen Vogue Summit is part of the teen magazine's shift to position themselves as a progressive, "woke" digital brand that builds upon the reputation they've cultivated over past two years through articles like Lauren Duca's viral op-ed "Donald Trump Is Gaslighting America."
The rebranding is arguably paying off; despite Condé Nast announcing the folding of the print magazine, web traffic is up over 200 per cent [and continues to draw significant public attention for its political reporting and sharp cultural commentary.
Hillary Clinton co-edited the final Teen Vogue print issue and also attended the first-ever Teen Vogue Summit, held in early December in Los Angeles. The event featured 150 speakers that included politicians, celebrities, entrepreneurs and community organizers.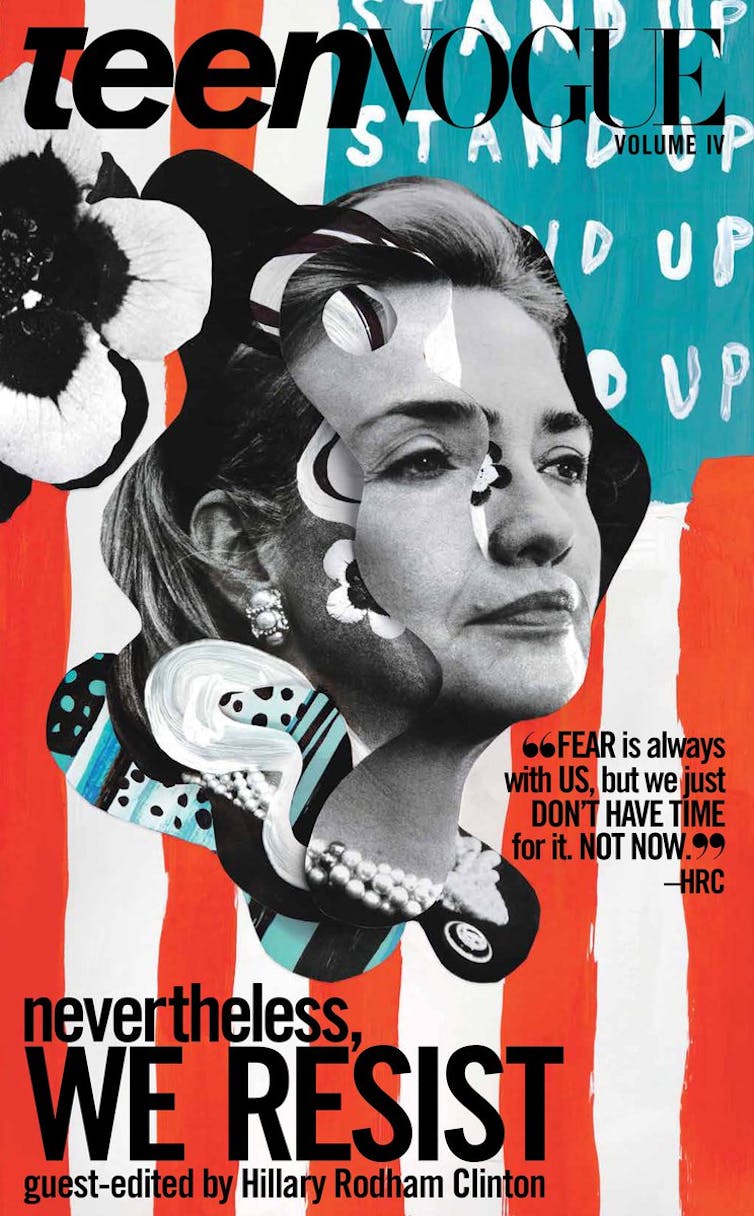 Significant politicians like Congresswoman Maxine Waters and Compton Mayor Aja Brown spoke, as did big-time creative artists like director Ava DuVernay, actress Yara Shahidi and YouTuber Lilly Singh. A few entrepreneurs were there too — beauty maven Michelle Phan and the founder and CEO of the Bumble dating app, Whitney Wolfe. Activists such as #BlackLivesMatter co-creator Alicia Garza, Girls Who Code founder Reshma Saujani and Marley Dias, the 12-year-old creator of #1000BlackGirlsBooks, also came to share their experience as national change-makers.
Panels and workshops spoke about heavy issues like sexual violence, and gave practical advice: How to run for office, how to get into the tech industry. These were interspersed by mentor sessions where participants sat in small groups on couches to get advice from leaders in activism, entrepreneurship and the arts.
As a media and cultural studies scholar currently researching anti-Trump activism among young girls, I headed to L.A. to find out how teenage girls and young women are getting political when their voices are desperately needed. Here are my five take-aways from my two days at the Teen Vogue Summit:
1. Teenage girls and young women are angry
Despite the playful atmosphere of the summit, there were moments when the tenor of the room grew dark. Girls and women are angry about the Trump administration, and in particular, its sexism, racism, homophobia, xenophobia and nationalism.
This sentiment was most palpable when Democratic Congresswoman Maxine Waters led summit participants in an "Impeach 45" chant that loudly echoed out into the night. Girls and women are often encouraged to mute their anger in order to appeal to cultural expectations of femininity, yet Waters gave permission for girls to be angry – a necessary resource for social change and one of the most memorable moments of the weekend.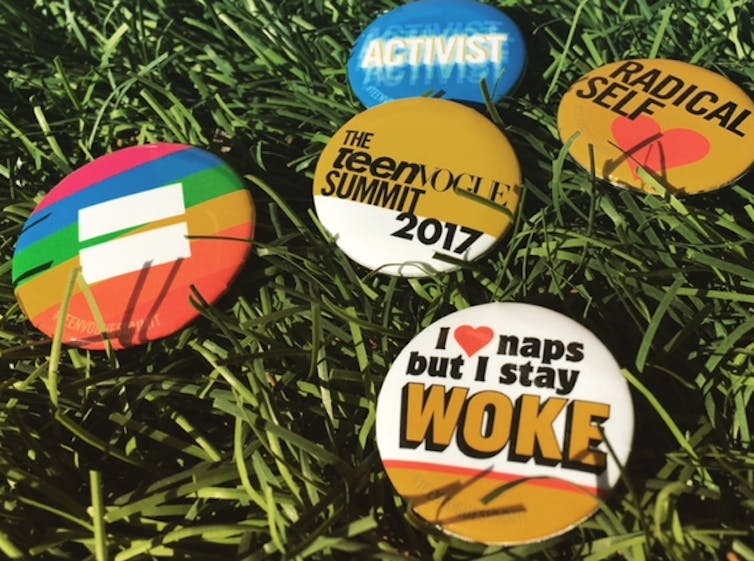 2. Hillary Clinton is (still) popular
Despite what you might have heard during the election about Clinton's lack of appeal to young people, many girls and young women admire her and are inspired by the significant inroads she's made for women in politics.
When Clinton emerged onto the tiny stage to give her keynote address, a wave of girls armed with their smartphone cameras rushed to the front, cheering, clapping and snapping photos. (I may have been one of them.)
They shouted "I love you!" and "You are beautiful!" to Clinton, who saluted the crowd with her signature point and nod. She talked candidly for 40 minutes about sexism in politics, mentorship and activism, while continually returning to a piece of advice for the audience: Vote!
3. Femininity and politics are not antithetical
Ever since Teen Vogue contributing editor Lauren Duca told Fox host Tucker Carlson in December 2016 that "a woman can love Ariana Grande and her thigh high boots and still discuss politics," the magazine has adopted this as an informal rallying cry, giving Duca a regular column called "Thigh High Politics."
Teen Vogue challenged the false dichotomy of beauty and smarts by hosting an event that celebrated both femininity and political action. The summit followed that lead and refused to abandon the pleasures of girlish femininity (to wit: each participant received a velour Juicy Couture hoodie emblazoned with personalized initials in Swarovski crystals).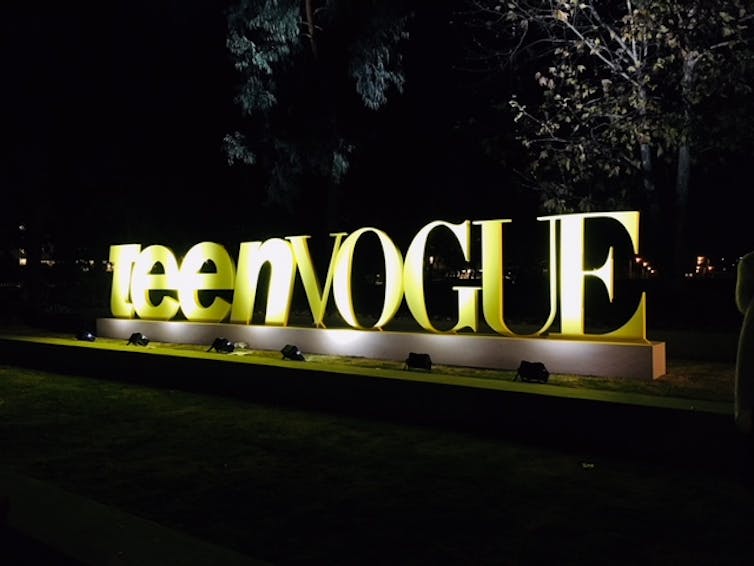 4. Being woke is profitable
Is Teen Vogue's woke-ness solely about generating profit? It is a brand that was previously floundering in a digital market in which traditional print teen magazines have struggled to survive. Since the early 2000s, several popular teen magazines folded, including YM, ElleGirl, TeenPeople, and CosmoGIRL, in part, due to their inability to compete in a digital mediascape.
Have "woke" identities been commodified by Teen Vogue in order to distinguish themselves from their competitors and sell their audience to advertisers?
By cultivating an audience that identifies as politically progressive, the magazine is able to deliver a niche audience to companies who aim to market to this demographic. Many of these companies – TOMS, Philosophy, PBTeen, for example – had a presence at the Summit, pointing to the ways in which woke audiences many serve both Teen Vogue's political and commercial goals.
Nonetheless, this commercial imperative should not detract from their celebration of girls, and in particular, girl activists.
5. Girls are amazing activists.
While I've been researching girls' feminist activism since 2009, I was still floored by the incredible girl activists I met over the weekend. Many of these girls were part of Teen Vogue's 21 Under 21 list. They were nominated by the magazine for their "trailblazing talents" and announced during the summit's Friday night mixer.
Mari Copeny, age 10, was honoured for her advocacy for clean water in her hometown of Flint, Mich., while 18-year-old trans model Hunter Schafer was celebrated for her LGBTQ activism — in particular, her role as a plantiff in a lawsuit against the discriminatory "bathroom bill" HB2 in North Carolina.
Another nominee, Nadya Okamoto, 19, founded a nonprofit organization to provide menstrual products to homeless women while also running for a seat on the Cambridge, Mass. city council.
The diversity of issues that these girls are engaging in is phenomenal, and should remind us that girls are doing the necessary work to make our world a better place.