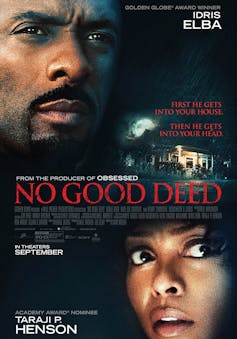 It was a matinee screening in a small town in Massachusetts.
I'd stayed for the credits, feeling an odd need to confirm that I'd heard Dido on the soundtrack.
Only one other person had been in the cinema. A man with a phlegmy cough seated somewhere behind me. And he'd waited in the vacated foyer.
"What did you think?" he asked. My dad's age, maybe older. White. "That it was horribly racist," I said. He flinched.
I'd actually lived in this part of Massachusetts before. Politically small-L liberal but also very white. So white in fact that the day prior I was tentatively approached at a bus stop and asked, "Ma'am, do you speak English?"
The phlegmy bloke conceded that seeing the film in the midst of the Ray Rice scandal was "troubling". I agreed and left it at that.
I actually hadn't previously heard of No Good Deed. Elba as Luther however, and as the sexy handyman in The Big C, seemed like solid reasons to hand over $6.
Rookie mistake.
Elba plays Colin. A con denied parole so he handles his disappointment the way that his flared nostrils and barely-concealed-psychosis hinted he would: he shoots his way out of the prison van.
Colin celebrates his "release" by going on a deranged and vengeful killing spree ultimately taking a feisty - if harried - mother, Terri (Taraji P. Henson), and her kids hostage.
Imagine the worst, $4-budget, 1990s made-for-TV midday movie. No Good Deed makes that film look like an Oscars gem.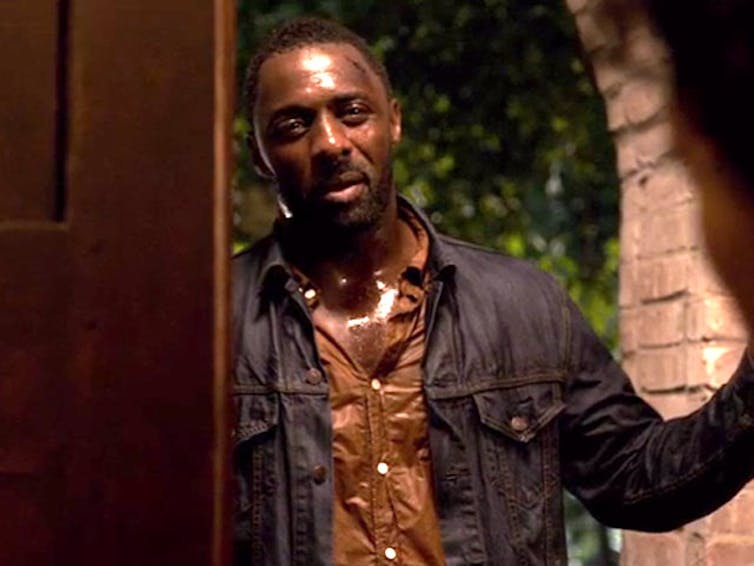 Colin is a hulking, often dripping (be it with sweat or water), black man brute. He intimidates, uses his bulk to threaten, to assault. He kills mostly whities, although he's an equal opportunity terrorist. And one too many times his sex appeal is a precursor to an act of violence making the presentation troubling to say the least.
Perfectly in-synch with the constant - if gratuitous - coverage in the US of the Ray Rice story - and in fact, illustrative of the black-man-as-villain stereotype rampant throughout the media - No Good Deed presents us with only two black male characters: Elba's thuggish Colin and Terri's smarmy and adulterous husband (Henry Simmons), cheating with a lighter skinned woman. Of course.
Because it seemed so heavy-handedly racist, I did try hard to look for other angles. Were there other ways to read a film that surely couldn't possibly be as heinous as it seemed?
Can we look, perhaps, at Colin as just one character who just happens to be a man, just happens to be black and just happens to be a brute and enjoy the film as disconnected from narratives we like to relegate to an unfortunate past?
Personally, I'm very bad at such delusions.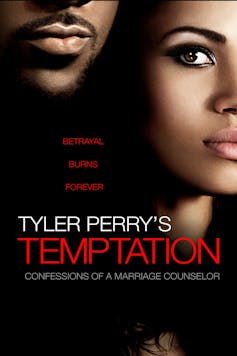 So what about the capacity for a demographics reading? Here's an American film largely starring black people: perhaps it's targeting a black audience?
While this seems tricky to ascertain given the nationwide release in the US, Tyler Perry for example, has made a fortune doing just this: making films about black people for black people, many of which on the surface often seem tremendously racist. I recently watched Perry's Temptation: Confessions of a Marriage Counselor (2013) for example. The strange casting of a Kardashian in it aside, the film was all fire, all brimstone, and all stereotype. White women from Australia however, were not the target audience and perhaps aren't for No Good Deed either.
I buy this explanation a little more. If you're Chinese, say, and are watching a film about Chinese people made for and by Chinese people, you're probably not pointing to the male Chinese villain and thinking he's stereotyped. More likely, you're considering the film - and the ensemble cast - as a whole and evaluating the film that way.
No Good Deed however, wasn't made by African Americans at all. Hell, Elba himself is from bloody Hackney! No Good Deed was directed by a white guy, Sam Miller, and it was written by a white woman, Aimee Lagos. Sure, white people can make intelligent films about black people and vice-versa. This however, isn't one of that.
I can't locate an Australian release date. Probably for the best. The Blaxploitation genre offers many alternatives; most much less offensive than No Good Deed.