The world's largest annual music conference South by South West (SXSW), continues this week in Austin, the capital of Texas; and the dynamism behind creative music cities such as Austin, Melbourne and Berlin will be the topic of a panel discussion I'll be moderating.
So what, if anything, ties these cities together?
As the programme guide highlights, Austin, Melbourne and Berlin sit at "far corners of the world with different cultures, climates and distinct sounds". But each has something in common – they are hubs of intense musical activities and have a high concentration of live music venues (including live music in bars, cafes and restaurants) in their respective countries.
Austin, a hippy, college town and home to the Texan parliament, has moved beyond its Americana roots (with music greats such as Janis Joplin and Willie Nelson) and has embraced the contemporary indie music scene.
Today Austin (population of about 1.8 million) is world renowned for its 230 (or so) live music venues. This is more than its fierce competitor, Nashville, the capital of Tennessee (population of about 1.5 million) which has about 100 live music venues.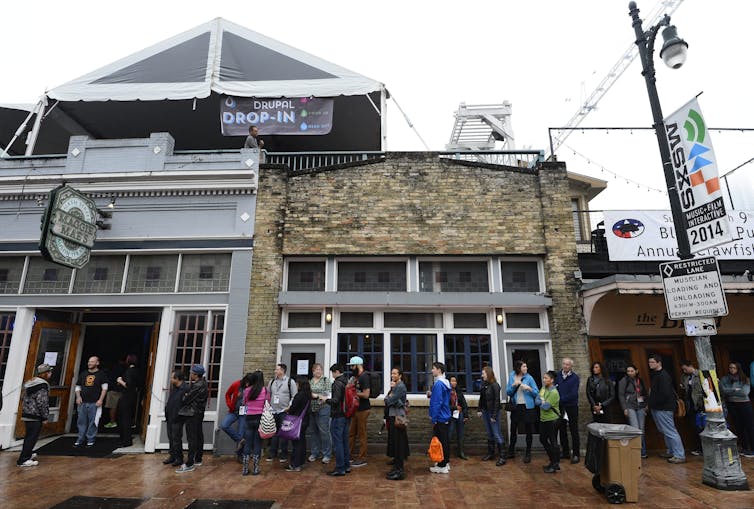 Like Austin, Melbourne is also known for its hyper-concentration of live music venues and has been called the "Austin of the Southern hemisphere".
The 2012 Victorian Live Music Census reported that Melbourne has more live music venues (470 plus) than any other city in Australia.
Melbourne was home to Australia's post-punk movement in the 1970s and nurtured world famous music exports such as Nick Cave. Since the 1980s the city has fostered a vibrant independent music scene.
During the 1980s Germany's former West Berlin also nurtured the careers of the expat Nick Cave and his band. They converged on the divided city after famed, exiled musicians such as David Bowie and Iggy Pop made their mark there during the 1970s.
Today Berlin and Melbourne have roughly the same population (3.5 million) and about the same number of live music venues, if you also include Berlin's ground-breaking post-wall techno (such as Tresor) and club culture scene, a scene which continues to fuel contemporary Berlin's music economy.
With reunification in the late 1990s, Berlin regained its capital status of Germany and today is home to one the world's most famous music clusters, known as the Media Spree, which is situated in no mans' land between the former East and West Berlin.
During the 2000s the Media Spree area, which consisted of abandoned industrial and service buildings (unknown to gentrification) from the former German Democratic Republic, was home to Berlin's post-wall techno club scene.
Today the Media Spree has gentrified to accommodate the German headquarters of Universal Entertainment Inc, MTV Germany and Nhow, the world's first music hotel, which since 2010, has played host to the city's annual Berlin Music Week.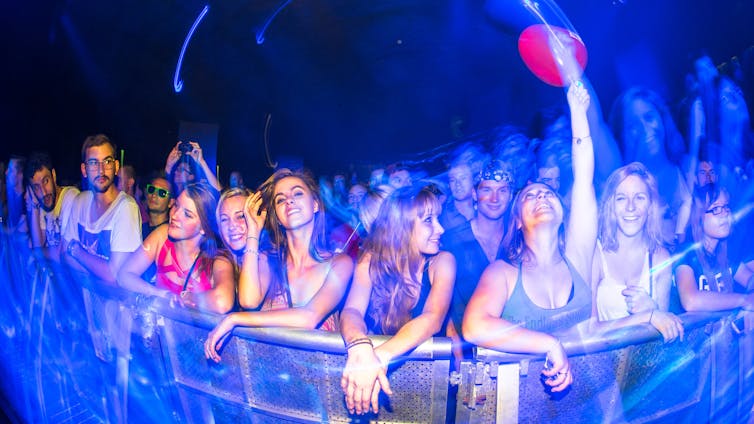 Held each September, Berlin Music Week is run by the City of Berlin and evolved out of another music event called Pop.com, which was moved from Cologne to Berlin.
Similar to Berlin, Melbourne has an annual music week (Melbourne Music Week) organised by the City of Melbourne, which was also set up in 2010 and runs each November in the central business district.
Austin's SXSW festival was created by a local business called SXSW Inc in 1987, and by the late 1990s had earned a global reputation as a breeding ground for new music ideas and creative technologies.
Each March, SXSW, with a music cluster along its famous 6th Street in downtown Austin, attracts more than one million visitors.
Austin, Melbourne and Berlin's live music industry contribute generously to the cultural economies in their respective countries.
In the late 1990s with the rapid growth of SXSW, Austin became the self-proclaimed "Live Music Capital of the World", and the local music industry earns the city roughly US$1.6 billion a year.
Unlike Austin, Berlin's music industry had a "poor but sexy" image, which a post-wall slogan was given to the city by its then, Mayor Klaus Wowereit to attract creative types.
United and revitalised, contemporary Berlin is emerging as the "music paradise" of Europe with a local music industry reportedly contributing at least €1 billion a year. This is more than any other German (such as Hamburg or Cologne) or European city noted for its music culture
In March 2013, the global live music centre and stats tracker Pollstar confirmed Melbourne's place as the Live Music Capital of Australia, with a local music industry which contributes more than A$1 billion a year to the state's economy.
A case study of global music cities such as Austin, Melbourne and Berlin suggests an intuitive link between a vibrant music culture and a growing, cultural economy – and can hopefully give us some ideas of how to capitalise on the successes of others.

Are you an academic or researcher working on music theory, production or policy? Contact the Arts + Culture editor.