I've been analysing betting patterns for many years and see them as one of the most accurate ways of understanding the dynamics around the outcome of votes such as at elections and referendums.
For example, I found during the Scottish independence referendum in 2014 that the bookies predicted the result correctly within three days of the vote, at which point they started to reduce the odds for a No vote and increase the odds for a Yes vote. Yet polls at the time showed the share of the vote moving closer together. So with four days to go until the referendum on membership of the European Union, let's see what the odds are saying.
The referendum in Britain is a strange one: while a YouGov Poll suggests that the vote to leave the EU has a narrow lead, the bookies are strongly saying that the vote to remain is in front. With the odds of a Brexit vote beginning to shorten around the end of May, it generally moved towards an even bet – odds of 1/1, or 2 when written as decimal odds (also known as European odds). But in the last few days odds have lengthened again, reaching around 11/5 (or 3.2 in decimal) by the end of the week before the vote. The odds for staying in on the other hand sit at around ¼ (or 1.25), so the bookies are still predicting a strong Remain vote.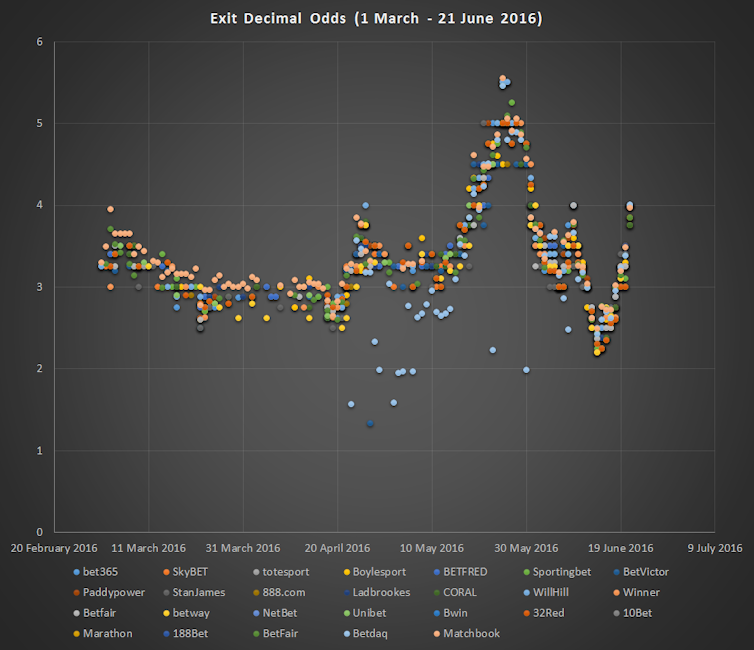 This chart shows how the odds for a Brexit vote have lengthened in the last few days. The fluctuation of the odds (given in decimal) shows that several large bets have been placed on a remain vote, as identified by Oddschecker, especially at moments when the odds have drifted out to higher and so more profitable odds.
On the other hand there have been many, but smaller, bets for Brexit. This is why the odds look strong for Remain, because there is more money being placed on a vote to stay in. Even when the polls were saying that an exit vote was leading, the bookies were still putting remain in a strong position.
The odds for a vote to remain in the EU continue to strengthen and the odds on a Brexit vote weaken, currently around 4-to-1 on (1.25 in decimal) for remain and 3/1 (4 in decimal) for Brexit. In fact the odds for Remain are now back to where they started in March 2016.
So who is right? I'd wager the bookies know the British voters better than anyone, and those placing the largest bets will have a strong understanding of the dynamics of the referendum. While those attracted by odds will bet small amounts of money, generally those in the know put lots of money on what they see as good bets – that is the profile of betting we are seeing. Perhaps the answer lies in following the money.