Just outside my bedroom window a sliver of the Bourke Street Bicycle Route passes by; a slice of Sydney's network of cycleways which is continuing to grow, branching, meandering and extending throughout the city and beyond.
Sydney's Lord Mayor, Clover Moore, the visionary behind the project, described the route in 2007 as "an early part of our ambitious Cycling Strategy to increase the cycling route network to almost 200 kilometers." It seems to be popular: there's been a 60% increase in cycle numbers in inner Sydney alone between 2010 and 2011.
The completion of the Bridge-to-Bridge Route between the Anzac and Sydney Harbour Bridges and the Bourke Street Bicycle Route is only a sampling of what is to come.
As with many urban infrastructure projects there is controversy. The New South Wales Premier, Barry O'Farrell, has a different vision for who should control the cycleway network's continued development. The Central Sydney Traffic and Transport Committee, consisting of four government and three council representatives, would coordinate continued development. This would resolve many of O'Farrell's existing disagreements with the Lord Mayor regarding the cycleway's extension, speed limit, vehicular space and access. In response, Moore noted that all current bike routes have already been approved by NSW government, with the city having limited power when it comes to transportation projects.
Of course there are many others that oppose the bike lanes, including car-centric citizens. But with new, comes change, and change can be an annoyance. Controversy is a familiar problem in new cycle-cities, like New York, where cars, pedestrians and cyclists are completely oblivious to one another. While these new bicycle interventions can create a bit of confusion and frustration (I have nearly been bulldozed by a cyclist on more than one occasion and they can really disrupt car traffic), time will allow the unfamiliar to become familiar.
For now, the City of Sydney will have to learn from its mistakes (and quickly fix them) while continuing to spread its public education campaign slogan proclaiming, "The road is there to share, remember bicycles are vehicles too." It's the future and in order to make Sydney a global city, developing a synthesised bicycle network is a step that needs to be taken.
Sydney has sampled from bicycle-friendly cities around the world (such as Copenhagen and Amsterdam, long famous for their biking culture; or New York and Paris who have only more recently incorporated the bike into the urban environment) to create its own system. It should continue to evolve and grow as part of Sydney 2030, a vision to make Sydney a more sustainable city.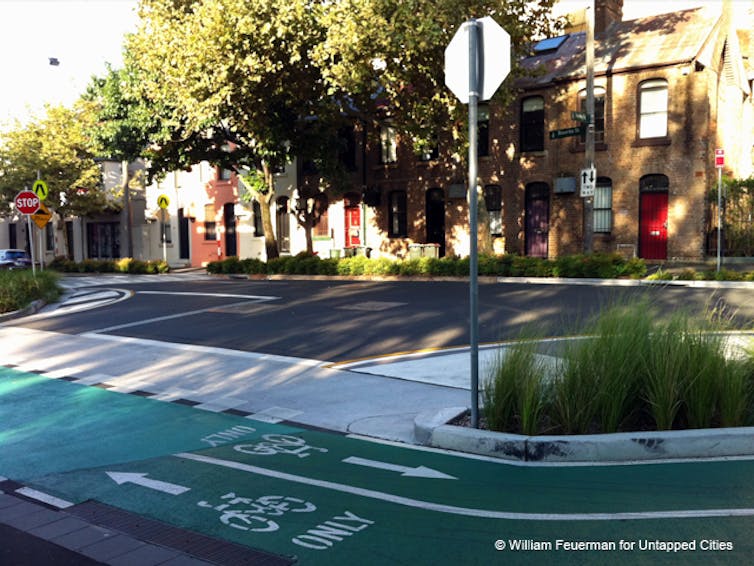 The lanes are already reducing congestion on roads and public transportation, cutting emissions while improving public health by making people more active.
The city has done a great job to help encourage the use of the network, providing free cycling courses, hosting cycling events throughout the city, and even providing route maps for inner city paths including the Foodies Ride, the Inner West Art Ride and more.
So with questions brewing about the future of the bike lanes, I decided to take it upon myself to really see how it has transformed the neighbourhoods with which it intersects. Stretching 4.3 km from Woolloomooloo to Waterloo, the Bourke Street Bicycle Route (or the "Loo to Loo"as it is sometimes called) links Sydney's harbour to a newly developed urban residential village.
The newly paved cycleways provide riders with their own two-way dedicated lanes. At times these paths transform into pedestrian and bicycle shared pathways (pedestrians have the right of way) and other times vehicle and bicycle shared lanes (the cyclists have the right of way and are encouraged to take up the lane, causing a major annoyance for drivers; you can't make everyone happy all the time).
Climbing steep hills, passing through industrial, commercial and residential neighbourhoods, juxtaposing both garbage and glamour, the chic and seedy, the route stitches together snapshots of Sydney life. It alone has activated its surroundings, generating business, while changing the relationship between pedestrian, cyclist and vehicle.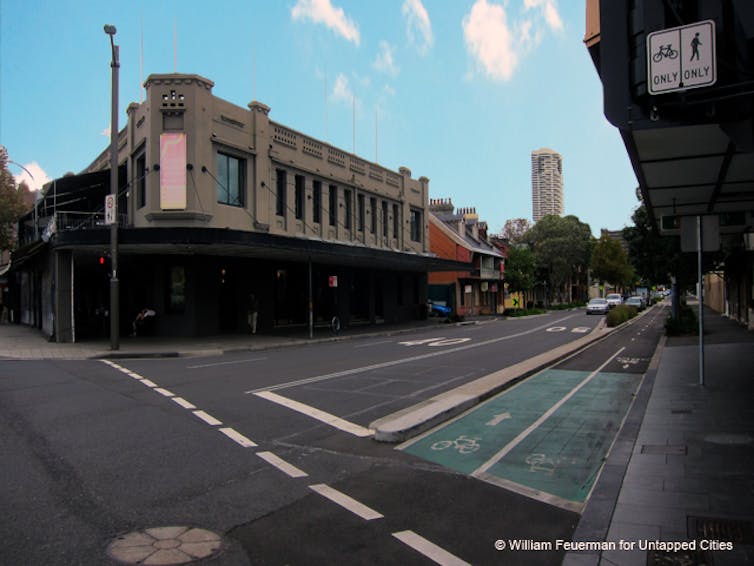 The route begins (or ends) in Woolloomooloo, historically a lower-working class dockland district, recently gentrified into a new, exclusive waterfront neighbourhood. The Finger Wharf, the largest timbered-piled building in the world, sits on the harbour's edge looking at Navy ships to one side and the city's Central Business District (CBD) to the other. I recommend eating an Aussie meat pie at the renowned Harry's Cafe de Wheels (you can burn the calories on the bike).
Heading south on Bourke Street from Woolloomooloo the changing nature of the neighbourhood begins to reveal itself. Pricey residences neighbour public housing as new businesses open. One such business is Sable & Argent, a "two-wheel lifestyle concept store" complete with shop, bike service and café, strategically placed along the cycleway's edge.
The bike path passes William Street, one of Sydney's major thoroughfares connecting the eastern suburbs to the CBD (it also serves as a popular pick up point for prostitutes). The path runs by one of my favourite eating spots, Miss Chu's, a Vietnamese tuck shop/street food stand. Order at the window, hop on your bike and take the food with you.
Legs will burn on the next part of the route as the bike begins to climb the steeply-sloped Darlinghurst streets. You will pass by charming multi-coloured terrace houses, small parks, new cafes, and a former jail, a remnant of Sydney's convict past.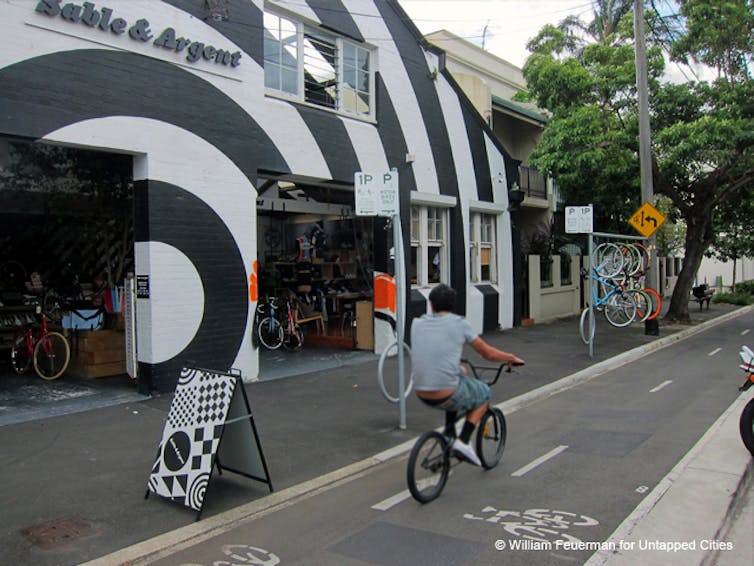 As you reach Oxford Street, another of Sydney's major thoroughfares, a small break may be necessary. It's a good chance to take a quick look at the Darlinghurst Courthouse, see the current public art project in Taylor Square or stop at the weekend farmers market.
Crossing Oxford Street and Taylor Square you are introduced to Surry Hills, another neighbourhood that has gone through major transformation in the last decade. As the route moves further away from Oxford Street, the scale and seediness of Bourke Street shifts dramatically.
Heading south, the street becomes narrower, with both large-scale residential and commercial spaces. You'll pass the St Margaret's development, a former maternity hospital transformed into a residential complex with a large public plaza that houses markets, cafes, restaurants and the Object Gallery, part of the Australian Centre for Design.
Further along, the tree-canopied street is lined with beautifully renovated Victorian residences now selling for prices that would have blown the minds of the slum-dwellers who once lived there. There are a lot of surrounding places and spaces to be explored along the edges of the bike path (including the intimate maze of laneways which hide a multiplicity of boutiques, restaurants and galleries such as the must-see Brett Whitely Studio).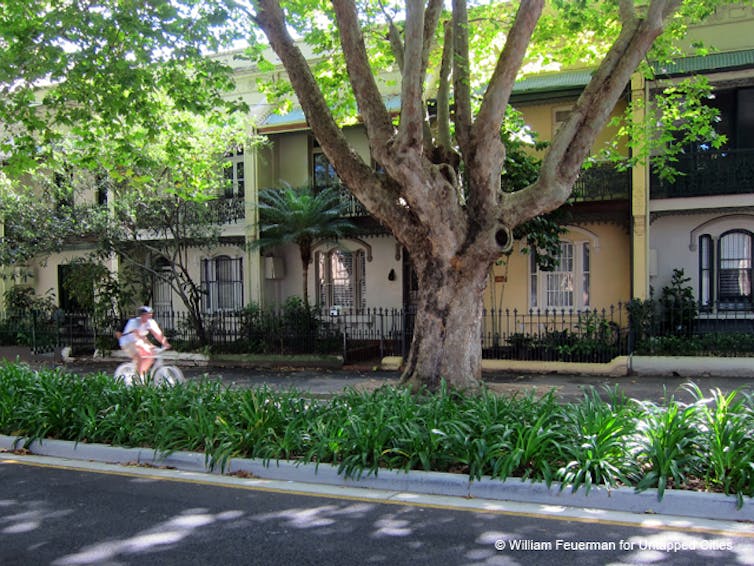 In the midst of Surry Hills lies one of Sydney's most famous bakeries, the Bourke Street Bakery. Everything is made by hand and melts in your mouth. It's a good spot to take a break and caffeinate. Following a little indulgence, the ride continues…
Only a little more to go; passing Cleveland Street the scale quickly shifts from small, to big, to small. As the path slopes up towards Waterloo, signs defining the end of the route and telling cyclists to dismount become a repetitive feature.
I must confess, I don't ride a bike. It's not that I don't like to cycle, it's just that I don't own a bicycle. I tend to choose walking over any other form of "transportation" (it's the New Yorker in me). To research, I walked from one edge of the route to the other. In a period of 90 minutes I saw swarms of jelly fish swimming in the city's harbour, walked along tree-canopied streets lined with charming, colourful terrace houses, and stopped at some of Sydney's best known eateries. Not bad.
Maybe I will buy a bike. If I can get on my bike, then maybe all of Sydney can as well…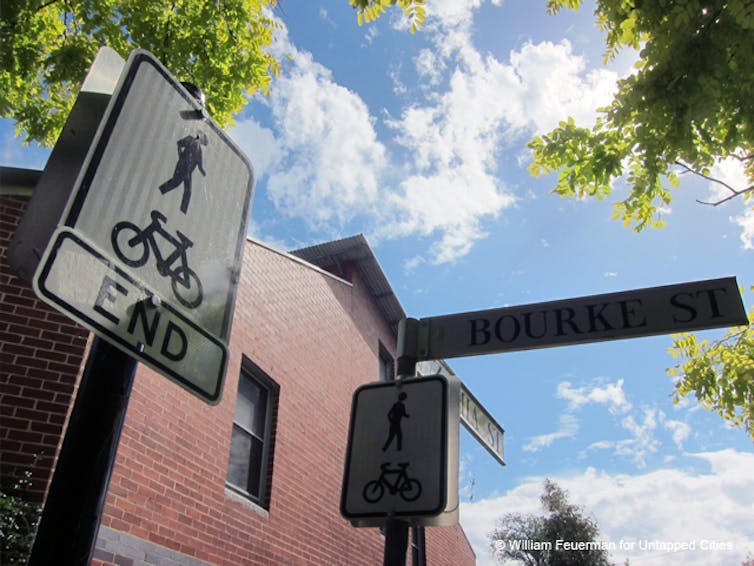 A longer version of this article was originally published on Untapped Cities.