Bill Shorten has pledged Labor would retain the bulk-billing incentive for pathology and diagnostic imaging, and give a modest tax break to small businesses to get people back into the workforce, at a launch attended by three former ALP prime ministers.
Addressing a crowd of the party faithful in the western Sydney marginal government seat of Lindsay, Shorten heightened his scare campaign about the future of Medicare, claiming that "piece by piece, brick by brick, the Liberals want to tear Medicare down".
He said the Liberals had given the Productivity Commission new riding instructions, to investigate privatising human services and Americanising Medicare.
The election was "a referendum on the future of Medicare", which was "the community standard. It speaks for who we are."
Malcolm Turnbull immediately accused Shorten of peddling "extraordinary and audacious" lies on Medicare being privatised. "There will be no outsourcing of any elements of the Medicare service currently delivered by government, full stop," he said.
The government has been considering outsourcing the Medicare back office – the payment of benefits. But Turnbull has now retreated on this. The prime minister said on Sunday: "improvements and efficiencies will be undertaken within government, full stop".
"There is no privatisation of Medicare or any part of Medicare. Every element of Medicare that is delivered by government will continue to be delivered by government, full stop."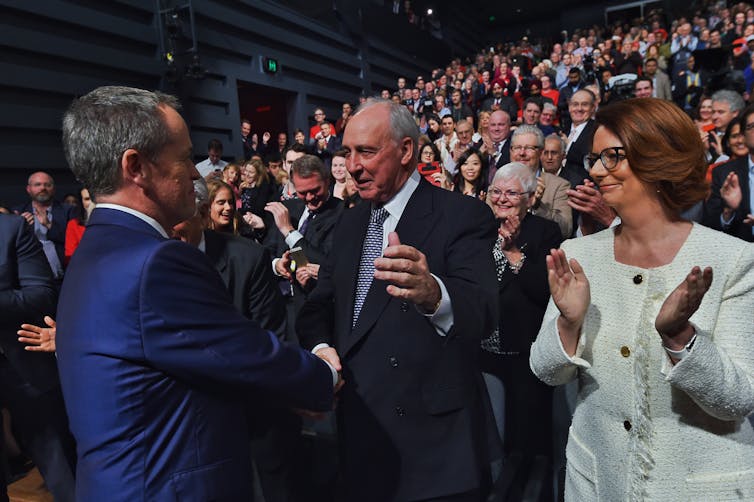 Seated together in the front row of the Labor launch at the Joan Sutherland Performing Arts Centre, Julia Gillard, Paul Keating and Bob Hawke all received enthusiastic welcomes; Kevin Rudd is overseas but Shorten paid tribute to him in his speech.
In a bid to reassure voters that Labor would be economically responsible, Shorten said "we will not be a big-spending government".
"We will be a government for the fair go, fully paid for," he said. "We believe in budget repair, that is fair."
Shorten rallied his party for a big effort in the final fortnight of the campaign. "Turnbull says he's got this in the bag … I say to him you ain't seen anything yet."
The government scrapped the bulk-billing incentive for pathology and diagnostic imaging in the budget update of late last year. But in a deal announced in the campaign, the measure has been delayed in return for rent concessions for pathologists and the promise of a review into diagnostic imaging.
Under Labor's policy, pathologists and radiologists would be given specific incentives to bulk bill. The cost of the initiative would be A$884.2 million over the forward estimates and $2.9 billion over a decade.
The jobs initiative would provide a small business that was at least two years old with a tax break when it hired a parent going back to work, carer, or unemployed Australian aged under 25 or over 55. Businesses would be able to claim a 40% deduction on top of the amount they can claim for their employees. The tax break would be up to $20,000 per worker to offset the wages of up to five new employees.
The "new jobs tax cut" would cost $257 million, helping up to 30,000 people find a job each year. It would be fully offset from the existing wage subsidy program, which Labor says is not working as well as it should be.
Shorten said the choice at the July 2 election was between a Labor Party investing "in people, in productivity, in infrastructure and technology and a Liberal Party asking for three more years on the back of one idea – a $50 billion giveaway to big business".
"This is not a plan for the Australian economy – it is foreign aid for foreign companies."
Shorten said the difference in competing economic visions had never been starker. He said Turnbull had flagged how he was going to fill the void in the budget – a 15% GST, taking Commonwealth funding out of every government school, and letting the states loose to charge their own income tax.
"Make no mistake, if the Liberals win, we shouldn't be worried about Mr Turnbull breaking his promises, we should be worried about him keeping them."
Shorten targeted the banks, saying the Turnbull company tax plan would mean a $7.4 billion windfall for Westpac, ANZ, the Commonwealth Bank and NAB. Highlighting instances of the banks bad behaviour, Shorten said "the banks don't deserve a tax cut – they need a royal commission".
Shorten made strong pitches on equality for women and same-sex marriage. "Equality for women will be a national mission for my government," he said, pointing to parental leave, better childcare and especially highlighting "the most devastating and vivid example of violence against women".
"If our country achieves nothing else in the next decade but equality for the women of Australia, we will be the richest nation in the world – in every sense of the word."
Restating Labor's promise of legislating for same-sex marriage within its first 100 days, Shorten said "instead of sitting in judgement, instead of providing a taxpayer-funded platform for homophobia, we will gift every Australian an equal right in respect of love".