I had the opportunity to watch a performance of "Billy Elliot - The Musical" in Bradford, UK in June 2016. The story explores the experiences of mining communities in the 1980s in northern England. The story of Billy Elliot, a young orphan boy growing up in a mining town during the miners' strike in the mid-80s in the UK took me to South Africa. Specifically to Marikana, the Lonmin mine north west of Johannesburg, where South African police shot and killed 34 striking mineworkers on Thursday 16 August, 2012.
The emotional response I felt in the middle of a very British audience in Bradford was in fact the memory of Marikana, a tragedy that also led to a play, "Marikana the Musical" in 2014. I realise that is what theatre is meant to do: the arts aim to evoke feelings over and above appreciation of the artistic piece.
Billy Elliot took me on a journey back home to the familiar losses of lives, work and sense of community when mining suddenly dies. The long term effects of the loss of livelihoods when mines shut down in northern England in the 1980s are still felt to date. I also remembered the more recent losses in Zambia and Botswana's northern cities when copper prices crashed. Communities whose lifeline was dependent on the mines have gone from surviving to grinding poverty.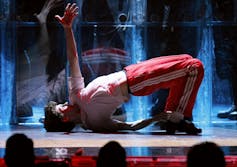 Billy Elliot was a boy who wanted to do ballet. Billy kept his secret from his father and brother, pretending that that he was taking boxing lessons.
In a community steeped in mining traditions and a strong sense of masculinity a boy doing ballet was a no-no. With help from his ballet teacher, he triumphs and eventually realises his dream.
Mining cultures
Southern Africa is no stranger to mining cultures. For over 200 years men journeyed to the gold and diamond mines of Johannesburg and Kimberley respectively. When platinum, which was discovered in South Africa in 1924, became the new gold many more came. For boys going to the mines was part of their rite of passage. They fashioned their dreams and manhood around mining. Many came from far and endured long separation from their families. Their remittances kept communities alive.
In the mines they formed strong bonds of brotherhood to survive. Music and dance became their outlet and to date the gumboot dance remains a popular artistic act. Musicians like Hugh Masekela and Miriam Makeba have done award winning songs about the life and times of miners.
Marikana brought a new awakening to the brutality of mining life. Following months of strike action the miners of Marikana tragically encountered a brutal police response on August 16 four years ago. Many who saw it broadcast live on television still ask – why? A commission of inquiry has come and gone. Many lost their jobs and returned empty handed to their communities. Marikana will never be the same again.
Tears and emotions in the theatre
Director Aubrey Sekhabi brought Marikana to stage. I was fortunate to attend the premiere of the award winning "Marikana the Musical" in 2014. The vivid representation of the "Man with the green blanket" – Mgcineni "Mambush" Noki, one of the miners killed in 2012, was one of the strikers' leaders – brought me to tears and elicited emotions I had not felt since watching the news on that fateful evening in August 2012.
A year later the award winning documentary "Miners Shot Down" (2015) brought a reminder of Marikana's unresolved questions. The widows, survivors and families live with the physical, emotional and mental scars of those fateful days. Miners lost their lives and jobs. Communities lost lifelines. Hopes died particularly for children who dreamt of going to school, getting a new chance at life to break the cycle of poverty. All those dreams have been deferred or are dead and buried.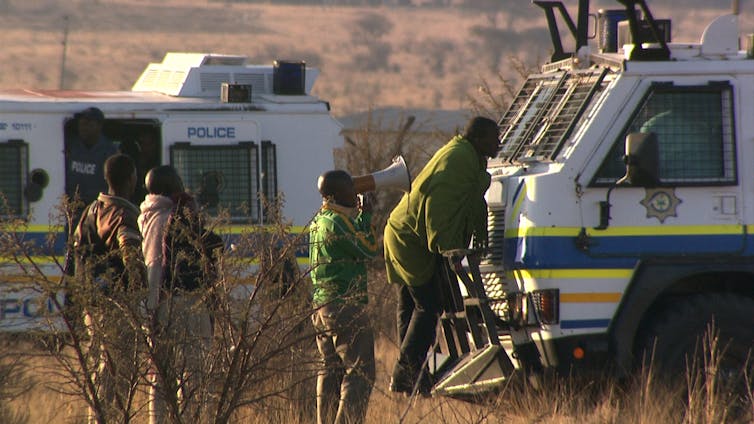 Many questions have been asked about the role of leaders in the Marikana affair. Like the UK miners' strike, the economic livelihood of the miners and their communities were at stake. They were pitted against big business and a changing capitalist world.
In the case of Marikana Lonmin, a listed mining company, was calling the shots with vested interests of the newly rich black middle class who had acquired shareholding through the policy of Black Economic Empowerment (BEE). With its roots in Lonrho (the amalgam of London and Rhodesia) Lonmin was no stranger to mining and doing business in Africa. The huge divide between executive pay and wages for workers was a bone of contention. The conditions of miners including the use of hostels brought to the fore issues of inequalities and poverty.
The platinum mines are located in areas of rural poverty with small isolated villages in South Africa's North West province. Small shanty and shack settlements quickly form around mines and with them come the negative impacts of crime, diseases and other social ills. Mining executives live in cities in exclusive neighbourhoods like Sandton, north of Johannesburg. Today, TB and HIV/AIDS haunt mining communities like Marikana and families of miners who have returned home.
Trapped in poverty
Some communities and parts of others in the north of England were to an extent salvaged by government social protection albeit with varied degrees of success of commitment from the UK's politicians. The people of Marikana, however, are still trapped in abject poverty.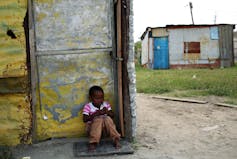 In southern Africa, the lives of communities dependent on mining are shattered. The miners wait for answers, compensation and for someone to do something. Through art we encounter their pain and anguish with no signs of hope at the end of the dark tunnel.
Unlike Billy Elliot, the children of Marikana are doomed. Leaving the theatre after watching "Billy Elliot" I thought of home … and how different life can be for a boy called Billy in England.
In Marikana, a boy – let's call him "Bashi" – could be in the dusty alleys of Marikana. Billy realised his dream. "Bashi" looks at the dark night. He stares at the stars and wonders where help will come from.