Could what we flush down the toilet be used to power our homes? Thanks to biogas technology, Australia's relationship with organic waste – human and animal excreta, plant scraps and food-processing waste – is changing, turning waste into a commercial source of renewable energy.
A recent report suggests that Australia produces about 20 million tonnes of organic waste per year from domestic and industrial sources. This in turn accounts for a large portion of national greenhouse gas emissions. Manure from livestock industries alone accounts for 22 Mt of carbon dioxide equivalents.
Organic waste, when broken down by bacteria, produces a methane-rich "biogas" that can be used to generate electricity and heat.
According to one estimate, if all the organic waste from Australian domestic, industrial and agricultural industries was treated in biogas plants, it would have the potential to produce around 650 megawatts of electricity. That's enough to power almost one million Australian homes.
How it works
Getting the process right can be tricky but the science is simple: fill an airtight tank known as an anaerobic (oxygen-free) digester with slurry made from biological waste, then let the bacteria get to work to produce a methane-rich gas that can be used to generate electricity and heat.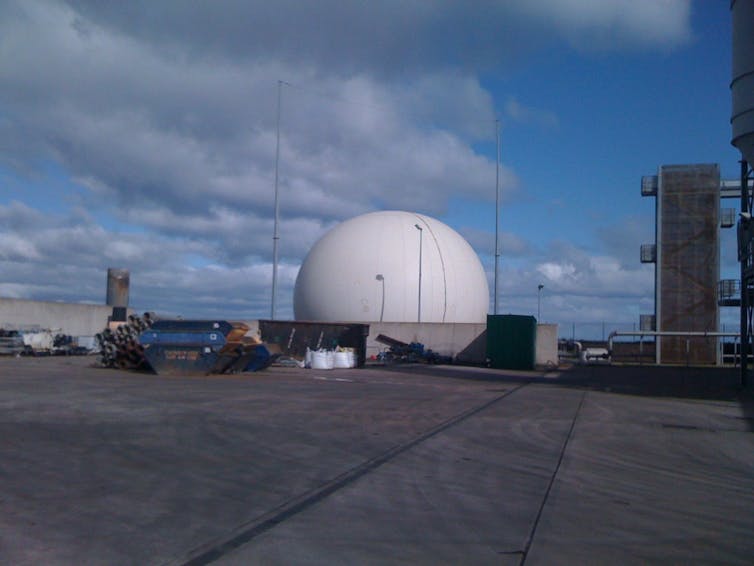 Use what you need to power your pumps, motors and circuitry, and sell the rest back to the grid so that in as little as five years you recoup what you've outlaid on your biogas plant.
Renewable energy provided 14.8% of Australian electricity generation during 2013. Bioenergy totalled 7% of this, with biogas contributing to about 2.0% of the share of total renewable electricity capacity. In comparison, wind stands at 26% while solar power is 11%. The bioenergy industry expects biogas could be more important than solar, and as important as wind. The remainder of Australian bioenergy comes mostly from the combustion of sugarcane waste, also known as bagasse.
The majority of biogas plants in Australia – upwards of 50 – are associated with municipal waste treatment facilities. Commercial operations include Melbourne Water and Sydney Water, which use sewage as their biogas feedstock.
Low-cost options emerge
The slow uptake of the technology, particularly in the intensive livestock industries, has been due to the difficult financial environment, policy uncertainty and grid connectivity.
Covered anaerobic lagoons, sometimes called ponds, are the preferred type of digester for Australian agricultural industries – they are a low-cost option which performs well under our warmer conditions with minimal maintenance.
The technology has attracted a lot of attention in the pork industry over the past 10 or so years with Berrybank near Ballarat and Blantyre Farms at Young using piggery waste as their major feedstock.
Abattoirs, dairies and poultry farms are also investing in biogas technology as they look for a means of solving their waste and odour problems as well as reducing their carbon footprints, not to mention their electricity and natural gas bills.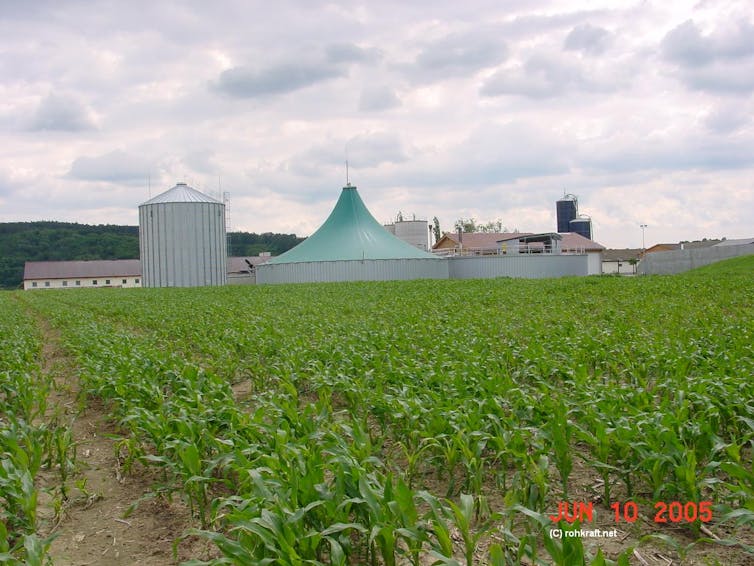 The uptake of this technology has produced significant energy savings and environmental improvements for red-meat processing plants such as the JBS Dinmore facility and the AJ Bush Beaudesert rendering plant, both located in South-East Queensland.
The recent installation of covered anaerobic lagoons by Oakey Beef Exports and Darling Downs Fresh Eggs demonstrates the huge potential to adopt biogas technology in one of Australia's key livestock-producing and food-processing regions.
ARENA puts Australia in global talks
Interest in using biological feedstock including manure has encouraged the Federal Government's Australian Renewable Energy Agency (ARENA) to fund Australia's involvement in the International Energy Association's (IEA) Bioenergy Task 37: Energy from Biogas.
This funding, secured through the industry-funded body Bioenergy Australia, means Australia can sit at a table of global representatives to look at what is going right and what is going wrong in biogas production systems around the world.
Part of Bioenergy Australia's involvement in Task 37 is to look at which Australian industries are hurting the most through waste disposal problems and huge power bills, and where it is feasible for biogas to turn that around.
If we get it right, biogas could be making a significant contribution to Australia's Renewable Energy Target (RET) to deliver a 20% share for renewables in Australia's electricity mix in 2020.
Bioenergy Australia's aim is less concrete: that by 2020, bioenergy will be recognised and widely adopted as a sustainable resource in Australia.