The 70th anniversary of the Korean Workers Party of the Democratic People's Republic of Korea (DPRK) was as lavish an affair as expected. Featuring tens of thousands of the country's soldiers and citizens, it reportedly cost $1.72 billion – approximately a third of the country's annual budget.
At its heart was a tightly choreographed military parade (including a torch-lit procession) designed to act as a propaganda vehicle, highlighting the charismatic leadership and achievements of Kim Jong-un.
The rhetoric and pageantry of the anniversary are full of clues about the regime's foreign policy priorities – as well as its proclivity to promote the leadership's political agenda via deliberate provocation.
By the end of 2015, Kim will have been at the helm in North Korea for almost four years. During that time, he has bolstered his authority through a three-pronged strategy of political intimidation, partial economic liberalisation and military modernisation.
To offset any potential challenges to his authority from the nation's elites, Kim has relied on fear and the brutal removal and execution of senior members of the government, including both his uncle, Jang Sung-Thaek, and his minister of defence, Hyon Yong-chol, who was reportedly executed by anti-aircraft gun.
But Kim has also committed to deliver economic prosperity for the North Korean people, a stance which has led some observers to highlight the emergence of an increasingly prosperous middle class but also liberalisation in the agricultural sector and something of an informal real-estate boom in Pyongyang.
These initiatives are, in some ways, a pitch for public approval, a modern riff on "bread and circuses" populism. The North is promoting a new leisure industry built around new ski resorts, amusement parks and a refurbished football stadium, and a push for tourism, reflected in the opening a new terminal at Pyongyang Airport and a new civilian airport at Wonsan on the east coast.
It's too early to predict how successful this strategy will be – although recent North Korean defectors' (potentially unreliable) testimony has suggested that Kim is enjoying a boost to his popularity.
No compromise
Kim has also concentrated on strengthening the country's military capabilities, most notably its nuclear weapons program and its conventional land and sea-based short and medium-range missile capabilities.
In addition, the leadership has focused on advancing a satellite program, first tested in December 2012. Critics see this as a thinly-veiled intercontinental ballistic missile (ICBM) program intended to enhance the North's nuclear deterrent and potential first-strike capabilities.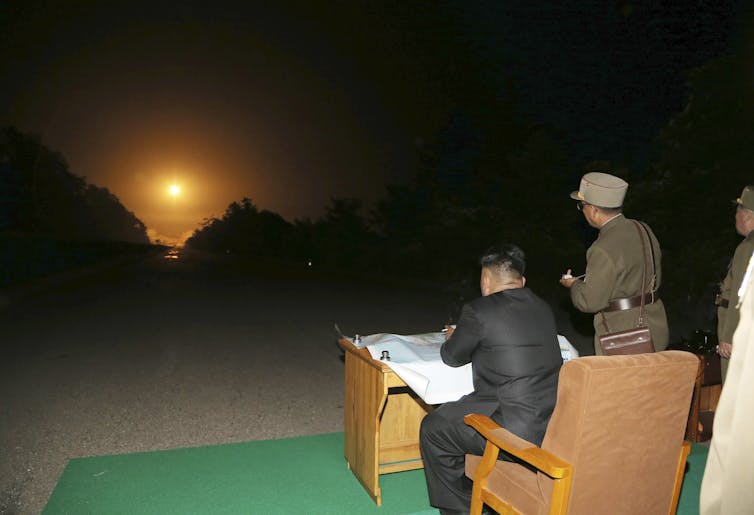 All this technical progress and military modernisation relies critically on the North's longstanding narrative of victimisation and the presentation of a hostile environment in which the North is threatened by the US and its "puppet" dependency, South Korea.
The North routinely cites joint US-South Korea military exercises and the US nuclear arsenal as grounds for developing its own weapons of mass destruction, despite past North-South agreements to commit to a nuclear-free peninsula. This has been a central element of the North's rhetorical posture for decades, but has intensified in recent years.
As the DPRK's ambassador to the UK, Hyon Hak-bong, noted in a speech at Chatham House on September 30: "We are being provoked."
In his public remarks, he stressed Pyongyang's determination to maintain its nuclear assets as long as US nuclear weapons are pointed at it. He also underlined his country's intention to launch future satellites irrespective of whether the international community imposes new sanctions in response.
This sort of uncompromising language had fuelled speculation that the October 10 commemoration might be used by the North for a rocket/satellite launch or a potential nuclear test, defying international pressure and bolstering Kim's own legitimacy. Reassuringly, for the security of the region, no launches or tests occurred and Kim Jong-Un's public address struck a notably less belligerent tone than previous ones.
While reiterating the North's willingness to "engage in any type of war Imperialist America wants to wage", he omitted any reference to the country's nuclear weapons. And while the military parade included some of the North's advanced armoury, including KN-08 intercontinental missiles and soldiers displaying the international radiation hazard icon, more recent armaments, such as submarine-launched missiles, were absent.
Why the restraint? Simply put, the DPRK may not have been technically or diplomatically ready.
Friends like these
For a start, satellite imagery of the North's nuclear and missile testing facilities revealed little evidence of any substantive advance preparation for either a test or a medium-range rocket launch, whether a satellite or an ICBM.
And on the diplomatic front, Kim seems unwilling to antagonise China, the North's one and only ally and its key economic sponsor. At his recent summit meeting with Us president, Barack Obama, Xi Jinping reiterated his support in unusually forceful and unambiguous terms for a nuclear-free Korean peninsula – a very clear warning that the DPRK should avoid any further rocket launches or other provocations.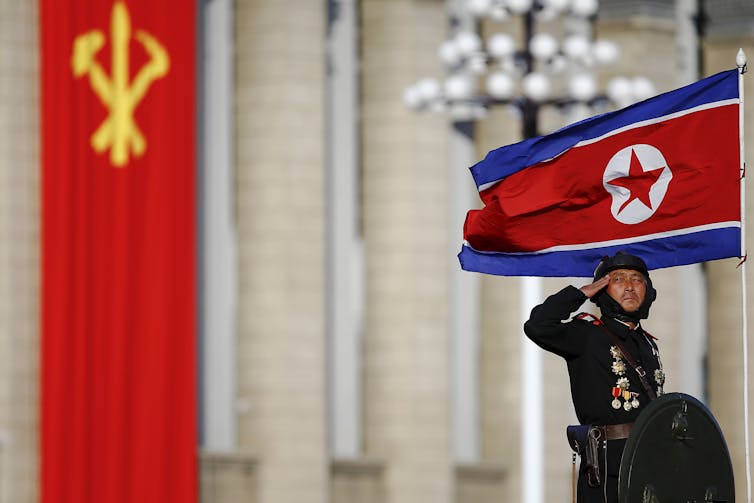 That's not to say that China is backing away. The anniversary celebrations hosted Liu Yunshan, the fifth-highest ranking member of the Standing Committee of the Chinese Politburo, the first time such a high-ranking Chinese official has been present in Pyongyang since Kim took power. Given Pyongyang's obvious desire to expand its economic contacts with Beijing, the North Koreans would have been eager to avoid insulting or embarrassing their guest.
Analysts in South Korea had hinted at the possibility of a short-range missile launch, but even this would have run the risk of antagonising Beijing at a sensitive time and would have proved little about the North's technological prowess.
The imperative to retain some positive relations with South Korea has also militated against any destabilising moves by the North. Both Koreas are committed to holding long-delayed family reunions between South and North Korean citizens, set to start on October 20. A test or a launch could have derailed these meetings and wrecked the August 2015 deal to reduce tensions.
Marching on
In the immediate future, at least, there are grounds for limited optimism. Pyongyang's public diplomacy remains restricted, for now, to statements of defiance and theatrical displays of mobilising power: adoring crowds, serried ranks of soldiers and military firepower rolled out in the centre of the capital.
But the risk of instability is still there. The North's populist tactics rely on a state of permanent tension with the outside world to keep the country's elites in check, to burnish Kim's own martial and technocratic credentials, and to distract attention from an economic reform process that has an uncertain future at best.
Kim Jong-un may have good reasons to celebrate the longevity of the party and his own political tenure, but for the region and the world as a whole, North Korea is still a clear and present danger – an opaque political and security risk with an uncertain future.