ABC's new Indigenous sketch show Black Comedy, which premiered last night, is touted as a "show by blackfellas … for everyone". As a blackfella, I'm not sure I agree that it is for "everyone" but that's precisely why I love it.
It's been over 40 years since Basically Black, the first Indigenous sketch show aired on our screens, and it's been too long a wait to see our mob doing humour our way in our living rooms once again.
The characters we met last night were, as promised, bigger and blacker than ever. When it comes to Australian television … well it's about time.
The presence of blackfellas on Australian TV is not lost on me. I am actually named after Chelsea Brown, one of the very few black faces on the telly in the late 70s (but she wasn't Aboriginal).
Three decades on, the absence of black faces is still glaringly obvious. ABC's more recent comedic offerings featured a white guy performing Tongan, African-American and Chinese ethnicities as the punchline.
Meanwhile, Australia's longest running TV soap, Neighbours, celebrated its first Aboriginal actor joining the main cast by casting him as a non-Aboriginal character.
Black Comedy's proclamation to "go blackly where no other blackfella has gone before", at a very basic level rings true and is thrilling for a whole lot of blackfellas who finally saw themselves on the telly last night.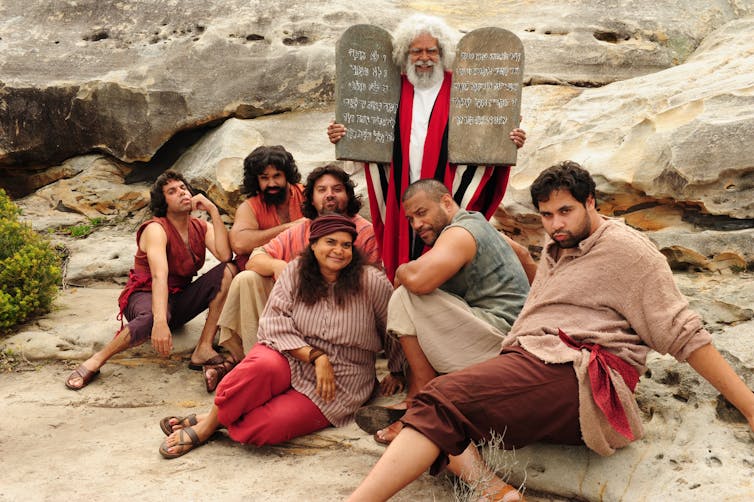 Black Comedy does not try and appease non-Indigenous aspirations and concerns, nor does it seek to educate non-Indigenous audiences about "our ways". The show is proudly, defiantly, and unapologetically black.
Aboriginal English is used liberally without subtitles and there is a distinct brand of black humour on display. Growing up with a white mother and black father, it was humour that made the cultural divide between our respective families more apparent. Jokes were told differently and different things were considered funny.
I'm fairly certain that some Black Comedy sketches could get lost in translation. Some viewers may not get Black Comedy, simply because they don't get black comedy.
Last night, Australian audiences were introduced to a whole new repertoire of Indigenous tropes. We met Mavis (the angry cleaning lady at the Aboriginal Hostel), the Tiddas (Townsville's over the top gay blackfellas), the Adlays (middle aged "gangsters" who are still trying to "keep it real"), Lillian (who finds racial slurs in every conversation) along with Ginny and Marcia (the mean housewives of Narramine) and who can forget "traditional man"; the most traditional blackfella of them all.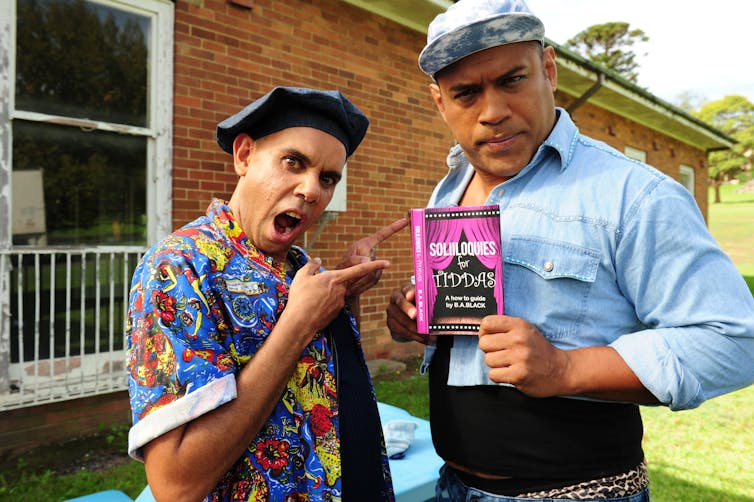 For blackfellas and those who mix in our communities, these characters are funny precisely because they are recognisable to us. For wider audiences these characters may be unintelligible, but that is even more reason why this show must exist.
The real strength of Black Comedy for me is its bold and provocative foray into race and race-relations in Australia.
It is hardly surprising that blackfellas would have something to say about race, but it is the way in which this mob does it that is most exciting. They don't preach, apportion blame or dumb themselves down in dealing with a wide range of race taboos, instead they boldly have a crack at everyone equally. Comedy allows them to do that and the M rating enables them to stretch the boundaries a little bit further.
One of the best sketches of the night for me was "Black Force", an Indigenous version of the American reality show Cops.
We follow the Black Force Officers investigating the crime of blackfellas not acting black enough, which offers a very clever take on the identity policing experienced by blackfellas within our community.
Buying a Delta Goodrem CD, eating kale instead of KFC, and driving a Prius could lead to the revoking of one's "race card" and all of the associated benefits.
As the final credits roll, one of the "Black Force" officers sums up his day:
It's not pretty work, but it's important… Culture's not something you mess around with. That's why we we're out there, that's why we do the job reinforcing what is and what isn't black. We're Black Force.
The poignancy of this closing line at the end of last night's episode is not lost on this blackfella. It is a clear message from the Black Comedy crew about the importance of their work in the Australian television landscape, where blackfellas have been mocked, ventriloquised and rendered invisible.
Some viewers may not fully appreciate the significance of this work, particularly those who see themselves represented every day when they turn on their television.
For the rest of us, Black Comedy is so much more than a "new" black comedy. It is a show by blackfellas for blackfellas and because of this, Australian television will be all the better for it.
Black Comedy screens on Wednesday nights at 9.35pm on the ABC.