This weekend's rugby league Grand Final sees the Sydney Roosters face the Melbourne Storm in front of a stadium crowd of thousands – and even more on television. All eyes will be on the referee to make sure the play is fair.
Like elite athletes, the reputation of these full-time professional refs is often summarised by their performance in high-pressure, high-stakes events – watched by people they can never impress.
Over the past three years, I have spent countless hours studying how NRL referees learn their craft.
So, ahead of this year's NRL grand final, here are some aspects that might help you see the game from a ref's point of view.
---
Read more: Split-second decisions with little praise: so what does it take to ref a game of NRL
---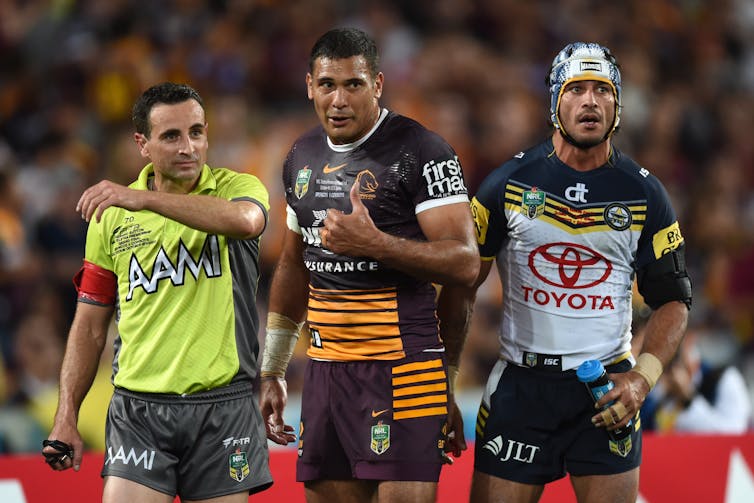 1. Mt Everest moment
The Grand Final is the ultimate. It is the pinnacle of a referee's work over the course of the year. Everyone wants to make it, to earn the right to rule.
But they may never reach that pinnacle again.
So remember that they want the best: they really want to represent the game, the two teams involved, the fans and those referees who didn't make the final, to the best of their ability.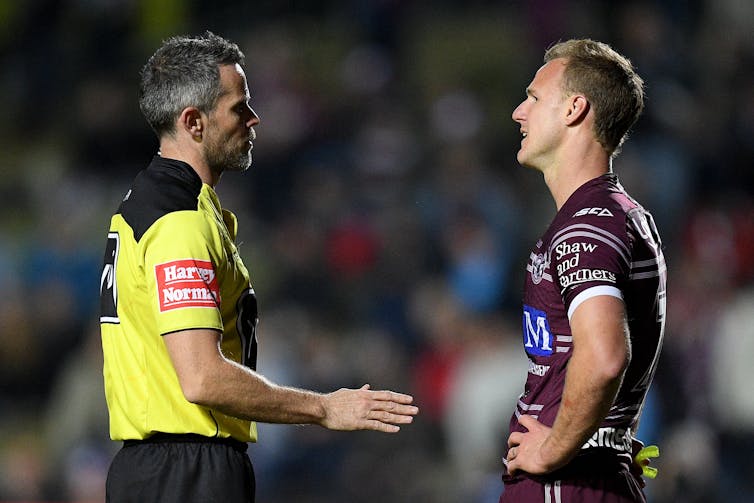 2. You only see it once
Referees make split-second decisions. They only see things once, often only a small movement, and usually at speed.
They have to calculate the right moment to strike. They don't have the luxury of multiple video replays to get it right.
Even without the involvement of the bunker – a centralised facility that records the game from several angles and to which refs can refer decisions for review – consider how hard this is to maintain faultlessly (and fearlessly) over two 40-minute blocks.
3. They never fly solo
During the course of a game, lead referees have to cope with listening to their assistant referee, two line judges, the matchday referee coach, players yelling at them, and occasionally spectators who provide their own helpful advice.
They also have to call for assistance, knowing that this may overrule something on which they have already made a ruling.
Remember, few of us hold jobs where people are simultaneously speaking to us, where we have to demand a second opinion, and where we can be called out for our mistakes on national television.
4. Reading their mind
Each referee's decision-making prowess is strongly predicated on their ability to read the game. They need to "feel" situations as they dynamically unfold with respect to players' actions, movements and tensions.
Refs need to internally interpret, process and recall important variables and situations and to then blend these into accurate, constructive decisions that affect a given action or outcome both now and into the future of the game.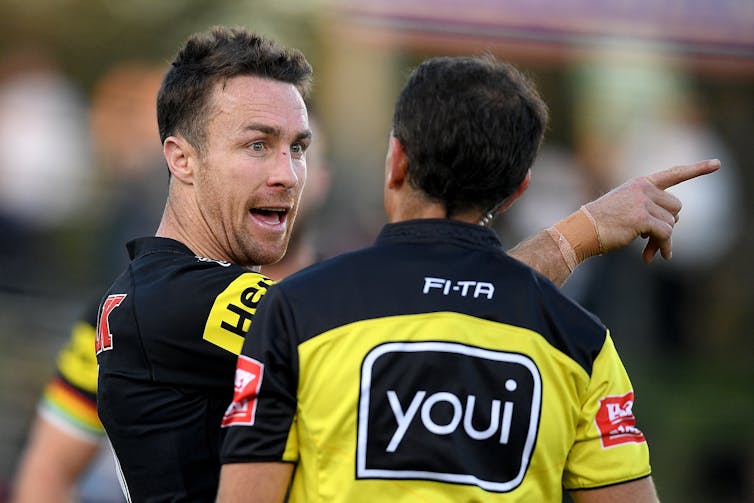 5. Collectively attuned
The lead and assistant refs in a Grand Final know their roles individually and collectively. On match day, they are tightly woven, well-attuned to each others nuances and thoughts.
Their thinking in action also imperceptibly defines and shapes a tone and rhythm for how the game unfolds.
But remember, they constantly formulate these actions in the context of the whole, never as individuals, but rather as part of the overall fabric of the game.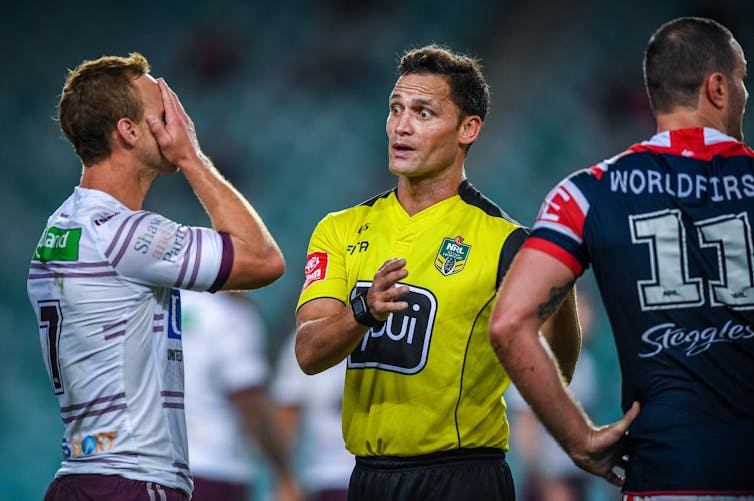 6. Refereeing is hard work
NRL referees run about 8.2km per game. They consistently manage around 282 rucks and 36 kicks in play.
They also spend a staggering 31% of their game time in high anaerobic heart rate sectors of 170 beats per minute (BPM) or above.
At the same time, referees are dynamically adjusting their field positions to continually remain alongside the play, all while making decisions at speed.
When was the last time you ran this far while also completing several intermittent sprint efforts, and making mentally taxing decisions all the while?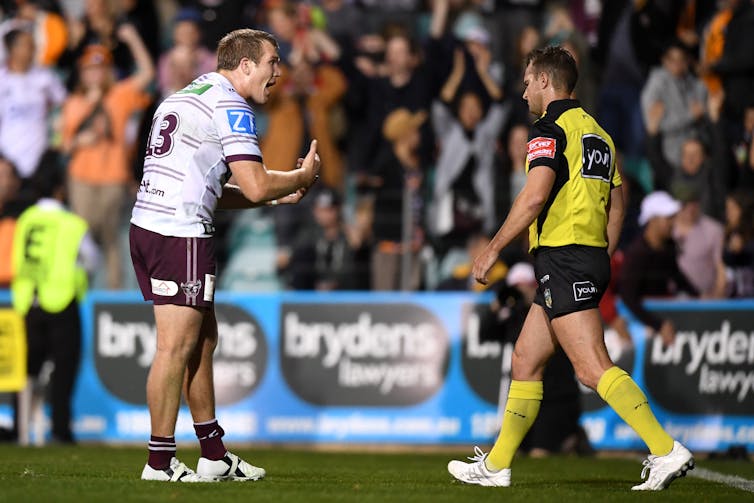 7. They love the game
Referees are passionate about rugby league. Many played the game as juniors, while others have family members involved.
They also love the challenge and excitement of league and the camaraderie that comes with such a high-profile sport.
But referees are expected to look serious, lack personality and ignore the distractions from both participants and spectators.
Remember, they are not permitted to publicly express their support, or otherwise, for particular teams or results, or provide insights into how they feel about their sport.
Be gentle
So, remember that referees are just people – albeit people who are extremely driven, focused, energetic athletes who are strongly anchored to performing the perfect game.
---
Read more: Whether teams win or lose, sporting events lead to spikes in violence against women and children
---
They work as hard as elite players, both physically and mentally, to store and retrieve rules, learn new rules, learn every player's name, stay fit, and make correct decisions at lightning speed.
Remember too that on Grand Final Day, most fans' satisfactions are often driven by how well their team performs – which means it is often easier (and more acceptable) to ignore the loss if it can be blamed on the referees, rather than your own team's play.