Rearing young is a costly business that often affects an individual's own future survival or reproduction prospects.
And so it makes sense for individuals to find ways to ensure the energy they spend on reproducing and raising offspring is well spent.
A new study published online at Biology Letters has shown male blue tits (Cyanistes caeruleus) are doing just that … by preferring to work harder for females who wear sunblock.
That will all make sense in a moment; bear with me.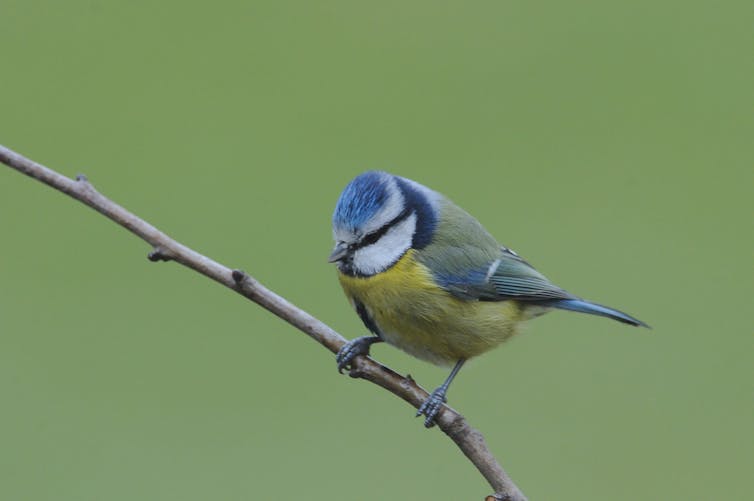 Sexual selection theory predicts that individuals paired with attractive mates should invest more in reproduction – by producing more offspring or providing more care to those offspring – than they would with a less-attractive mate.
This is called differential allocation and is expected because the offspring resulting from these pairings should inherit the quality of the attractive parent (if attractiveness indicates genetic quality).
Differential allocation can also work the other way around. Individuals may end up investing less in their offspring if paired with unattractive mates (negative differential allocation).
By reducing investment in "sub-optimal" offspring, individuals can save energy for future reproductive attempts with a more attractive mate.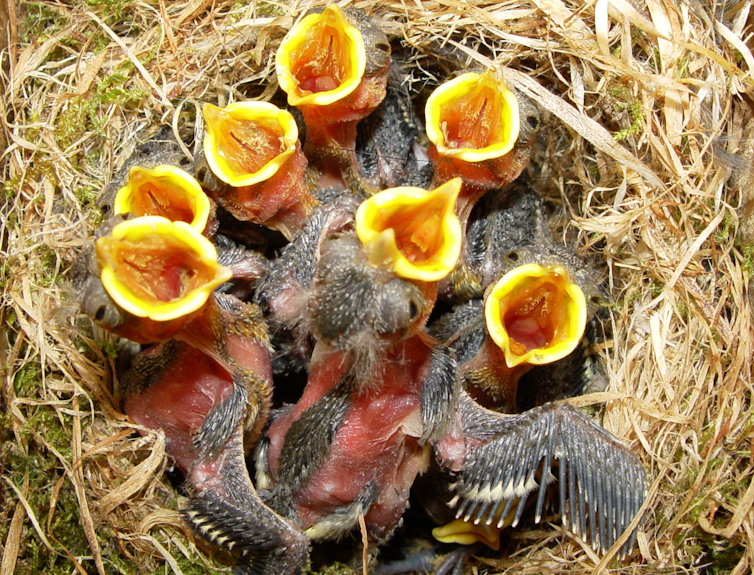 In general, differential allocation is expected from, and studied on, females. This makes sense as in most animals females are more choosy when evaluating mates and invest more resources into their offspring than do males.
In many birds, however, males also contribute to rearing the chicks and this could lead to differential allocation by males as well as females.
This seems to be the case in the blue tit, a small European passerine, in which both parents invest heavily in feeding the large brood (often more than ten chicks per nest!)
Blue tits are attractively coloured – yellow breast and belly, olive green back with blue accents on tail, wings and head. As with many other blues seen in birds, this blue turns out to be more ultraviolet than blue – invisible to us but not to the birds which have UV-sensitive eyes.
Indeed, for a long time male and female blue tits were thought to be nearly identical in colour. But when researchers started to measure plumage colour in the UV range they realised male blue tits were substantially more UV than females.
In some blue tit populations males with UV-heavy colourings are considered more attractive by females. This is the case in the Dutch blue tit population studied by Tobias Limbourg and colleagues and reported on in the new paper in Biology Letters.
Previous research by Limbourg and colleagues shows that females invest less into feeding their young when males are experimentally made less UV … by applying sunblock to the plumage.
This is a clear example of negative differential allocation.
But what about females? Is female UV-reflectance attractive to males? Observational work suggest not.
Males paired to females with naturally low-UV plumage were seen to invest more, not less, into chick-feeding. This is intriguing – do male blue tits "prefer" females that look less like males because of their lower UV?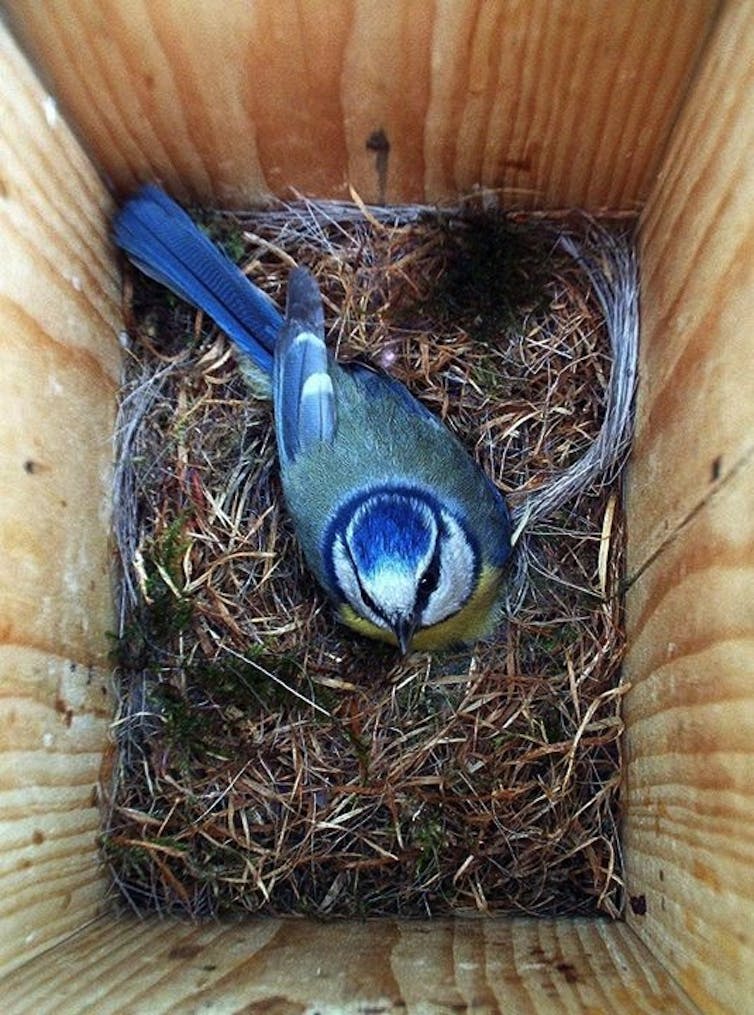 The best way to test this is through an experiment. So, with their new study, Limbourg and colleagues reached again for the sunblock but instead of applying it to males they applied it to females.
They then recorded chick-feeding behaviour of the males and compared it to control pairs, where female plumage was smeared with a non-UV-blocking crème.
The results confirmed their suspicions: males paired to UV-blocked females fed chicks more often than males paired to control females.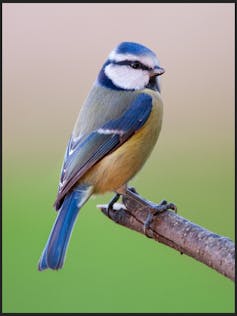 The results of this study are clear-cut but the interpretation is more difficult. As in most interesting studies more questions are generated.
The first question that comes to mind is: what makes low-UV females attractive to males?
High UV in blue tits has been linked to male quality, but the evidence is by no means overwhelming. Are these patterns reversed in females?
Why, if being less UV results in further help by males, do not all females reduce the UV-reflectance of their feathers?
This is not too difficult to achieve and it happens naturally in both males and females.
UV reflectance is strongly reduced by the accumulation of dirt on the plumage, and it has been suggested that, in males, the UV colour of the plumage may indicate preening ability.
Birds in good shape can invest time and resources in plumage care, thereby halting the decline in UV colouration.
Another explanation may be that increased male investment into offspring care – when paired to UV-blocked females – results from the sudden change in UV reflectance following the application of sunblock.
This could indicate to males that the female is in bad health or condition. Hence, males may be trying to compensate for an expected lower contribution of females to chick-feeding.
In any case this is unlikely to constitute a general explanation, as in one particular blue tit population in Austria the opposite pattern was found. In that case, males invested less into feeding the chicks when paired to UV-blocked females.
These differences in behaviour between blue tit populations are common and serve as a sobering reminder – we should not be too quick to extract far-reaching general conclusions out of single studies, no matter how elegant those studies might be.