Construction, Forestry, Mining and Energy Union (CFMEU) official Brian Parker has announced his union is banning work on the art-deco redevelopment of Sydney's historic Bondi Pavilion. The work is part of a A$38 million "refurbishment" that residents – including actor Jack Thompson and musician Dave Faulkner – are concerned is designed to privatise public space.
But why is the CFMEU sticking its neck out over these issues, which overwhelmingly do not impact its blue-collar base?
To answer this question, it's important to look at who joined Parker on the platform at a recent rally – veteran unionist, ex-Communist and conservationist Jack Mundey. Mundey is a Sydney folk hero. He popularised the term "green ban" – which the CFMEU has dubbed its recent efforts to save Sydney's heritage – in the 1970s.
Today, opponents of the West Village development in Brisbane, WestConnex in Sydney and the recently halted East West Link in Melbourne are all asking similar questions to those of the 1970s. Why are multibillion-dollar projects put ahead of green spaces and affordable housing? And why do ordinary people so rarely get a say over the cities they inhabit?
The story of Mundey's union, the Builders Labourers Federation (BLF), and its successful campaigns to save historic locations like The Rocks and green spaces like Kelly's Bush shows why this radical heritage speaks to contemporary Australia.
Civilising the industry
Mundey came to prominence when the Australian construction industry was booming. Meredith and Verity Burgmann note that new building approvals across the country soared from A$1.7 billion in 1966 to A$2.9 billion in 1971. This meant inner suburbs and CBDs were being remade with new construction.
Boom times for construction also meant boom times for building unions: workers were in demand and in a better position to bargain. The BLF in New South Wales gained in both members and power during this period. This allowed it to rethink the role of unionism.
But the BLF members didn't just discover a green thumb and decide to be the saviours of inner Sydney. They were among the most exploited of workers: low-skilled, often from migrant backgrounds, and working in an unsafe industry with low rates of pay.
When Mundey and his supporters won control of the union in 1968, they first turned to "civilising" the industry. This included both significant improvements in health and safety and the use of militant tactics to win wage parity with other workers in the industry.
Fixing these basic issues was a requirement for workers to consider more socially conscious demands.
When workers were later interviewed, they revealed Mundey nurtured a rapport through these traditional trade union struggles, which got members onside for the wave of green bans to follow. The unashamedly working-class BLF began to adopt issues beyond "normal" trade union politics.
Housewives meet unionists
Among the union's first "bans" took place after the Battlers for Kelly's Bush – an all-female committee from well-to-do Hunters Hill – cautiously approached the BLF in June 1971 to save one of Sydney's last remaining harbourside green spaces.
The women were initially reluctant. Images of macho builders' labourers violently picketing sites and sawing down goalposts at the SCG prior to a controversial Springboks rugby game were fresh in their memories. Similar images are associated with the CFMEU today; their members are regularly labelled thugs, gangsters and criminals.
However, the Hunters Hill committee was impressed by an initial meeting with BLF official Bob Pringle, who proposed a union ban on the site.
Committee members remember the BLF as having political and social "vision". But Mundey remembers the decision to place the ban as divisive for his newly democratised union:
Some opined that since [builders' labourers] couldn't afford to live in Hunters Hill … we should not become involved.
It was, however, "quality of life" issues that won the day. Mundey was successfully able to sway his members by posing the issue as one of:
… [a] millionaire developer, hell-bent on building luxury homes and apartments for the fortunate few at the expense of the many who would lose a natural outdoor space of beauty and recreational value.
Workers were increasingly realising that rather than just being passive victims of urban development, they could and should be able to have a voice in the fate of the cities they were building.
The BLF approved the first green ban at the request of a 600-strong community meeting. Such consultation became a hallmark of its politics.
The union undertook similar bans in working-class suburbs like The Rocks, Woolloomooloo and Surry Hills – not only as "the builders' labourers could identify easily with the people affected", but because they had pioneered a politics that put preserving urban spaces ahead of developers' profits.
The BLF's 1975 deregistration by an alliance of government, bosses and rival unions capped off this period of experimentation.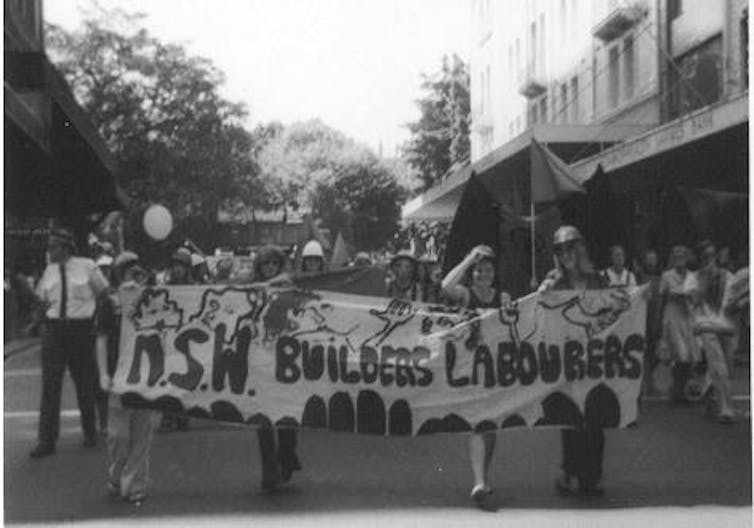 The 'right to the city'?
Clearly, the example of Mundey, the BLF and the green social consciousness they pioneered speaks to contemporary Australia.
A lack of rental affordability, spiralling house prices and continuing sell-offs of prime public land for development make the slogan of "people before profits" eminently appealing. Yet today's industrial relations landscape is marked by significant restrictions and penalties for strike action.
The return of limited green bans could complement a broader strategy, perhaps borrowing divestment strategies from the climate change and refugee rights movements. Union super funds provide significant funding to construction projects, and an activist union might choose carefully – in consultation with communities – which ones are deserving of their members' money.
In so doing, we might start to make a better, more liveable city.