Julia Gillard's autobiography, My Story, presents a comprehensive defence of her prime ministership.
Gillard dives straight into the heart of her story, beginning on the day she was sworn in as prime minister.
The book is laid out via a series of themes. So rather than having to wade through childhood and adolescent experiences, the reader is presented with the highlights of Gillard's political career with a few personal anecdotes included, usually to explain why a particular policy or event was important to her.
For those looking for a tell-all confession of the life and loves of Julia Gillard, My Story will disappoint. For readers seeking Gillard's views of the first Rudd government and the rise and fall of her own government, there is plenty of meat here.
The case for change
Gillard uses My Story to explain why she felt it was necessary to remove Kevin Rudd as prime minister and how her caucus colleagues overwhelmingly supported her. She sets the scene well, explaining the mounting chaos within the government, Rudd's failure to make decisions, his ill treatment of colleagues and public servants, and his inability to function following the disappointment of Copenhagen.
One surprising revelation is the extent to which Gillard was herself working to improve the functioning of Rudd's office towards the end of his prime ministership. Given her mega-portfolio, which included both education and workplace relations, this would have been a significant impost.
This revelation certainly provides grist to Gillard's argument that until her own loyalty was questioned she was doing all within her power to keep the Rudd government functioning.
What drives Gillard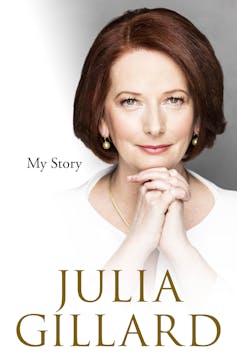 Two key themes throughout My Story help define what fundamentally drives Gillard.
It is apparent throughout the book that Gillard is what Paul Keating describes as "a true believer". Gillard is tribal Labor to the core. Despite her experiences, she remains deeply committed to the party.
Gillard's faith in the party is not blind. She is fully cognisant of the structural problems within the ALP and the need to expand party membership. She spends part of the book outlining her hopes for the party and cautioning against not undertaking real reform.
A belief in the transformative power of education also drives her. This is a central driver for Gillard, whose parents were unable to follow their own educational ambitions; they instilled in her a respect for the value of education.
Gillard writes that, as a teenager, she:
formed the view that education changes lives and the only fair thing is for every child to get great one. To personally help achieve this, I decided I wanted to be a teacher (p. 409).
While Gillard ultimately pursued a career in law, her passion for education remains, which she makes clear in her motivations for My School and school funding reform.
After losing the leadership, Gillard called the new education minister, Bill Shorten, who had moved to support Rudd in the last day of Gillard's prime ministership:
I said I did not want to talk about anything other than school-funding reform, but I wanted him to understand in detail where the negotiations were up to and how the remaining agreements could be quickly settled. He listened and worked to get that done (p. 457).
Gillard's emotional fortitude during her period as PM is evident throughout the book.
She describes how she found herself crying in John Faulkner's office on the day she challenged Rudd, after reading in The Sydney Morning Herald that Rudd was questioning her loyalty:
I surprised myself by dissolving in tears … It is the only time in my political career I have shed tears for myself, the kind of tears I was determined never to cry as prime minister (p. 40).
Perhaps the most telling statement in regard to Gillard's strength of character appears in the introduction to the first chapter. She describes preparing herself for her last press conference as PM:
But I was not going to stand before the nation as prime minister and cry for myself. I was not going to let anyone conclude that a woman could not take it. I was not going to give any bastard the satisfaction. I was going to be resilient one more time (p. 9).
Gillard's government
My Story makes clear that Gillard is a realist, generally willing to make compromises to get the job done. Her leadership style is not of the "all or nothing" variety. This helps explain her success in forming a minority government and managing to pass significant legislation through parliament.
Gillard is generous to most of her colleagues, providing praise for their endeavours regardless of their factional ties. Her respect for Jenny Macklin's work in the area of social welfare policy is evident, as is her growing friendship and respect for Wayne Swan. Craig Emerson, Greg Combet and Penny Wong are all noted for their hard work.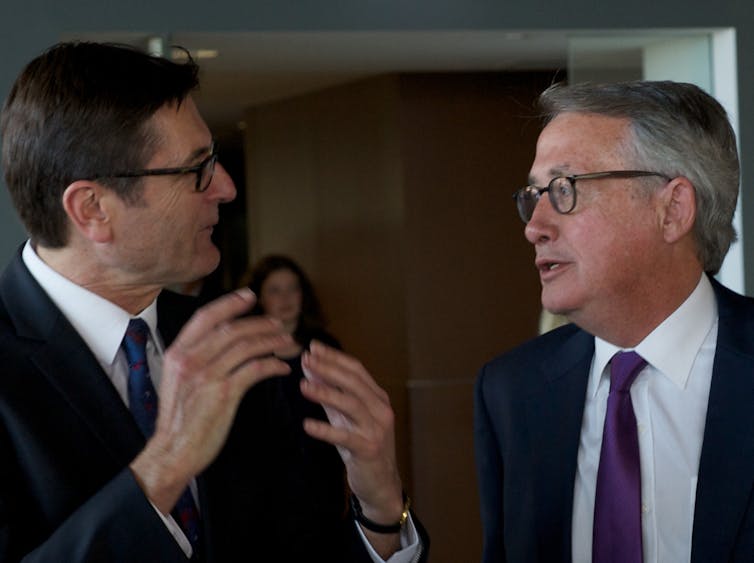 Gillard makes a point of highlighting the efforts of then governor-general Quentin Bryce to help Australia secure a seat on the United Nations Security council.
There is even praise for Rudd's actions in regard to the global financial crisis, signing the Kyoto Protocol and the apology to the stolen generation.
In terms of her own government, Gillard often takes responsibility for failures in policy implementation and communicating with the electorate.
(In) … depicting surplus as the sole emblem of economic management, I made an error that came back to haunt me when projections about revenue radically changed (p. 492).

Some errors were all mine. The policy to replace high-polluting cars, dubbed 'Cash for Clunkers', was a dog (p. 654).
On the language relating to the carbon tax:
Craig (Emerson) was right, I was wrong. It is the worst political mistake I have ever made, and I paid for it dearly (p. 672).
My Story is clearly not a book about settling old scores. While Gillard does not hold back from describing her battles with cabinet members and other senior ALP figures, criticism is tempered.
Her comments on Bob Carr's struggle with his workload as foreign minister made headlines, but her reflection rings true:
… he was beyond fully stretched doing the Foreign Ministry work and never made a broader contribution to the government (p. 293).
Certainly within his diaries it seemed that Carr was more often than not disengaged from events in Canberra as he zigzagged across the globe attempting to secure Australia a seat on the Security Council (Carr failed to mention Bryce's role in his diaries).
Of note is the fact Gillard and Carr have very different recollections of the way in which Australia's decision to abstain on the vote on Palestinian membership of the UN came about.
Despite his role as a key Rudd lieutenant during her prime ministership, Gillard makes no negative comment on Chris Bowen's behaviour. It is possible that she sees Bowen as a potential leader who would be harmed by accusations of disloyalty, and so held back for the good of the party.
My Story is a substantial piece of work, yet there are times where policy wonks will be wishing for greater detail on negotiations or even why certain policy decisions were taken. Still in a work this size, limits must be made. For the most part Gillard's focus is on key issues and those close to her heart.
The lucid presentation of Gillard's case ultimately provides a cogent defence of the reasons for the challenge to Rudd, the difficulties her government faced, both internal and external, and an insight into Gillard herself.
---
Page numbers refer to the electronic version of the work available on iTunes.