Expanding upon his ABC TV interview series, Kerry O'Brien's newly published conversation with former prime minister Paul Keating provides a fascinating study in leadership. By using a conversational format, O'Brien is able to provide a greater degree of focus on controversial issues than a reader would find in a straight narrative-style biography or autobiography.
Throughout the book, Keating is given ample opportunity to set the scene, explain the position of the major players and outline his strategies. The book's strength is that O'Brien then draws in alternative points of view to challenge Keating's position.
The apprenticeship
Keating makes it clear that, from a young age, he was interested in power and the gaining of it. He sought out mentors, including former NSW premier Jack Lang, seeking to learn from political triumphs and setbacks:
What I particularly picked up from Lang was his use of language, the force of his language.
Keating's apprenticeship in the use of power ranged from learning the history of the ALP to developing an understanding of human nature. It is clear that Keating made an effort to understand the drivers influencing the various players he was dealing with.
During his time in parliament, and particularly while a backbencher, Keating sought out "subject matter experts" from bureaucracy and industry. He would absorb the issues in a particular sector and use that knowledge to aid in the policies he developed.
I was essentially sucking experience from them. Experience that was central to building a composite picture of the economy and the power equation.
No man is an island
Within the discussion, Keating credits those he worked with to bring about reform. ACTU secretary Bill Kelty is portrayed as a partner without whom reforms such as the Accord would not have been possible.
Numerous Treasury officials and Keating's own economic advisers, many of whom were recruited from the department, also garner significant praise. Cabinet ministers in the Hawke government – such as Peter Walsh, John Dawkins, Brian Howe and Gareth Evans – all receive high praise at different points.
Keating repeats on a number of occasions his respect for the cabinet process:
I always believed in the cabinet process and treated the cabinet with great seriousness. You can't make changes on this scale without the cabinet and caucus coming with you. And despite how some of the cartoons may have depicted me, you can't rule the Labor Party like some sort of emperor.
Keating notes the importance of leadership in cabinet, which he felt was missing in the later Hawke years, and which he tried to engender during his own prime ministership:
Without being bombastic or overbearing, if the leader provides the intellectual framework and the uplift, it's contagious. Properly arraigning the arguments and the authority can get an updraft that lifts the whole cabinet, and all perform.
There can be only one
The relationship between Bob Hawke and Keating dominates the first two-thirds of the book. Keating stresses how productive the partnership was for most of the period in which he served as treasurer.
Keating insists that for much of the 1980s he considered Hawke both a colleague and a close friend:
We were on such a roll in that first year and the economic changes we wanted were coming through. Bob luxuriated in all that and so did I. It was a genuine friendship, not just one born out of pragmatism.
In any high-stress situation tempers fray. And while Keating recalls the details of arguments with Hawke, he notes the relationship quickly got back on track. For example, on Hawke not supporting Keating's attempt to introduce a consumption tax, Keating says:
Bob should not have sold me down the drain overnight at some motel without telling me, but he did. Even so, I pretty well forgave him and kept working co-operatively with him.
Keating claims that by 1989 he thought Hawke would not abide by the terms of the Kirribilli agreement:
… Bob never accepted that there were two leaders in the one government and that, at some point, he had to make space for the other. His vanity led him to believe he was the one and only one. In the end he was prepared to deploy a lie, a deception, to stay on unchallenged for three years.
Following a loss in his first challenge to Hawke, Keating outlines how he was planning to leave parliament at the start of 1992 and enter the business world. But Hawke's decision to recall parliament for one day sealed his fate and elevated Keating to the prime ministership.
I felt a big weight fall on me. For all the issues between us, I didn't want to see Bob go on these terms. I was sad to see Bob go down like that. You might think that's strange, but there was a point of affection between Bob and me. You've got to know this. That's why I used to think, "Do the right thing by yourself, Bob, and stick to the agreement." When he didn't, he opted to fight it out and lost.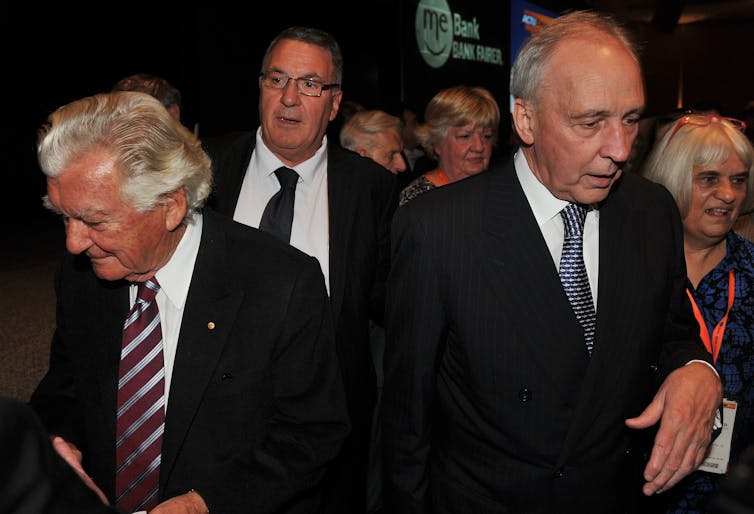 The visionary
A great deal of the section devoted to the Keating prime ministership focuses on the big ideas he was pursuing.
As much he was a political animal – in terms of being attuned to the drivers behind the opposition, the factions within his own party, business, the unions and the electorate more generally – Keating was prepared to gamble to bring about reform he believed in:
I was the outsider to win the 1993 election but you've got to practise what you preach. I always believed that you should burn the capital as you run to the poll rather than conserving it, being Mr Safe Guy. A seminal issue like this (native title) and its remedy provide the uplift that any political personality needs, doing what is right and good.
More than any other reform, the Native Title Act highlights the triumph of policy over politics. Facing a scare campaign from the Liberals and Nationals, significant opposition from the states and business, as well as battling ingrained racism within the Australian public, Keating ran with the High Court's decision on Mabo. This, despite the fact that resolving the issue of native title was never going to be a vote-winner.
With – among other policies – APEC's evolution into a leaders forum, the move towards a republic, the Native Title Act, the introduction of Creative Nation, compulsory superannuation, and the focus on the importance of Kokoda, Keating worked to redefine Australia – both as a middle power on the global stage and within the psyche of the nation itself.
A true Australian leader
Keating's wielding of power, both as treasurer and prime minister, brought about a breadth of change the nature of which Australia is unlikely to see again.
Keating's view of leadership drove his behaviour. During his "Placido Domingo" speech at the National Press Club in 1990, he opined:
Leadership is not about being popular. It's about being right and being strong. And it's not about whether you go through some shopping centre tripping over the TV crews' cords. It's about doing what you think the nation requires, making profound judgements about profound issues.
Over the course of the book, O'Brien has provided the platform for Keating to define his political career, explain what drove his reform agenda and cement his position as one of Australia's greatest leaders. Between them, they have provided a gripping account of one of the most important periods in Australia's development.