I'm a children's literature professor who specializes in the connections between young people's rights and their reading materials. So as you can imagine, few things bring me greater joy in December than my university students describing how much they've learned about the potential of child-centered children's literature to empower child readers.
Few things, that is, except my own toddler proclaiming, "cooooooozy!" in the early dusk of a cold December afternoon, after we've finished a particularly satisfying book. Cozy is her highest literary praise.
Heading into the anticipation of more leisurely reading time over the holidays, I want more of that particular joy. I'm guessing you do, too.
The right to 'hygge'
The thing is, many books that directly address children's rights are decidedly not cozy. They expose or explore rights violations that range from finger wagging to horrifying.
But I don't believe we leave behind a commitment to rights when we "indulge" in happy stories that imbue us with feelings of coziness. Indeed, they may be just as rights-supporting as their more sobering, politically charged counterparts.
"Hygge" — the Danish concept of coziness — certainly isn't a universal human right. But this special winter feeling of security, connection and comfort could be considered the highest expression of human rights — especially for children.
Beyond steaming cocoa, fuzzy sweaters and crackling fires, feeling cozy at home indicates a state of exceptional well-being that can only be achieved when children's rights to protection, provision and participation are being met.
Stories that create a feeling of "hygge" aren't just perfect holiday reading; they may also provide inspiration — a vision of how life could or should be, for those whose rights aren't currently being met.
Cozy stories are therefore perfect for both perfect and imperfect families alike, especially if your holidays bring more chaos than leisure. You can let the books create the calm.
Here are a few of my favourite wintery read-aloud stories for summoning "hygge" through the holidays.
Picture books:
Written and illustrated by Ben Hatke. (2014, First Second.)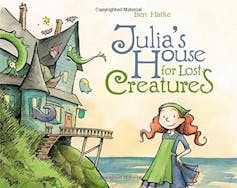 "Tea and toast!" crows my toddler when she picks up this whimsical book. Or when we return home after a blustery walk. Or when she feels generally in need of comfort.
Julia has become our touchstone for expressing domestic bliss, which can be truncated to the shorthand: "Tea and toast!"
Julia achieves this enviable state by filling her house with waifs and strays, then corralling their boisterous energy into creating a happy home where everybody contributes something valuable based on their skills and strengths. This book is satisfying on every level.
Written by Eugenie Doyle. Illustrated by Becca Stadtlander. (2016, Chronicle Books.)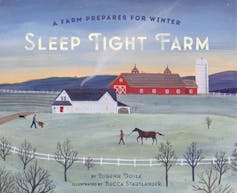 Find out what happens to bees, strawberries and chickens in the winter. This charming description of tucking in a small farm for its hibernation contains all the comfort of a bedtime book. After all, the family is putting the farm to bed!
The illustrations — right down to the end pages — heighten the coziness, which culminates in "clinking lights" and "down quilts of snow." This story seems to tap into an ancient seasonal rhythm, which imbues it with the feeling that all's right with the world.
Early Chapter Book:
Written and illustrated by Tove Jansson. Translated by Thomas Warburton. (2010, Square Fish.)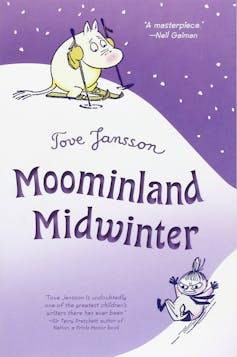 A familiar classic, this early chapter book is a celebration of the adventures and introspection winter brings. It loses nothing upon reading. And re-reading.
This story provides the most impressive literary interpretation I've ever read of what one reviewer insightfully dubs "haunting quietness." I still remember the varied epiphanies Jannson's masterpiece brought about during my own childhood readings.
So walk along with Moomintroll as he explores life's more existential questions in the moonlit snowy woods. Oh yes, and there's also jam.
Middle Grade Fiction:
Written by Katherine Rundell. (2016, Simon and Schuster.)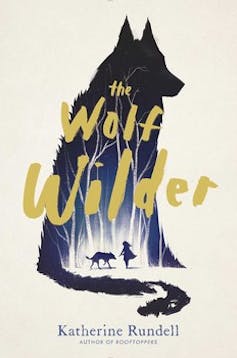 Whenever you feel like hanging out in the snowy Russian woods with a pack of wolves and a girl whose sass, smarts and spirit can hardly be contained in her wee frame, just pick up this rollicking old-fashioned adventure with a twist.
You may not feel particularly cozy while Feo is battling a nefarious branch of the Russian army in order to rescue her mother.
But her winter adventures with her wolves and newfound gang of plucky comrades culminate in a happy ending that's as warming as steamed vanilla milk.
Written by Hilary McKay. Illustrated by Bill Farnsworth. (1999, Margaret K. McElderry.)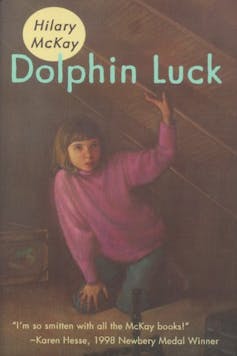 The winter holidays don't always bring bliss, not even during a rare snowfall on the Yorkshire coast.
For the Robinson children, Christmas won't bring the sort of "something special" or "something nice" that they're hoping for, so they are reduced to wishing for "some luck" instead.
Enter a railway journey gone awry, the search for a mysterious Viking sword, and resulting hilarious hijinks.
While things get worse before they get better, the ending is happy enough to melt even the Grinch's heart.
Written by Rachelle Delaney. (2017, Puffin Canada.)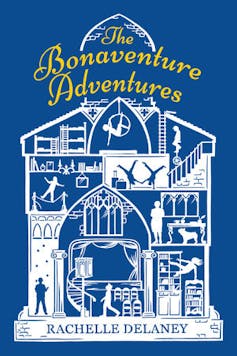 Hogwarts meets Cirque du Soleil. Join Seb Konstantinov as he journeys to Montréal to save his family's circus by enrolling as a student at the Bonaventure Circus School.
Along the way discovers his own special powers, which he's surprised to learn are strong enough to keep a big top up. Teamed up with his newfound buddies, his adventures become shenanigans before everything works out.
There's never a dull moment, but there's time enough to bask in the magic of ice sculptures, sledding and chocolat chaud. This is an updated old-fashioned adventure with all the charm of a classic old Montréal winter.