Fires are raging across the Amazon right now, while deforestation in the region is speeding up. As deforestation is the second-largest contributor to carbon emissions after fossil fuels, a forest deal will be crucial. What Brazil agrees to at the Paris climate talks – and what it does over coming decades – will affect us all.
During the opening days of the Paris conference, virtual forests were projected onto the Eiffel Tower in recognition of their importance to the environment. Prince Charles joined in, warning that: "We must save our forests, for there is no Plan B". And, on the first day, Norway, Germany and the UK pledged US$5 billion to reduce deforestation in Brazil and other countries with large tropical forests.
If the world is to effectively combat climate change then it's no surprise Brazil is considered a major player. The country has the third most trees in the world and – unlike Russia and Canada's taiga – most Brazilian forests grow on fertile ground that could otherwise make good farmland. This means they're disappearing – fast.
Problems at home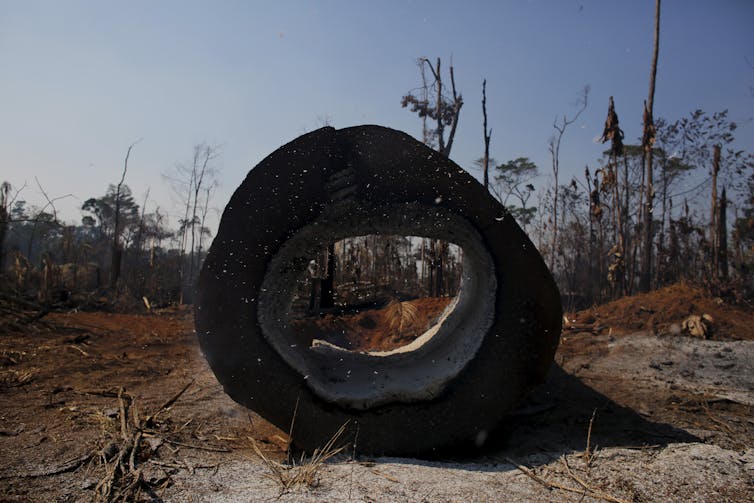 Only weeks before the climate talks began, embarrassing news emerged that deforestation in the Amazon had increased by 16% over the past year, suggesting that Brazil's efforts to combat climate change in this area may already have peaked.
The country is aiming for zero net emissions from deforestation by 2030 yet this remains a huge challenge. A recent report by the Brazilian Institute of Space Research concluded that the government needs to make stronger efforts to enforce forest protection and to restore forests in areas that have already been cleared. With El Niño also leading to unusually intense forest fires in the Amazon rainforest, the government's climate policy therefore seems less ambitious than it should be.
It will need to do this, as reducing deforestation remains a cornerstone of Brazil's commitment to reduce carbon emissions from 2005 levels by 37% in 2025 and 43% by 2030. To be fair, the country does deserve some praise – since 2004 deforestation rates have been reduced by an impressive 70%. However forest clearances may need to end entirely for the country to meet its own targets.
Can Brazil be bribed to keep its trees?
The Paris agreement is likely to tackle deforestation through REDD+, a form of "carbon offsetting" where rich countries pay poorer forested nations to keep their trees and effectively "offset" emissions made in the industrialised world.
Critics have questioned whether this form of carbon market tackles the real causes of deforestation. They point out that offsetting simply allows developed countries to continue polluting rather than recognise their historical responsibilities. This is exactly why the Brazilian government decided to ban international trading of its REDD+ credits just ahead of COP21, while continuing to use bilateral funding against deforestation. While environmental movements welcomed this announcement, they also point out that the Brazilian government weakened forest protection legislation in 2012, threatening to undermine recent progress.
A more fundamental question is whether forests can be bought and sold without considering the communities who live there, as indigenous groups have had very little effective participation in the negotiations.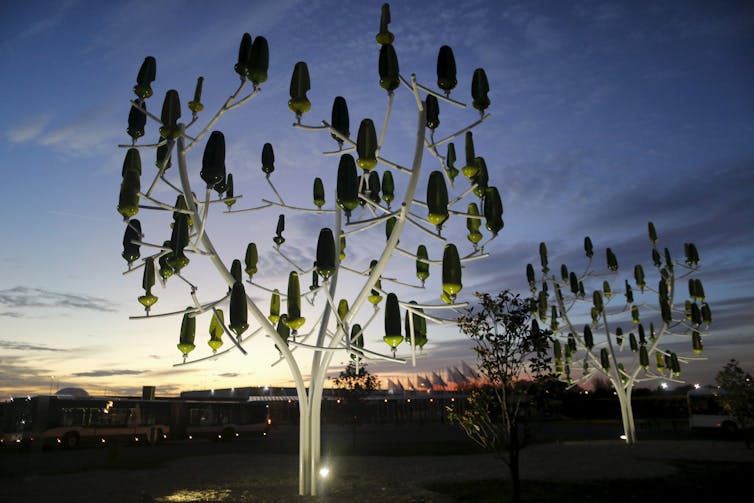 Even at COP21, the voices of people who actually experience the effects of deforestation first-hand only tend to be heard on the fringes. Latin American indigenous groups provided examples of effective forest management at side events but many of them could not get accreditationfor the official negotiations.
As one Guatemalan indigenous leader pointed out: "We are nations but we are not part of the negotiations." Indigenous leaders claim that they are the guardians of the forest, able to offer alternative ways to protect the rainforest. Indeed, evidence from Brazil points to lower levels of deforestation in their territories – indigenous rights must be included in the Paris agreement.
Despite the billions of dollars devoted to forests, there isn't much evidence of this commitment within the conference buildings. Temporary structures housing the main negotiations and side events dominate the site, with two solitary "wind trees" generating renewable energy. Surrounded by colourful animal sculptures, visitors can also attach their messages about climate change to a lone wooden tree in the Climate Generations area.
But while trees have made only a symbolic and virtual appearance in a battered Paris, they remain as important as ever – as does the vexed question of Brazil's forest policy.