Even as the overall population of Christians in the United States declines, evangelicals have become an energetic right-wing voting base, helping President Donald Trump win the presidency in 2016.
In Brazil, where Pentecostal and other charismatic Christian churches are rapidly gaining members, evangelical voters are only beginning to flex their electoral muscle.
In 1970, 90 percent of Brazil's population identified as Roman Catholic. By 2017 just under 65 percent did. Evangelicals now make up an estimated 27 percent of Brazil's 208 million people.
As their numbers have grown, so has the evangelical influence over Brazilian politics. My demographic research in Brazil indicates that this constituency will be a formidable political force in Brazil's October 2018 presidential election.
Disillusioned with politics as usual
Brazil has been in deep political and economic crisis for three years, leaving many voters fed up with politics as usual.
Shortly into the second presidential term of Dilma Rousseff, in late 2015, a conservative faction in the Brazilian Congress began pushing to impeach the leftist leader on charges of mismanaging the federal budget. In August 2016 Rousseff – the hand-picked successor of the popular progressive president Luiz Inácio "Lula" da Silva – was officially removed from office.
Her ouster came during a nationwide anti-corruption investigation called Operation Car Wash, which has implicated dozens of prominent Brazilian politicians, including Lula. In 2016, the leftist ex-president was charged with accepting a bribe while in office and jailed, after appeal, in 2018.
Evangelicals in Brazil's Congress — who were the driving force behind Rousseff's ouster — used the allegations against Lula to insinuate that Rousseff's administration was also corrupt. At Rousseff's impeachment trial, a 326-member congressional caucus alliance known as the "BBB" for its support of bullets, beef and bibles – in other words, guns, agribusiness and Christianity – voted unanimously to unseat the president.
Their reasoning: her administration was an assault on "God, family and the Brazilian people."
What the BBB believes
The BBB caucus has diverse ranks. It includes members of the right-leaning Brazilian Democratic Movement Party, Brazilian Communist Party and even of Rousseff's own left-wing Workers Party.
But BBB members share some core values. Many attend the Universal Church of the Kingdom of God or the Assemblies of God, two of Brazil's largest evangelical churches. And all its evangelical caucus members are ardent opponents of abortion and LGBTQ rights.
The social teachings of evangelical leaders in Brazil, both in politics and society, are typically provocative. Pentecostal pastors may demonize other religions, particularly traditional Afro-Brazilian faiths. Some have called homosexuality a "disease."
To combat Brazil's violent crime rate, which is among the worst in the world, evangelical leaders advocate using the military to police city streets and punishing drug dealers and other criminals with death.
My recent research confirms studies suggesting that this strong law-and-order stance has partly driven the growth of evangelical churches in poor urban neighborhoods most affected by crime and the drug trade.
Ostensibly, Brazilian evangelicals are also anti-corruption and major supporters of Operation Car Wash. In practice, however, the BBB caucus tends to condemn progressives accused of impropriety while rallying behind conservatives who face corruption charges, including Brazil's current president Michel Temer.
As a result, many Brazilians consider Rousseff's ouster more coup than impeachment – an ideologically driven attempt to impose a conservative evangelical agenda on Brazilian politics.
Evangelicals make political inroads
Evangelicals' Bible-based pledges to shake up Brazil's political scene holds some appeal for Brazilians disgusted with years of crime and economic crisis.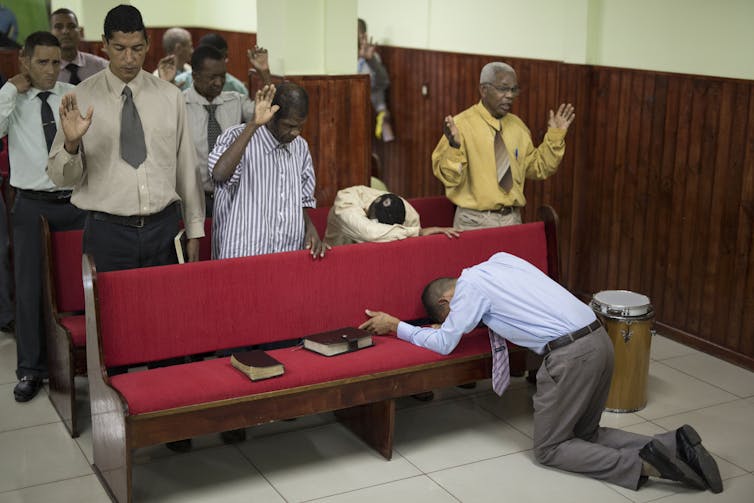 In 2016, Rio de Janeiro elected a former evangelical bishop, Marcelo Crivella, as its mayor.
Brazil's second-largest city is a famously open place, with a thriving gay scene and active Afro-Brazilian community. Crivella, on the other hand, once referred to Afro-Brazilian religions as "demoniac doctrines" and homosexuality as "a terrible evil." He has since apologized for those remarks.
In São Paulo, Brazil's biggest city, evangelical representation in local government has nearly doubled in recent years. Today, 13 of 55 São Paulo city council members are evangelical, up from seven in 2015.
Evangelical leaders are now hoping to carry this momentum into the 2018 presidential election.
Their candidate of choice: Rio de Janeiro's seven-term congressman, Jair Bolsonaro.
Bolsonaro is a conservative Catholic, but he spends a considerable amount of his time on his campaign organizing with evangelical pastors and their congregations.
In line with Congress's BBB bloc, Bolsonaro favors easier gun access, which was restricted under President Lula, and supports removing regulations on business to boost the economy.
His policy proposals are vague – Bolsonaro himself professes total ignorance on economic affairs – but they have garnered the support of Brazil's powerful agribusiness sector.
Echoes of Trump
Bolsonaro is most famous for being inflammatory.
He verbally assaulted a congresswoman who disagreed with him, saying, she didn't even "deserve to be raped" by him because she was "terrible and ugly." Bolsonaro has repeatedly denigrated black Brazilians and said that he would rather his son be dead than be gay.
Bolsonaro has also proclaimed that Brazil's military dictatorship, which lasted from 1964 to 1985, should have killed rather than merely tortured dissenters. He applies the same hard-line theory to how Brazilian police should fight crime.
Such remarks would seem to contradict the evangelical creed of moral conduct.
But Bolsonaro's "tough guy" demeanor has actually attracted a dedicated following of evangelical supporters, much as Donald Trump did during the 2016 U.S. presidential campaign. The more media backlash Bolsonaro's non-traditional campaign receives, the more his voters rally behind him.
A presidential race up in the air
Bolsonaro is currently polling in third place for the presidency, with roughly 19 percent total voter support and strong evangelical backing of up to 28 percent.
"Null vote" – a common form of abstention in Brazil, where voting is mandatory – is in second place in the polls. Ex-president Lula, who will likely not be allowed to stand for election from jail, is still consistently polling in first place.
If Lula does not appear on the ballot, several polls show Bolsonaro leading in October's election.
Bolsonaro has struck a more conciliatory tone of late, as his campaign has gained strength. But he continues to paint himself as an outsider who will challenge the political status quo, despite his nearly three decades in Congress.
For many fed-up Brazilian voters, vague promises of economic growth, clean government and a crime crackdown may be enough to win him the presidency.